Boys soccer championships
Challengers looking up at favorites in all divisions
by
Gregory Broome
May 11, 2017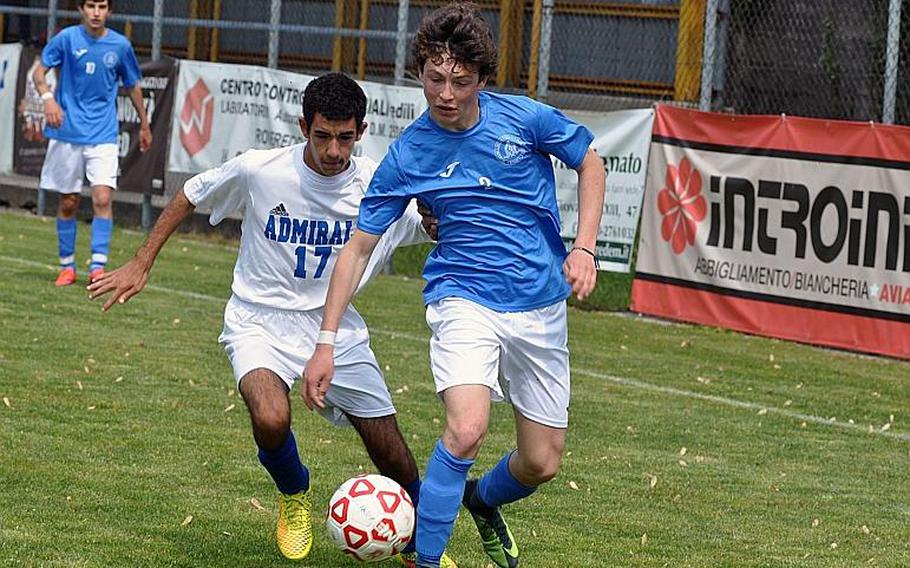 The DODEA-Europe boys soccer tournament runs Wednesday through Saturday at sites around the Kaiserslautern Military Community, featuring two clear frontrunners in the lower divisions and a crowded field of contenders eager to emerge from a wide-open Division I bracket.
Division I Roster turnover at International School of Brussels has led to similar upheaval in the DODEA-Europe standings.
Defending champion ISB lost a lot of talent from its 2016 championship team, as is evident by the 1-3 divisional record the squad produced this spring. Still, the Raiders shouldn't be completely overlooked; they played Ramstein to a tough 1-0 loss, demonstrated their remaining offensive explosiveness with a 4-1 defeat of Stuttgart the next day and generally perform at a higher level in the tournament.
But it's another group of Raiders that might have a better shot at this year's title.
Kaiserslautern is unbeaten entering this weekend's finale against Vilseck and is loaded with the kind of offensive firepower needed to proceed deep into the large-school bracket. Frequent scorers Austin James and Alexander Dexter spearhead a group that has scored at least five goals in five matches this season.
This spring has been cathartic as well as dominant for the Raiders. Kaiserslautern edged archrival Ramstein 2-1 in a rematch of the 2014 championship game that the Royals claimed, 4-3, on Kaiserslautern's home turf. The Raiders also blanked Lakenheath 5-0 to avenge their heartbreaking penalty-kick loss to the Lancers in last year's semifinal round.
A championship would represent the final destination on Kaiserslautern's road to redemption. But plenty of intermediate stops remain.
Naples has been a parallel contender to Kaiserslautern all season, claiming all three of the Division I matchups it managed from its spot in southern Italy. While that mark is impressive, the Wildcats haven't encountered any divisional opponents with winning records, leaving their championship viability as yet unproven.
The middle of the bracket is packed with similarly skilled teams that could each bow out early or reach the elimination round with a few favorable bounces. Ramstein and SHAPE headline that group; Ramstein's only loss came on an own-goal against Kaiserslautern, while SHAPE scrapped its way to a .500 record with ties against Wiesbaden and Ramstein.
Division II The Marymount Royals regained their perch atop DODEA-Europe's middle class with a convincing 7-0 rout of AFNORTH in last year's championship match. The question this year: can anyone knock them off of it?
Marymount didn't look particularly vulnerable in the regular season, its only loss coming with a shorthanded side against Rota. The Royals' 3-0 shutout of Division I frontrunner Naples in their May 6 season finale offered ample evidence of what a full-strength Marymount squad is capable.
Among the rest of the division, it's far easier to find reasons why certain teams won't seriously challenge Marymount than reasons why they will.
The Royals shut out both Aviano and American Overseas School of Rome. And Rota lost to both Aviano and AOSR, making a repeat of the Admirals' defeat of Marymount unlikely.
Black Forest Academy will enjoy a high seed thanks to wins in both of its Division II matches, against Bitburg and AFNORTH. But the Falcons were routed by the likes of Wiesbaden and Ramstein, Division I teams that play at a level more comparable with the skilled Royals.
That again leaves Bahrain as a potential spoiler. As usual, the school hasn't played any DODEA-Europe matches this spring, but its profile is still high after breaking up the Marymount dynasty with a shootout defeat of the Royals in the 2015 title match.
Division III DODEA-Europe's small schools spend much of their seasons being pushed around by upper-division opponents, so teams rarely come into the tournament looking like world-beaters. But Brussels is coming into the postseason looking remarkably clean.
The Brigands won all four of their Division III matches this spring, scoring at least four goals in all of them save for a forfeiture over Ansbach. That run included a 5-2 defeat of Alconbury, the team that beat Brussels in a penalty-kick shootout for last year's championship. The Brigands will also enter the tournament with the only winning overall record among Division III boys entries.
That robust divisional schedule and solid overall mark leaves Brussels the team to beat in the bracket. At the other extreme is Sigonella. The Jaguars didn't play any Division III opponents and lost all six of their DODEA-Europe matches, though futile regular seasons haven't stopped the program from claiming gold in the past.
Twitter: @broomestripes