Cartwright, Freasier retain European biking crowns
by
Rusty Bryan
September 11, 2005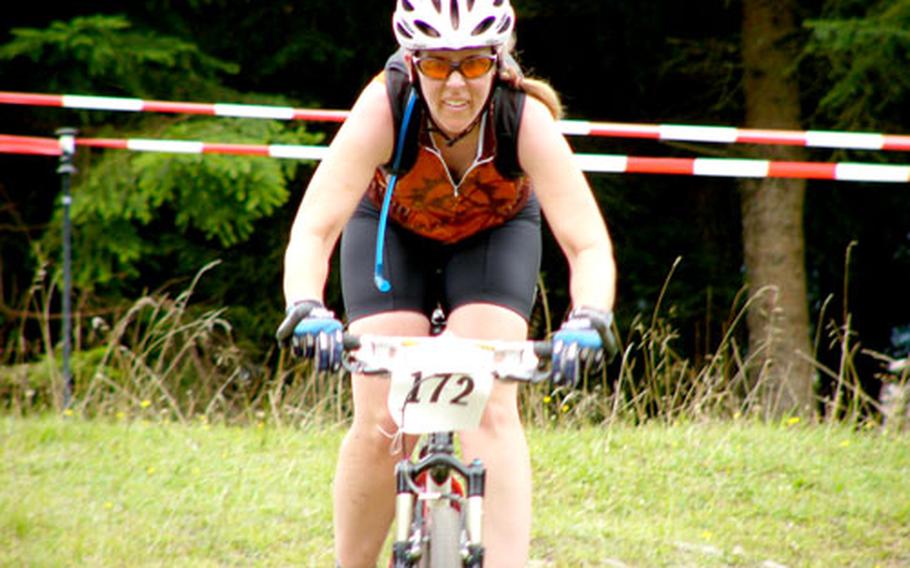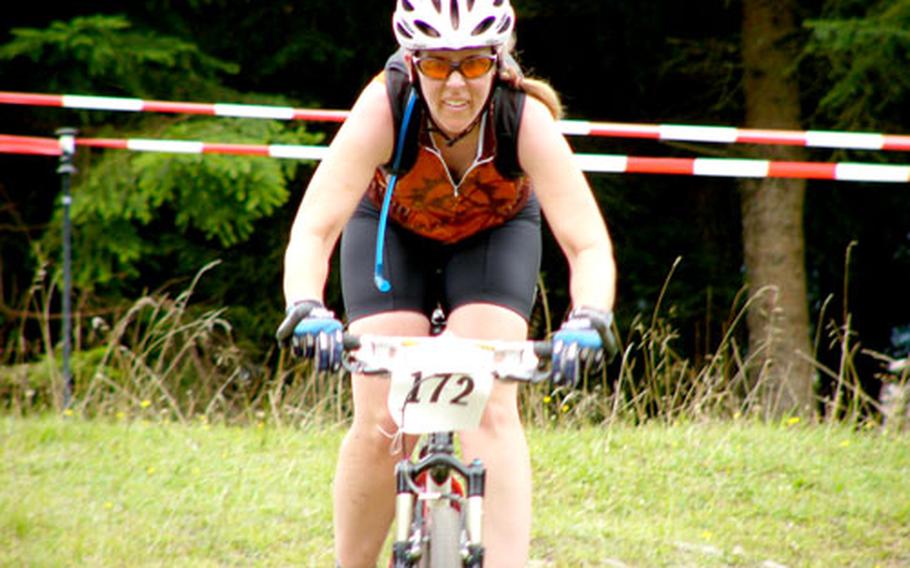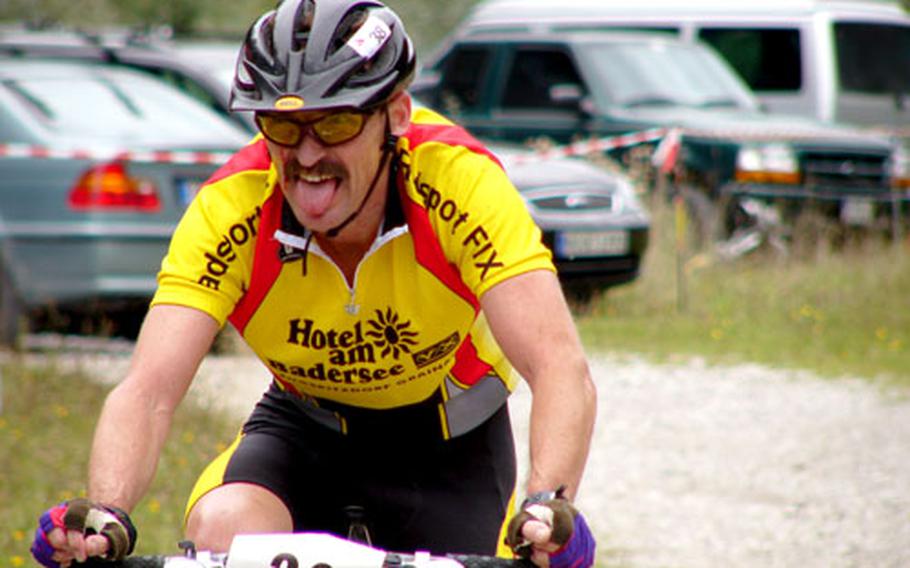 GARMISCH, Germany — Military racers from Würzburg, Darmstadt, Ramstein and Friedberg captured series championships Saturday as the U.S. Forces-Europe Mountain Bike Championship Series ended its 2005 run with the 20th annual Fat Tire Spectacular at Keans Lodge.
Würzburg's Jack Cartwright and Darmstadt's Katherine Freasier easily nailed down their second straight military open crowns. Cartwright had such a safe lead in the 12-stop series that he did not even enter Saturday's race, and Freasier was the only competitor in her category.
Cartwright held a 29-point lead over his nearest challenger, Kelly Lauderbaugh of Aviano Air Base, who also skipped the race. Vilseck's Mario Giberti took advantage of their absence to win Saturday's military open trophy, covering five laps of the approximately four-kilometer course in 1 hour, 11 minutes, 36 seconds.
The victory moved him up to third in the overall standings, but was not enough to catch the top two.
Freasier covered the 12-kilometer women's course in 54 minutes, 16 seconds. Though unchallenged Saturday, she said nothing came easily this season.
"It was hard this year," she said. "I had a lot of injuries. I broke a finger and got an infected throat at Kitizingen. In one race, I jammed a chain into my knee and was on crutches for a couple of days."
Even so, she posted 61 points, awarded for finish position and participation, in the 11 races she contested to outdistance runner-up Lauren Hill of Aviano by eight points. Hill was deployed and unable to race Saturday.
Ramstein's Chris Lockwood took the military men's seniors title, for ages 30-39, despite finishing third Saturday, almost seven minutes behind stage winner Jeremie Oates of Stuttgart.
Oates posted a time of 1:07:43. Mark Galeno of Spangdahlem Air Base was second in 1:11:14, and Lockwood clocked 1:14:28. Lockwood, however, went into the race with a 43-point lead.
"I was just having fun today," he said. "I knew I just had to finish in the top three."
Saturday's real challenge came in the military men's masters division for riders 40 and older.
Friedberg's John Orsinger held a 21-point lead over David Haines in the division and went out trying to put his Würzburg rival away from the outset.
"The first two laps it was all I could do to hang on to him," Haines said. "I finally passed him on the third lap and held on."
Orsinger finished second, good enough to win the series title.
Haines' time of 1:06:15 was the best by a U.S. military rider. "It was a surprise to me," he said. "This is a tough course for me. I'm better on a flatter course."
The course was tough for everyone, according to Garmisch's Leigh Plowman, the Armed Forces Recreation Center director who laid it out.
"There's no place to hide here," said Plowman, a triathlete who has qualified for October's Xterra World Championships in Hawaii, an Ironman event that substitutes mountain biking for road racing. "There weren't too many who didn't crash today."
Plowman returned to the event, which he inaugurated in 1986, after skipping last year's race because of injuries. He clocked 1:04:46 for his run, fastest by a U.S. rider on Saturday. His victory in the civilian master's division, ages 40-49, wrapped up the series title.
Fastest overall time of the day went to a German rider, Jan Schmidt of Grainau. He had a 53:59 to lead a trio of Germans who covered the distance in less than an hour and impressed civilian seniors series champion David Guth of Landstuhl.
"It's great to race with the Germans," said Guth, who like Freasier entered 11 of the 12 races this year. "I was braking on some of the technical descents, and I noticed they were using them as launch platforms. They really take it seriously."
Fat Tire Spectacular
GARMSICH, Germany — Top results posted by U.S. riders Saturday at the Fat Tire Spectacular, 12th and final stop in the 2005 U.S. Forces Mountain Bike Championship Series. Non-Americans not listed. Women rode three laps around a four-kilometer course; men's events were five laps. Final standings based on points awarded for finish positions in each race, along with participation points for each race entered:
WomenMilitary: 1, Katherine Freasier (Darmstadt) 54 minutes, 16 seconds. Final series leaders: 1, Freasier, 61 points; 2, Lauren Hill (Aviano) 53; 3, Teresa Michael (Stuttgart) 27.
Civilian open: 1, Jodi Bonham (Bamberg) 53:46. Final series leaders: 1, Bonham, 16 points; 2, Tammy Knott (Stuttgart) 9; Stacy Huffman (Darmstadt) 8.
Civilian masters (40 years and older): none. Final series leaders: 1, Delinda Hood (Stuttgart) 9 points; 2, Gail Gilderoy (Hanau) 8.
MenMilitary open: 1, Mario Giberti (Vilseck) 1:11:36; 2, Ray Akins (Stuttgart) 1:11:45; 3, Geoffrey Farrell (Grafenwöhr) 1:14:20; 4, Chris Huffmire (Illesheim) 1:16:42; 5, Gregory Rasanen (Vilseck) 1:17:36; 6, Brandon Girardi (Wiesbaden) 1:18:59; 7, Rosendo Henriquez (Illesheim) 1:19:34; 8, Michael Strid (Spangdahlem) 1:21:50; 9, Scott Balius (Suttgart) 1:23:18; 10, Santos Gamer (Wiesbaden) 1:29:01. Final series leaders: 1, Jack Cartwright (Würzburg) 94 points; 2, Kelly Lauderbaugh (Aviano) 65; 3, Giberti, 52.
Military seniors (30-39 years): 1, Jeremie Oates (Stuttgart) 1:07:43; 2, Mark Galeno (Spangdahlem) 1:11:14; 3, Chris Lockwood (Ramstein) 1:14:28; 4, Frank Bettancourt (Spangdahlem) 1:13:13; 5, Robert Keeler (Stuttgart) 1:13:34; 6, Julio Botero (Illesheim) 1:16:51; 7, Mike Paquette (Oberammergau) 1:17:05; 8, Dale McGiboney (Heidelberg) 1:20:12; 9, Jonathan Spear (Katterbach) 1:21:04; 10, Scott Swandal (Würzburg) 1:21:39. Final series leaders: 1, Lockwood, 127 points; 2, Galeno, 83; 3, Spear, 77.
Military masters (40 years and older): 1, David Haines (Würzburg) 1:06:15; 2, John Orsinger (Friedberg) 1:07:28; 3, Alan Sutton (Ramstein) 1:13:18; 4, Chad Ochs (Würzburg) 1:13:50; 5, Stephen Shelley (Lakenheath) 1:16:21; 6, Scott Smith (Würzburg) 1:21:36; 7, Matt Girard (Stuttgart) 1:23:10. Final series leaders: 1, Orsinger, 93 points; 2, Haines, 77; 3, Ochs, 42.
Civilian open/seniors: 5, David Guth (Landstuhl) 1:24:48; Dave McKendree (Garmisch) 1:19:14 (4 laps). Final series leaders: 1, Guth, 47 points; 2, Leo Semonsky (Hohenfels) 35; 3, Thomas Essick (Ramstein) 28.
Civilian masters (40-49 years): 1, Leigh Plowman (Garmisch) 1:04:46; 6, Jay Danna (Hohenfels) 1:09:55; 7, Ray Schultz (Heidelberg) 1:24:01; 8, John Louisot (Garmisch) 1:25:23. Final series leaders: 1, Plowman, 44 points (wins tiebreaker on basis of high finish in final race); 2, Danna, 44; 3, Schultz, 39.