DII football preview
Can Bitburg weather a sea of change?
by
Gregory Broome
September 4, 2013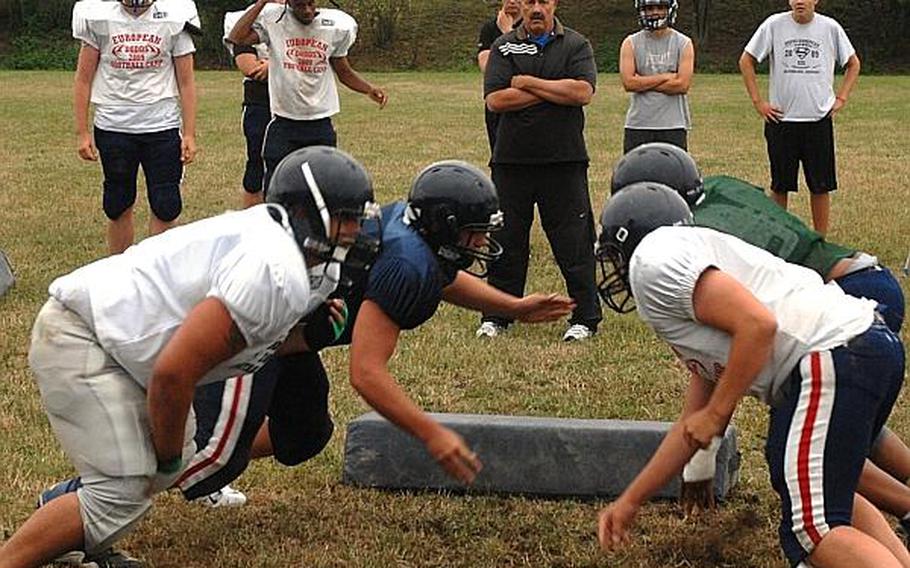 It's not hard to find changes when looking at the DODDS-Europe Division II football schedule.
The new 13-team field has teams playing only within their divsions, extinguishing some rivalries and perhaps planting the seeds for new ones. The demise of nine-man Division III football has drafted a few small schools to punch above their weight class against larger programs. The regular season has been condensed to five games, each now more important than ever.
The season kicks off this weekend. Friday brings the iconic American image of high school football under the lights as AFNORTH visits Baumholder; Saturday features DODDS-Europe's international flavor with four games across three countries. The postseason looms just six weeks later, with quarterfinals beginning Oct. 19 and a Division II champion being crowned as part of the DODDS-Europe football Final Four on Nov. 2 at Kaiserslautern, Germany.
But for all the changes, the situation at the top may not have changed at all.
North Region Bitburg has won 30 straight games and four straight European championships. That makes the Barons the clear team to beat in the seven-team region, not to mention Division II as a whole.
The Barons return a proven and experienced core featuring All-Europe selections Devin Billups and Justin Martel and senior offensive playmakers in Kenny Love and James Cortez. But the program might be vulnerable due to the fact that it lost four All-Europe talents over the summer, a list that includes most of the key difference-makers from last year's heart-stopping 22-20 comeback win over Naples.
Among regional foes, SHAPE has perhaps the best chance of ending the Baron dynasty.
Coach Randy Potter reports 27 players back from last year's European semifinalist team. Quarterback Brett Cain and All-Europe running back Conner Manning will operate behind a solid returning line featuring seniors Taylor Ator, Clay Coon and Manuel Golmayo.
But SHAPE has a mental hurdle to clear in addition to the literal obstacles presented by the Barons. Bitburg shut down the team's upset hopes in emphatic fashion last year, blanking the Spartans 44-0 to hand SHAPE its only loss of the regular season. A semifinal loss to Naples denied SHAPE its rematch.
Meanwhile, it will take a remarkable turn of events for the region's other contenders to catch Bitburg. AFNORTH and International School of Brussels are both coming off one-win seasons, while 2012 Division III schools Alconbury, Baumholder and Rota will stretch their thinner rosters while making the leap from nine-man to 11-man football.
South Region It's possible a challenger from the south will rise up and present a legitimate test to Bitburg's might. But at this early juncture, it's hard to see which program that might be.
Naples did 95 percent of the work of winning a championship in 2012, posting an undefeated regular season, fighting off a postseason upset bid from SHAPE and tossing the defending champions around for the majority of the European championship game. Only a furious fourth-quarter rally by Bitburg denied the Wildcats.
Now Naples is looking up at a long, hard road back to another shot at the championship. All of its key skill players are gone, from All-Europe quarterback Joseph Pitts to preferred target Isaiah Wesby. A handful of incumbent starters remain, mostly on the offensive and defensive lines, with a pack of promising but bright-green underclassmen striving to pick up the slack.
This unpredictability in Naples presents an opportunity for the rest of the six-team southern region.
Both Aviano and Vicenza possess intriguing pieces and are eager to pounce on a now-vulnerable Naples team that has dominated Italy in recent seasons.
Ansbach will likely see its DODDS-Europe record for consecutive victories surpassed by Bitburg this season. But if Marcus George's own rebuilding efforts accelerate, the Cougars might get a chance to avenge themselves in November.
Hohenfels was a dark-horse contender last year behind the relentless running of All-Europe back David Vidovic. With a few emerging players in the right places, the Tiger workhorse could carry his team to unprecedented heights.
Schweinfurt and Bamberg, both .500 or better at their respective levels a year ago, have combined forces to create what might be a solid contender.
But for all of these teams, "might" is a powerful word.
Twitter: @broomestripes