Basketball previews
Can anyone stop Ramstein boys, BFA, Sigonellla girls from winning again?
by
Gregory Broome
November 29, 2018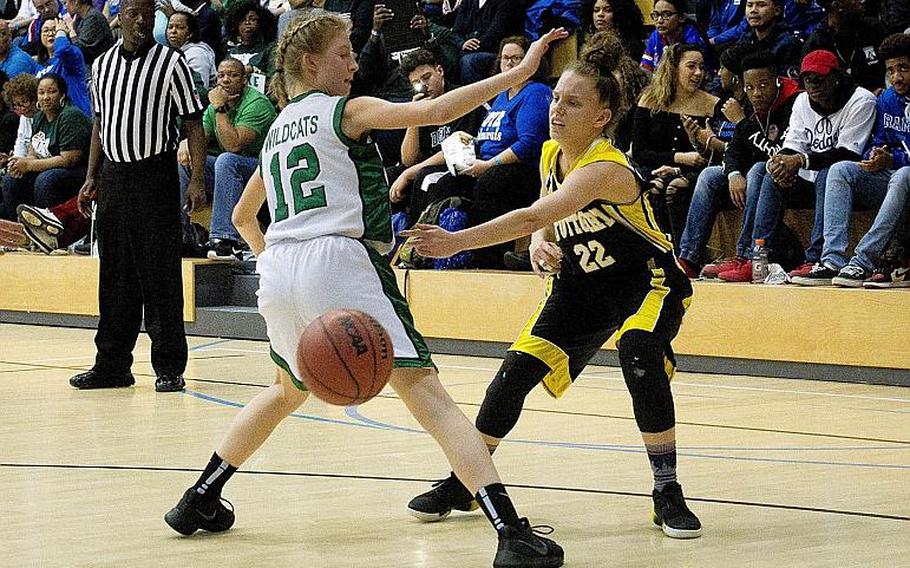 The 2018-19 DODEA-Europe basketball regular season begins Friday with a busy slate that includes an epic Division I road trip and an opening-weekend gathering of four of the organization's smallest schools.
The opening-weekend action is the first step towards determining six divisional champions at the European tournaments, scheduled for Feb. 20-23 at Wiesbaden.
BoysDivision I
Nobody in this division has the kind of championship experience enjoyed by the Ramstein Royals. Probably because nobody else has won championships recently.
Ramstein is chasing its fifth straight European championship this winter; if successful, the Royals will match the DODEA-Europe record held by now-closed Heidelberg. They'll pursue that historic mark behind a seasoned group of players, including four returnees from the team that edged Kaiserslautern 46-45 in last year's title-game comeback triumph. Reigning Stars and Stripes boys basketball Athlete of the Year Naser Eaves anchors the frontcourt, while junior point guard JJ Little headlines the backcourt.
The runner-up Raiders will attempt to rally from their heartbreaking defeat to the archrival Raiders, while semifinalists Stuttgart and Wiesbaden look to take one further step to the championship game. Senior point guard Tyrese Harris is an accomplished playmaker and key to Wiesbaden's high-pressure defense.
Division II
The Black Forest Academy Falcons and Rota Admirals renewed their long-term rivalry last winter with another classic meeting, this one a 48-47 BFA win for the 2017-18 European championship.
Both of those established powers figure to remain formidable this season, though neither will get the chance to show much before the holiday break. Rota, led by the dynamic backcourt of Antonio White and LJ Chester, won't play a DODEA-Europe game until it hosts Aviano on Jan. 18; BFA's opening-weekend set against Baumholder this weekend is its only DODEA-Europe action until Jan. 11.
Aviano, last year's third-place finisher, will get more early reps as it continues to pursue its championship-game breakthrough. The Saints, led by 6-foot-3 senior Jaylon Smith, play doubleheaders against Florence and Sigonella in December.
Division III
After years hunting a championship, the Baumholder Bucs will play the role of the hunted this season after they bested Brussels 35-28 in overtime for a long-deferred small-school title last winter.
Among the Bucs' pursuers are the runner-up Brigands, returning semifinalists Ansbach and Hohenfels and recently deposed champion Sigonella, and that dangerous group grew even scarier this fall when Spangdahlem was realinged from Division II to III. The Sentinels' set of four returning players, including the wing duo of senior Javian Rouse and junior Deon Montgomery, could make immediate noise in the small-school ranks.
GirlsDivision I
There are only two weeks of regular-season basketball games before DODEA-Europe adjourns for a month-long holiday sabbatical. But those two weeks will pack in a lot of consequential large-school girls competition.
This weekend's opening slate includes matchups between two sets of German rivals as Kaiserslautern visits Vilseck and Ramstein takes on Wiesbaden, while two-time defending champion Stuttgart travels north to Belgium to take on SHAPE. Furthermore, Lakenheath will jump right into the grueling DODEA-Europe travel grind with a long trip to Italy and a date with returning runner-up Naples.
Italy is a hoops hotbed again the next weekend, as Vicenza hosts Naples, Stuttgart and Vilseck for a four-team Division I meet to wrap up the 2018 portion of the season's schedule.
Stuttgart, helmed by star senior point guard Adan Maher, is the team to beat again despite some costly personnel losses, while Naples and 2017-18 semifinalists Vilseck and Ramstein are planning on similarly deep runs this season. And two recent championship programs might be due for a senior-led resurgence - the duo of guard Savannah Benson-China and 6-foot-4 forward Allison Urick gives Wiesbaden the foundation for a strong winter, while Kaiserslautern standout Le'Jhanique Brown will again lead the Raiders.
Division II The Black Forest Academy Falcons were runaway champions last winter, culminating in a 36-10 romp in the Division II title game. And even that final opponent, Spangdahlem, is no longer a concern, having been shuffled to Division III this fall.
That leaves the Falcons, with senior standouts Becca Losey, Kennedy Wilbanks and Jessie Campbell back for another run, a prohibitive favorite for a fourth straight championship. It also places the onus on the remaining Division II field to produce a new threat.
AFNORTH is a candidate for that role, with freshman guard Victoria Morris adding a fresh weapon to the perimeter attack of senior Josie Bosch and sophomore Ashley Bailey, as is Bahrain, a strong third-place finisher a year ago that will enjoy a welcome set of regular-season DODEA-Europe dates to prepare for another tournament run.
Division III The two-time defending champion Sigonella Jaguars aren't making things any easier on the small-school teams hoping to unseat them. Sigonella returns seven players and four starters, including All-Europe stars Jessica Jacobs and Averi Chandler, for a run at a Division III three-peat.
The small-school hierarchy might settle into place early this year, as three Division III teams gather in Hohenfels this weekend and four meet at Ansbach a week later.
Twitter: @broomestripes