Campers, camp are improving
---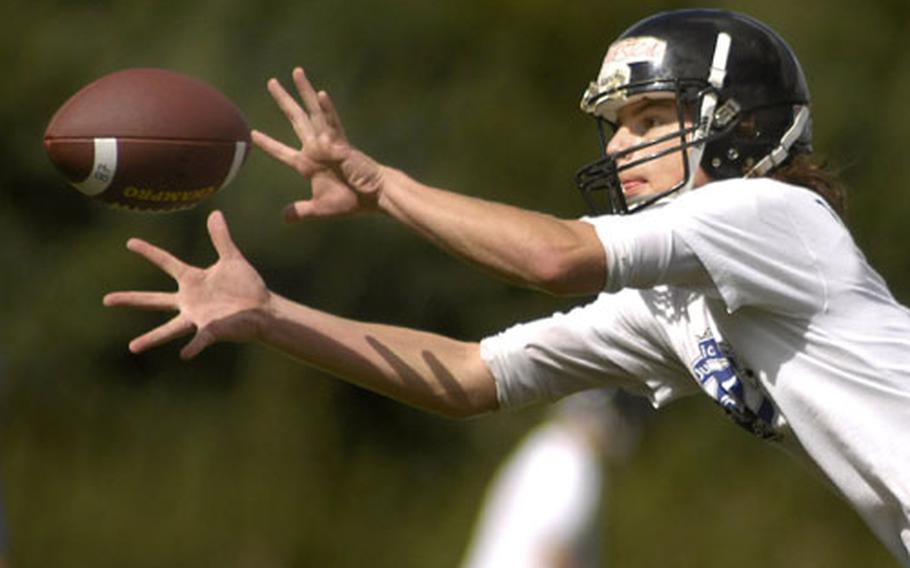 ANSBACH, Germany — For the 440 or so high school football players who opened DODDS-Europe's annual three-day football camp Wednesday, self-improvement is the name of the game.
"I'm here to help myself get better," said junior Cruz Reyes of Vicenza, who's moving from fullback to guard this season. "I was here last year, but this year they've got more going."
Lineman Moe Shoots and wide receiver Stephan Steen, both Heidelberg seniors attending their third camp, agreed with Reyes.
"There's more coaching this year," Steen said about the 60-strong contingent of high school coaches, every one of them an unpaid volunteer. "You learn a little bit more every time."
Echoed Shoots: "That's what I'm here for."
Four hours into the current version of this 27-year-old event, camp officials already had determined their fastest backs and linemen. Wednesday morning's 40-yard dash competition was the first of four events designed to spice the three-a-day sessions with a bit of fun, according to camp director Marcus George.
Vilseck junior running back-cornerback Angelo Anderson, 16, posted the day's best time, 4.80 seconds, in winning the junior-senior running back/receivers category.
"I've been working out all summer," said Anderson, who'll be playing his first season of DODDS-Europe football this fall. "I went to the gym every day. I did a lot of squats and ran with a parachute."
Fastest junior-senior lineman was Vicenza junior Mike Niccoll, who clocked 4.98.
Niccoll's Vicenza teammate, Dahvien Dean, a sophomore, won the freshman-sophomore lineman's race in 5.10.
"It was a surprise," he said of his time. "I just got out there and ran."
The quickest under-class back, Kevin Graupner, 15, ran 5.20. Graupner personifies youth football's expansion in Europe even as the population of football-playing DODDS schools dwindled from a high of 55 in the 1990s to 23 this season.
"My coach told me about this camp," said Graupner, who plays for the Bavarian club Black Hawks Plattling of the German Football League. "I hope to become a better player by coming here."
The campers, each of whom paid $100 for the opportunity to improve their games, are benefiting from the generosity of their coaches and the Ansbach community, George said.
"I have 128 volunteers from the community," he said. "Without their help and the support of the entire community and best administrator I've worked for in 33 years (Ansbach Middle High School principal J.K. Rowland), this camp would be almost impossible."
The volunteers face a daunting challenge, George said.
"Providing food, water and support for 500 players is a big task," he said.
Ramstein's Michael Wallace, a senior defensive back who greatly impressed college scouts at June's camp in Kaiserslautern, said it's great to have pads on again.
"I just thank God," he said, "for another chance to play football."
See more photos from the DODDS-Europe football camp here.
---
---
---
---