Cachuela leads senior-laden Ramstein into Division I tourney
---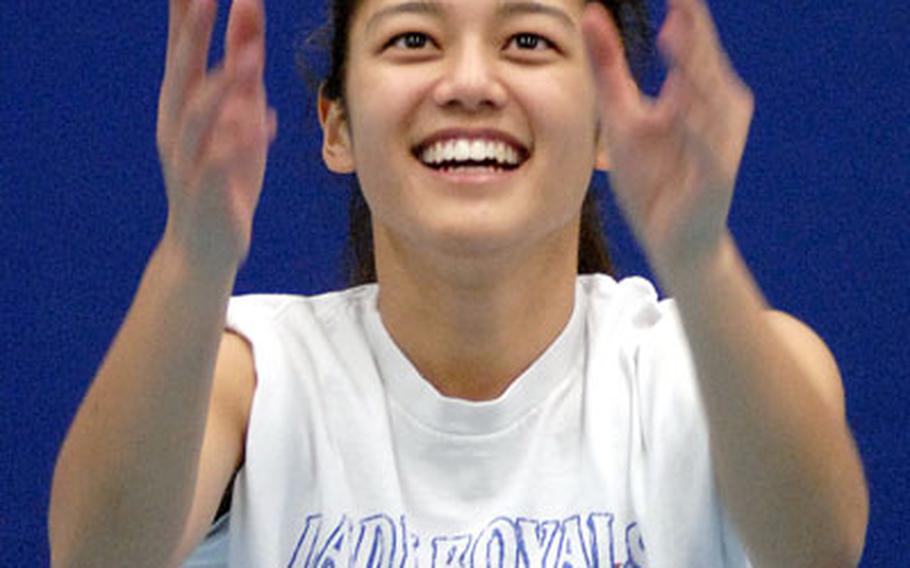 RAMSTEIN AIR BASE, Germany — If Ramstein wins a second straight European Division I volleyball tournament this weekend, the team's nucleus of seniors and the conductor who keeps them in tune, setter Jayci Cachuela, will be largely responsible.
"When she's out there, it's like having a coach on the floor," Ramstein coach Hia Sebastian said of Cachuela during a Tuesday practice session.
A skilled coach, added Ramstein assistant Toni Blair, a former player at the Air Force Academy. Blair credits Cachuela, whom she says orchestrates the Lady Royals' offense, with more than 100 assists per match.
"Target serving, offensive attacks and defensive hustle round out her incredible talent on the floor," Blair said.
Not bad for someone who sees herself mainly as a soccer player.
"Volleyball is to prepare me for soccer," said Cachuela, 17, who began playing volleyball as a freshman.
Significantly, Cachuela is a midfielder in soccer, a creative position analogous to her role as Ramstein's setter.
"The setter is kind of a quarterback," Cachuela said. "I have to be aware of where my teammates are and what they're doing, the whole strategy of the match. I also have to know what's happening on the other side of the net."
Playing on Cachuela's side are five fellow seniors — Kaylen Bannister, Tyler Fleenor, Regina Fleming, Brandy Hale and Sam Yarbrough. Two-thirds of Ramstein's seniors, Blair said, have the potential to play at the college level, and all have come to know one another well over the past few seasons.
"We've been together for two to three years," Cachuela said.
"We know what each of us can do and is going to do. It makes us pretty confident going into the tournament."
It also helps, added Cachuela, an All-Europe selection and the MVP of last year's European Division I tournament, to have played all the teams the Lady Royals will face in this year's tournament.
"It's a fair advantage," she said.
"We watch tapes and know who not to serve the ball to and where to go with our attack — things like that."
Sebastian, who played college ball at Auburn, says the key to Cachuela's game is consistency.
"When we have other setters in there," she said, "the passing and setting fall off. I have to ask the players, 'Where's the pass? Where's the set?' When Jayci's in, the passes and sets are there."
Cachuela says it's all a matter of keeping your head in the game.
"You need focus and concentration," she said.
"You have to be aware of what's going on around you all the time."
Cachuela, who plans to attend the University of California at San Diego next year, isn't sure if she'll continue playing volleyball.
"I'll wait and see," she said. "I'll probably try to walk on."
For now, though, Cachuela wants to walk off with another European championship.
Bearing down will be the key, she said.
"In the tournament," she said, "every game counts."
---
---
---
---