Butler in for battle to defend Marine Forces Pacific hoops title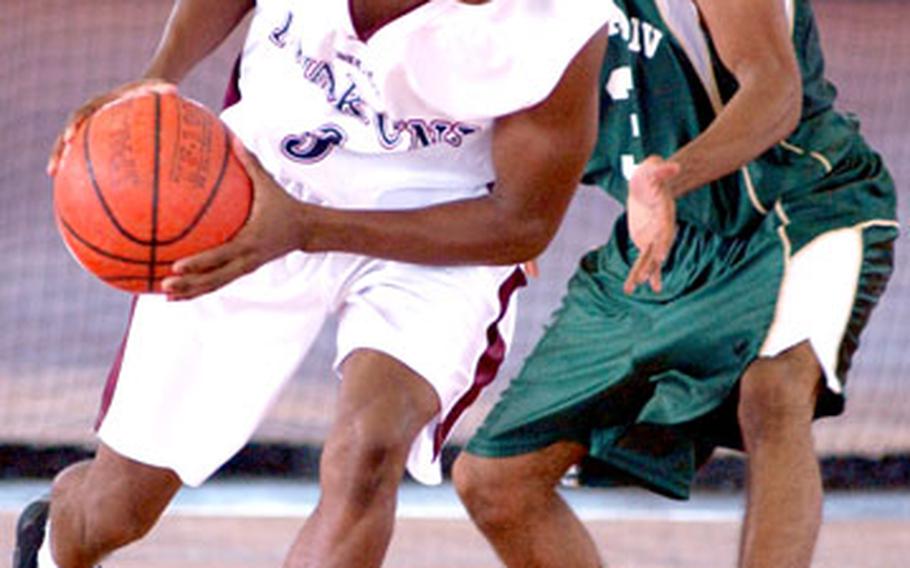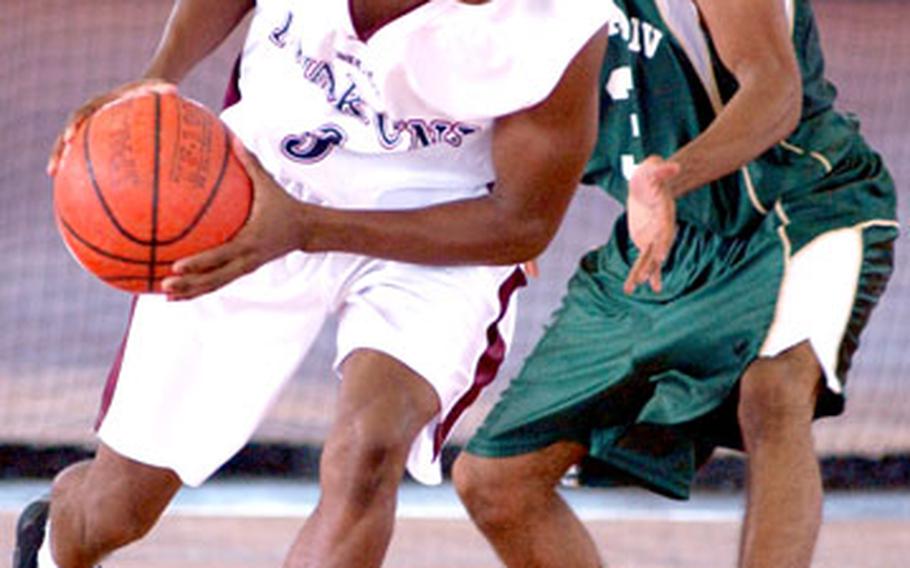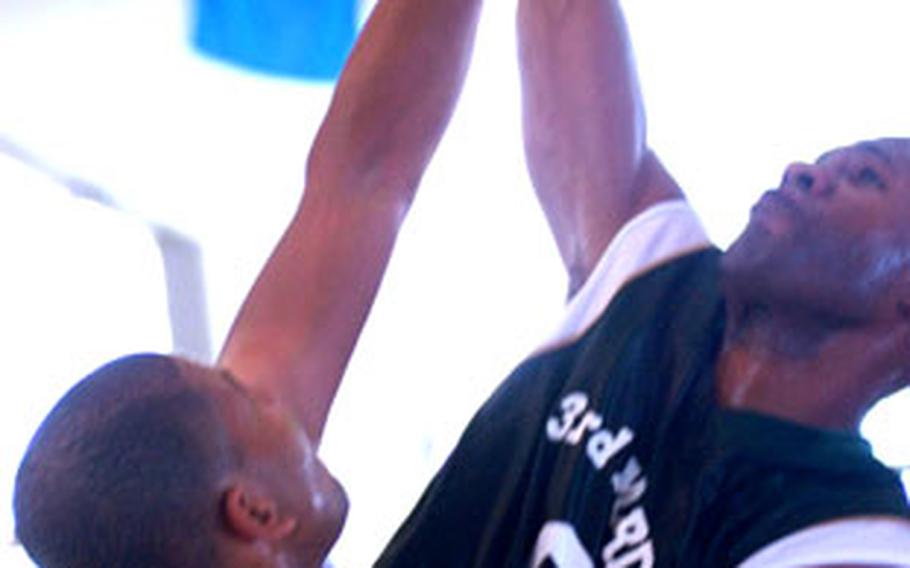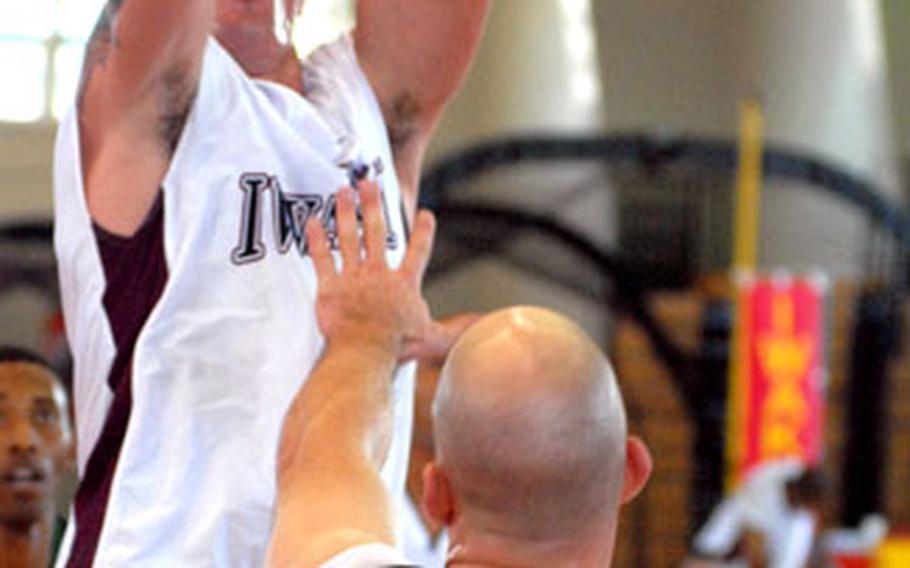 CAMP FOSTER, Okinawa — Host Marine Corps Base Camp Butler appears to have a major battle on its hands defending its two-time Marine Forces Pacific Regional Basketball Tournament title, if its opening game Tuesday was any indication.
Demetric Noble hit a free throw with 1 second left after a heatedly contested foul, and 3rd Marine Logistics Group escaped with a 79-78 edging of Base in a game called by the referees with 1 second remaining on account of unsportsmanlike conduct by both teams.
"To have a game end like that, I hate to see that," said two-time reigning MVP Yonnes Sanders of Base after a game that saw 16 lead changes before the controversial ending.
With the game tied at 78 and time winding down, Noble dribbled into traffic and Base's Burnett Miles, Marcus Dale and Sanders converged on Noble. Noble backed into Miles, who was whistled for reaching in for the ball with his right arm and banging into Noble's side.
Noble sank the first of two foul shots, but as the two teams' players continued to jaw at the referees and at each other, game officials waved off the remaining second.
That game was the second of five round-robin contests played Tuesday and certainly the closest; the other four games' average victory margin was 31 points. Base coasted to victory in its next game, 97-56 over U.S. Naval Hospital Camp Lester, but in Sanders' mind, Base has its hands full.
"We have our work cut out for us," Sanders said of a tournament that features three commands, 3rd MLG, 3rd Marine Division/Expeditionary Force and 1st Marine Aircraft Wing that play in the newly formed Joint Military Athletic Conference.
Their presence, plus Base with its two straight titles, will make the event that much tougher, Sanders and others said.
"Most of these teams are familiar with each other. We know how to score on and defend each other," Sanders said.
"There's no one dominant team," said four-time All-Marine and two-time All-Armed Forces forward Jimmy Wheeler of Division. "There's no one team that stands out."
Seven-time All-Marine guard Barry Celestine of 3rd MLG agreed with Sanders and Wheeler, saying that in his five years of playing on Okinawa, he's not seen four teams this evenly matched. "This is different," he said.
The to-the-wire battle between Base and 3rd MLG "is what you'll see all week," Celestine said of the five-day tournament to determine the regional champion and select six players to the All-Marine tryout camp Oct. 22-Nov. 1 at Henderson Hall in Washington.
The road to Saturday's 6 p.m. championship at the Foster Field House will be a "competitive" one, Celestine said. "That game was just the tip of the iceberg. You have four teams that can bring it and they will bring it against each other every time," Celestine said.
Even more impressive in Celestine's eyes was how Base came together so quickly and gave 3rd MLG a good game, despite Base not competing in J-MAC. "For them to play so well together for the first time, if they can do it, imagine what will happen when these other teams get together," Celestine said.
In the grand scheme of things, Sanders said Tuesday's loss to 3rd MLG really didn't matter much, since it was a preliminary game, used to seed teams into the single-elimination playoffs, which begin Friday.
"It's just a round-robin game," Sanders said. "We'll let our young guys play and gain experience so when elimination time comes, we'll be ready."
Tuesday's gamesDivision 86, Iwakuni 35
Halftime: Division 32, Iwakuni 25. Leading scorers: Division, Trevor Highsmith 28 (6 three-point goals), Kyle Scott 14; Iwakuni, Micah Parson 10 (all first half).
3rd MLG 79, Base 78
Halftime: Base 39, 3rd MLG 32. Leading scorers: 3rd MLG, Barry Celestine 21, Jerome Odom 12 (all second half), Demetric Noble 10, Stephen Cosby 10; Base, Yonnes Sanders 20, Robert Gibbons 16 (12 second half), Vincent White 11, Burnett Miles 10 (8 first half). Noteworthy: 16 total lead changes. Noble's foul shot with 1 second left won it for 3rd MLG. Game called with 1 second left on account of unsportsmanlike conduct by both teams.
Wing 86, Iwakuni 62
Halftime: Wing 50, Iwakuni 32. Leading scorers: Wing, Kenneth Carroll 26 (6 three-point goals), Thomas Johnson 21 (5 three-point goals), Billy Shanks 13 (3 three-point goals); Iwakuni, Micah Parson 14, Richard White 13.
Base 97, Hospital 56
Halftime: Base 49, Hospital 17. Leading scorers: Base, Robert Gibbson 27 (15 second half), Vincent White 14, Marcus Dale 11, Raquawn Jean 11, Yonnes Sanders 10; Hospital, Norris Cason 22 (14 second half), Blake Gordon 11.
Division 92, 3rd MLG 82
Halftime: Division 51, 3rd MLG 34. Leading scorers: Division, Kyle Scott 28, Trevor Highsmith 19, Jimmy Wheeler 15; 3rd MLG, Demetric Noble 28 (6 three-point goals), Barry Celestine 20.
Marine Forces Pacific Regional Basketball Tournament
At Foster Field House, Foster Athletics Complex, Camp Foster, Okinawa
Round-robin standings
---
---
---