Boys DIII final
Brussels shuts out Ansbach to take crown
by
Gregory Broome
May 20, 2017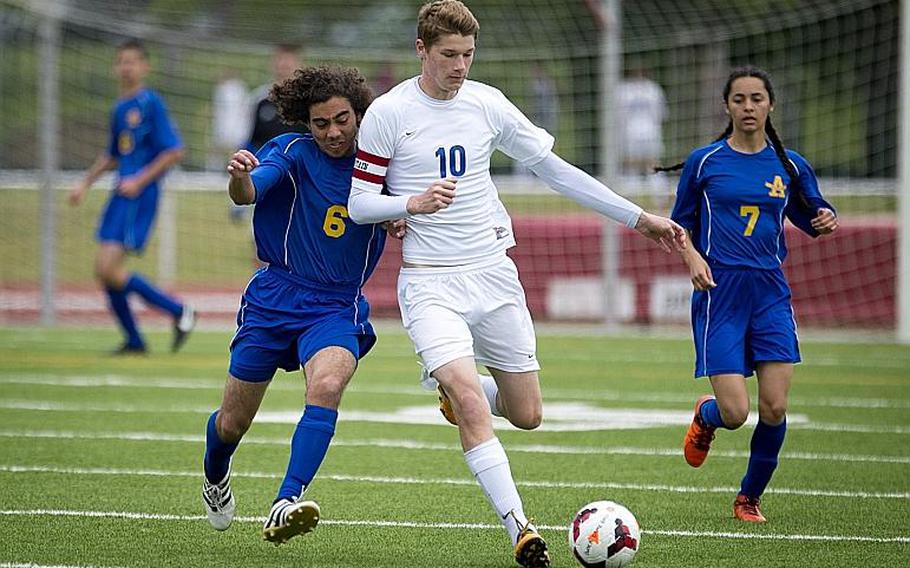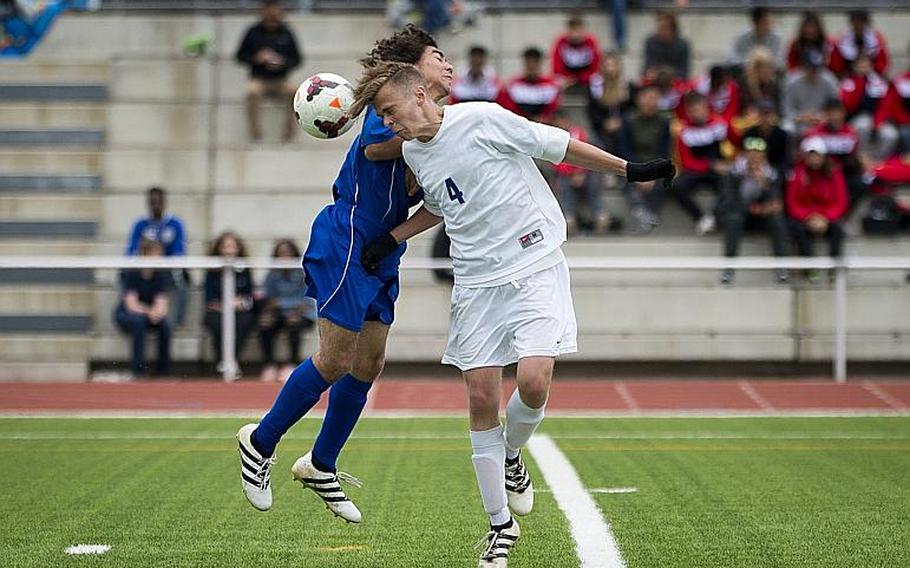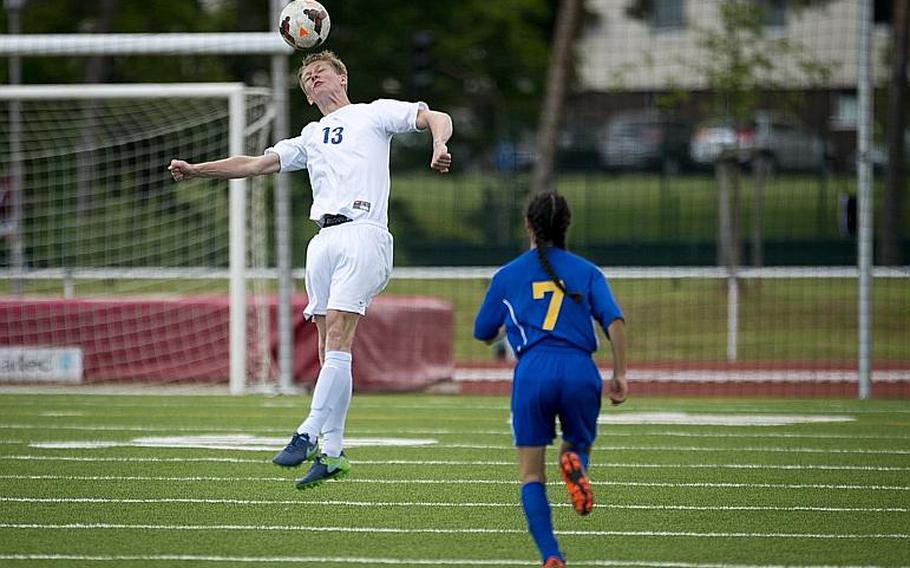 KAISERSLAUTERN, Germany -- The Brussels Brigands claimed the 2017 DODEA-Europe Division III boys soccer championship Saturday at Kaiserslautern High School, completing a dominant march through the small-school ranks with a 3-0 win over the Ansbach Cougars.
The Brigands struck almost immediately with a goal under three minutes into play and steadily added insurance scores on the way to the shutout victory. Aljaz Urbanc scored twice and Bocar Toure added a goal for the Brigands, while Noah Gray assisted on all three scores.
Brussels' ultimate triumph seemed increasingly inevitable as the spring season went on. The Brigands won all four of their Division III matches in the regular season. They matched that record in the tournament, including a 3-1 defeat of defending champion Alconbury in a rematch of last year's championship match and a 3-1 win over Sigonella that took care of the only divisional rival Brussels hadn't yet conquered this spring.
As a result, the Brigands entered the title match a heavy favorite, especially given their 2-0 defeat of Ansbach in preliminary play. But Brussels avoided overconfidence and gave their opponent their due respect.
"We always want to be cautious," Gray said. "They played well, they gave us a tough time. We appreciate the good game."
Gray's feelings of gratitude went further. He wasn't a member of the Brussels team that lost to Alconbury on penalty kicks in last year's title match, but upon joining the Brigands he watched footage of the heartbreaking defeat and produced a mission statement.
"I saw these guys out here, and I saw this pitch, and I really wanted to play here with these guys," Gray said. "We came, we did that, and we won. I'm happy for all of us."
Ansbach was equally happy to be on the field Saturday. It wasn't that long ago that the Cougars weren't sure they'd play on any field this spring.
The school's population has plummeted in recent years, leaving it without enough players to form either a boys or girls soccer team. The Cougars arrived at a solution that salvaged the school's soccer season and even brought it to the brink of a championship.
"The boys were like, 'We don't have enough people, and you guys don't have enough people, so let's just join together. That way we can all do well," junior midfielder Ashlenne Sperber said while calling the season a "tremendous" success. "We never thought we would get this far."
Cougars junior Giancarlo Solito said Saturday's season-ending loss was "disappointing," but added that this season is a memory he'll recall fondly.
In that light, it's hard to think of Ansbach's season as anything but a success.
"It's been interesting, working with the females and the males," Solito said. "It was definitely fun. I wouldn't have wanted to do this with any other team."
Twitter: @broomestripes