Browne sets record in Army race
by
Lisa Burgess
October 25, 2004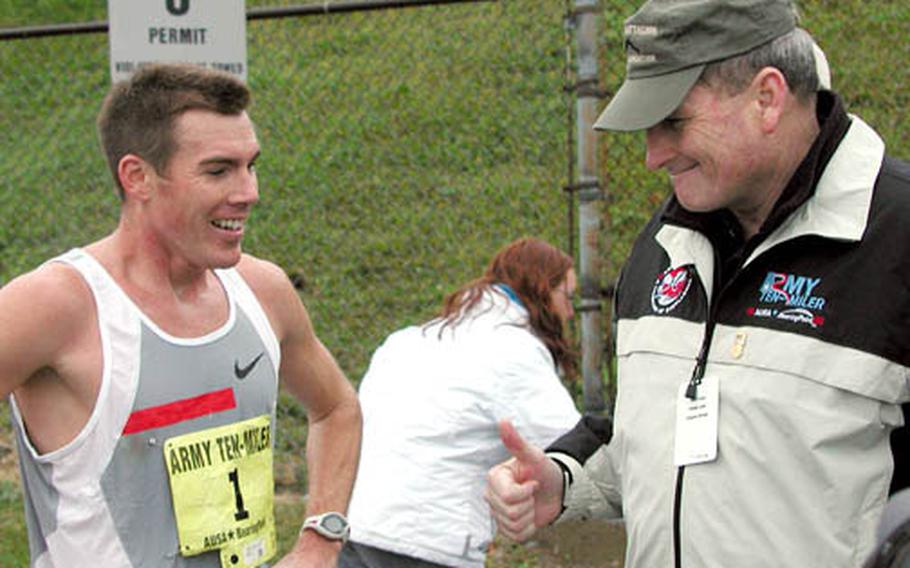 (Click here for more photos of the 2004 Army Ten Miler)
ARLINGTON, Va. — The dominant color of the 20th anniversary of the Army Ten-Miler in Washington Sunday wasn't green, it was blue — the color of 20,300 runners' lips as they made their way through a 48-degree drizzle.
"Well, at least there wasn't any wind," said the winner, Army National Guard Capt. Dan Browne, who took an early lead and cruised virtually alone for the entire course, crossing the finish line in a course record 47 minutes, 29 seconds.
Capt. Ryan Kirkpatrick, who won this race in 2002 with a time of 48:35, finished second at 48:43 as soldiers took three of the top four places. All three soldiers are former members of the Army's World Class Athlete Program.
Browne, 29, graduated from West Point in 1997 and was immediately accepted into the WCAP in Colorado Springs, Colo. After leaving WCAP under what was then the Army's "early out" program, Browne committed to eight years in the Guard and remains a world-class runner, competing in this year's Athens Olympics.
Browne never faltered after taking the early lead.
"It was really lonely out there," the ebullient Browne said after the race, barely out of breath.
Browne "just wanted to run by himself today," said Kirkpatrick, Browne's friend and former West Point and WCAP training partner. "It was his race."
Kirkpatrick just completed his three-year contract in WCAP, and is about to begin his captain's course as a Signal Corps officer.
Once that obligation is finished, Kirkpatrick said, he hopes for another try at WCAP.
"If I keep competing [as a runner], I'd like to stay in the Army," Kirkpatrick said. "The Army has been extremely supportive of me. Without them, I would never have had these opportunities."
The third-place finisher was an Italian runner, Luigi La Bella, who came in at 49:32, followed in fourth place by Sgt. Teddy Mitchell, a New Mexico National Guard personnel and administration specialist who ran what he said was a "disappointing" 50:03.
"I really, really wanted to break 50" minutes, said Mitchell, 32. "I wanted to do a good job for the National Guard. To come so close is just … arrrrgh."
The weather Sunday, which was a complete contrast to last year's picture-perfect autumn day, "probably produced some of the worst times ever run out here," Mitchell said. "I ran the same time two years ago and finished ninth. For most of us [elite runners], we were 30 or 40 seconds slower because of the weather."
The weather was so poor that the Army's parachute team, the Golden Knights, did not complete a pre-race jump it had intended to dedicate to "our fellow soldiers serving in harms' way," according to team leader Sgt. 1st Class Dan Moesch in a prepared press release about the jump.
Not everyone disliked the weather, however.
"This was perfect," enthused Ryan Carrara, a civilian contractor for Raytheon, which is supporting the U.S. European Command during the upcoming Association of the United States Army conference here next week.
"The first half-mile is a warm-up, and your hands are freezing," said Carrara, from Clinton, Mass. "Then you start generating some watts, and you don't feel [the cold] at all."
What was a problem, Carrara and other runners said, was that the intermittent rain made certain areas slick and treacherous. Falls and near-falls were common, according to runners.
"The wet track hurts a lot," Carrara said. "It was really slippery."
Many runners fell, and "I almost went down myself," Carrara said. "But I caught [myself] at the last second."
The women's first-place finisher was Casey Smith of Arlington, Va., who came in at 57:26, followed by Christine Clifton, of Kirkland, Wash., at 58:02.
Third-place for the women went to Sharon Lemberger, of Washington, D.C., with a time of 58:32, while fourth place was Susannah Krasnicka, of Great Falls, Va., with a time of 58:53.
The run, which is the largest 10-miler in America, included participants from 49 states, as well as the District of Columbia, and 11 foreign countries, including Iraq and Afghanistan, according to race statistics provided by the organizers.
There were 1,100 teams registered; 58 percent were men, and 42 percent women, with 76 percent coming from the greater Washington, D.C. area.
Complete race results were not prepared in time for deadline. For a complete list of winners, including winning military and civilian teams, go to http://www.armytenmiler.com/exec/army/Home.cfm?publicationID=16.