Bronell on target as Stripes' marksmanship choice
by
Rusty Bryan
March 8, 2011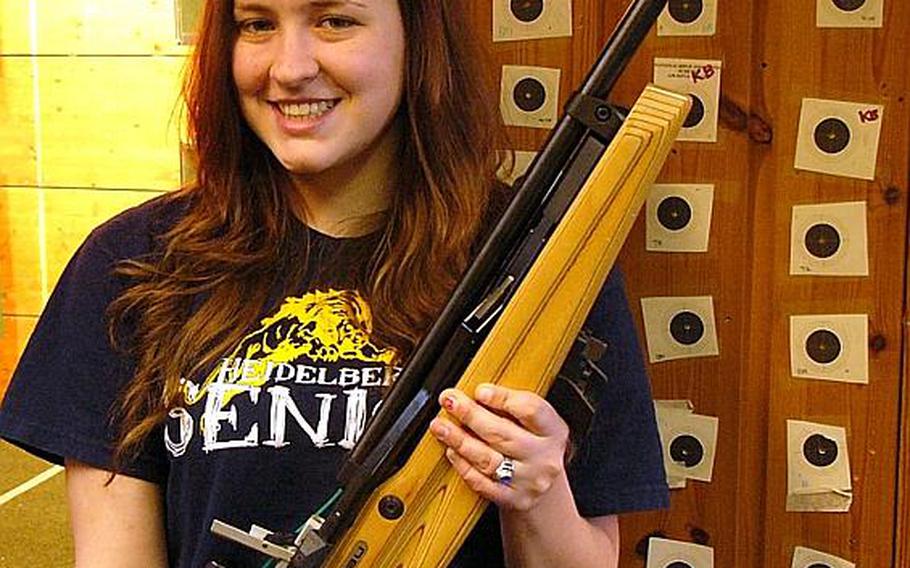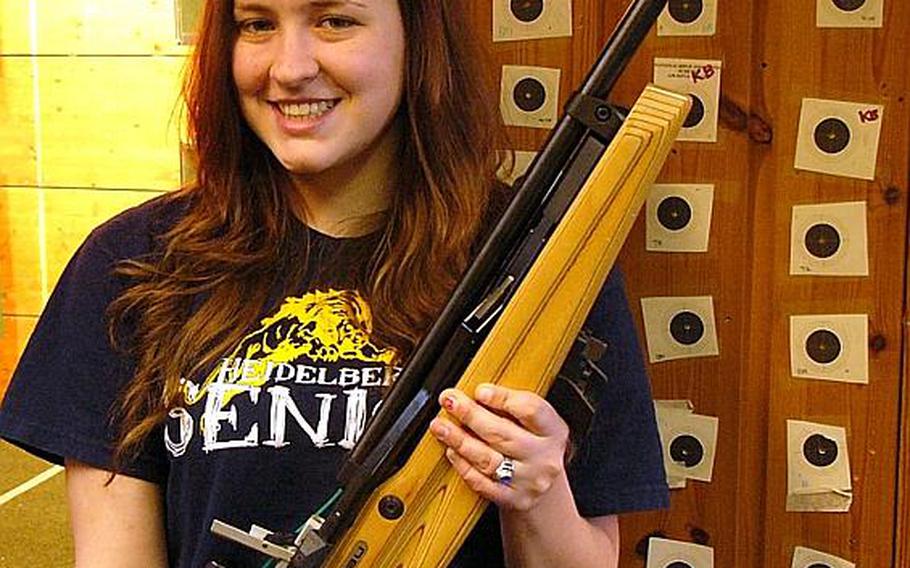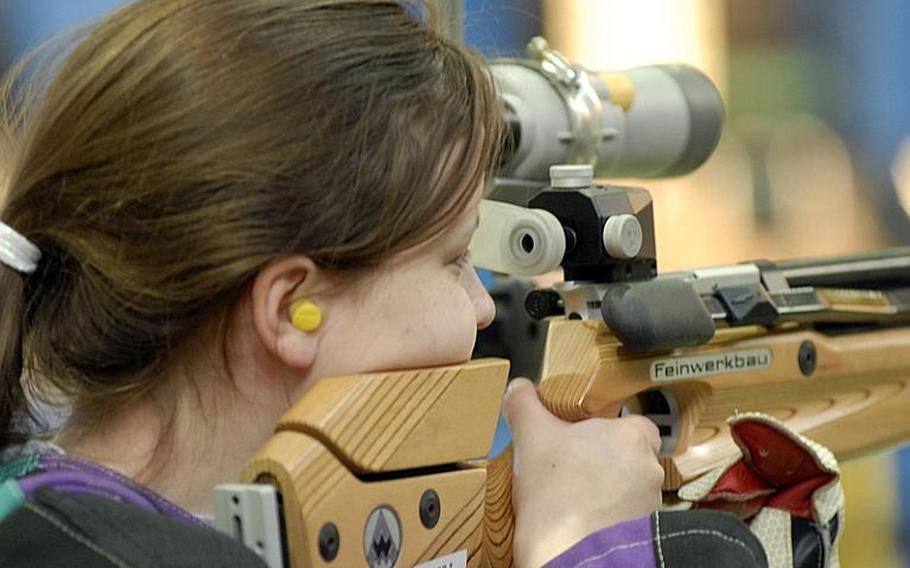 When the firing was over at January's European marksmanship championships, Heidelberg senior Katelyn Bronell knew she had ended her four-year high school shooting career with a good score.
However, the Stars and Stripes marksman of the year for 2011 didn't know whether it would be good enough to win her first European overall title.
"I was very nervous," she recalled Thursday at her home range about the wait for the final scoring to end. "I kept telling myself, 'No way, no way. This can't be true.' "
The tension mounted as the coaches and judges minutely examined each of the silver-dollar-sized targets with bull's-eyes smaller than the diameter of a pencil eraser.
"I dug around in our bag for broken binoculars, trying to spy on the judges' stand," said Bronell, the battalion commander of Heidelberg's Junior ROTC unit. "My teammates were laughing at me."
When the judges had finished, Bronell emerged as the individual overall champion, scoring 281 of a possible 300 points to edge Erin Redden of team champion Hohenfels by three points. Bronell, who posted the top standing score the previous year, tied for second this year with a 90-of-100 mark, and won the kneeling title outright with a 96.
None of which surprised Hohenfels coach Bruce Andrews, the man who coached Bronell during her first two years as a marksman and, according to Bronell, taught her everything she knows.
"She's tough," Andrews said by telephone recently. "She doesn't look tough, but she is."
As an example, Andrews cited last year's championships.
"She had a difficult time in prone. That's the first position we shoot. She made a mistake, but she had the guts and backbone to recover and post a good score in the standing."
This year, Bronell fired a 95 in the prone position during the championship match at Baumholder High School, a score that placed her just out of the top finishers in that position.
Bronell said she was able to shoot well at Europeans because she regarded it as just another meet. That mind-set proved crucial.
"I was kind of anxious, but I kind of felt the same," Bronell said. "In shooting, it's a lot mental. You have to focus all attention on the fundamentals."
Especially under the pressure of a season-ending, last-chance meet. According to Bronell's current coach, Andrew King, his ace's devotion to swimming helps her, despite the lost practice time on the shooting range.
"In rifle, you practically have to fall asleep before you shoot," King said. "You have to slow your body down. Swimming allows her to relieve stress on the range."
Also helping her shoot well is her gender, Bronell said.
"We have hips where we can rest our elbows," said the 17-year-old, who expects to attend Marquette University on a ROTC scholarship next fall and hopes eventually to go to medical school. "Plus, guys have big shoulders. They have to slouch forward."
For all that, though, Bronell said she had some difficulties this season, when additional duties as battalion commander and swim practice cut into her time for marksmanship.
"In shooting, you can be up and down," King said of Bronell, who preceded her title-winning outing with a strong showing the previous week. "You can have a good Saturday and then a bad Saturday. She just had two excellent Saturdays in a row."
---
---
---
---