D-III boys soccer
Brigands complete rampage through field
by
Gregory Broome
May 24, 2018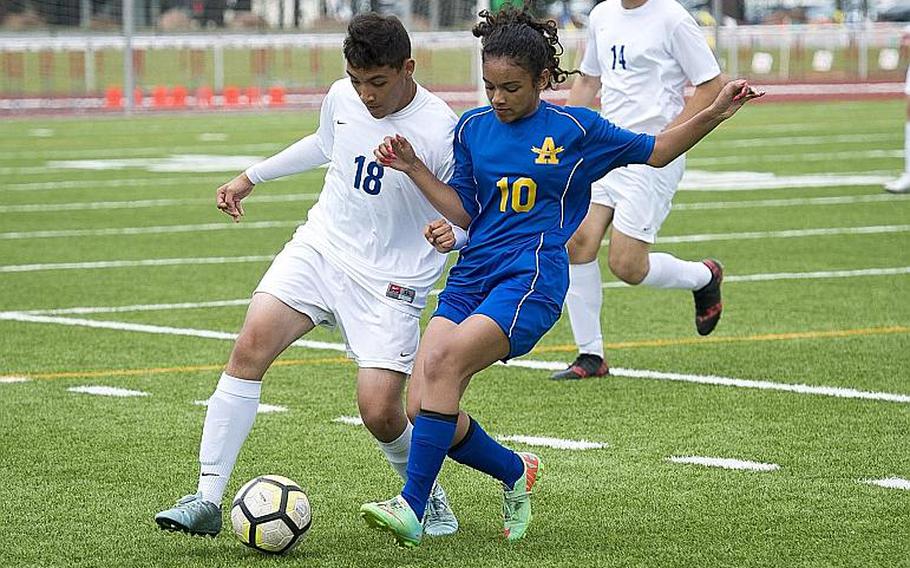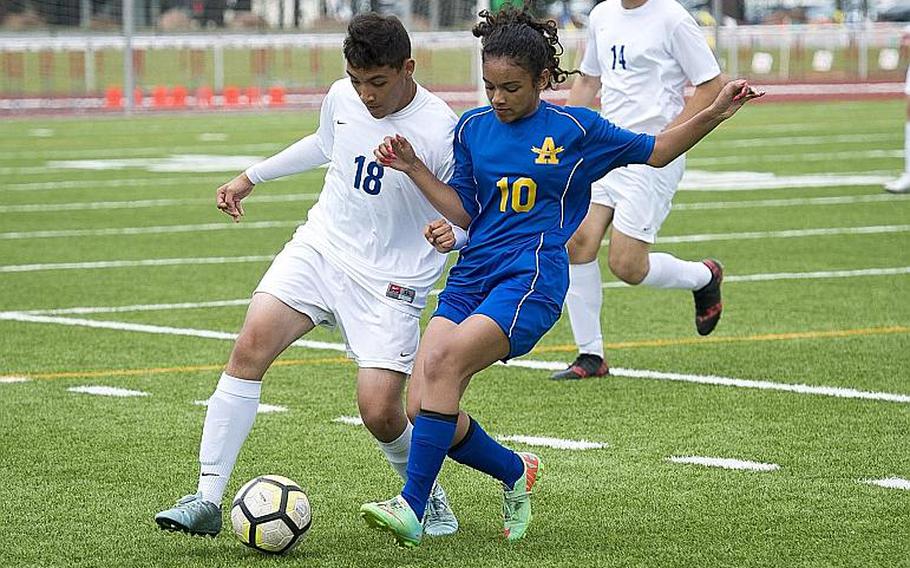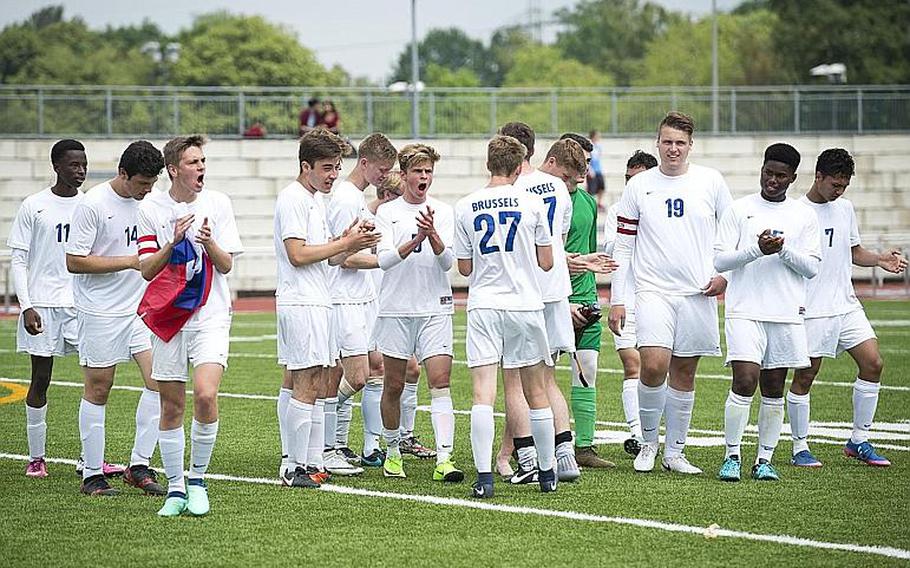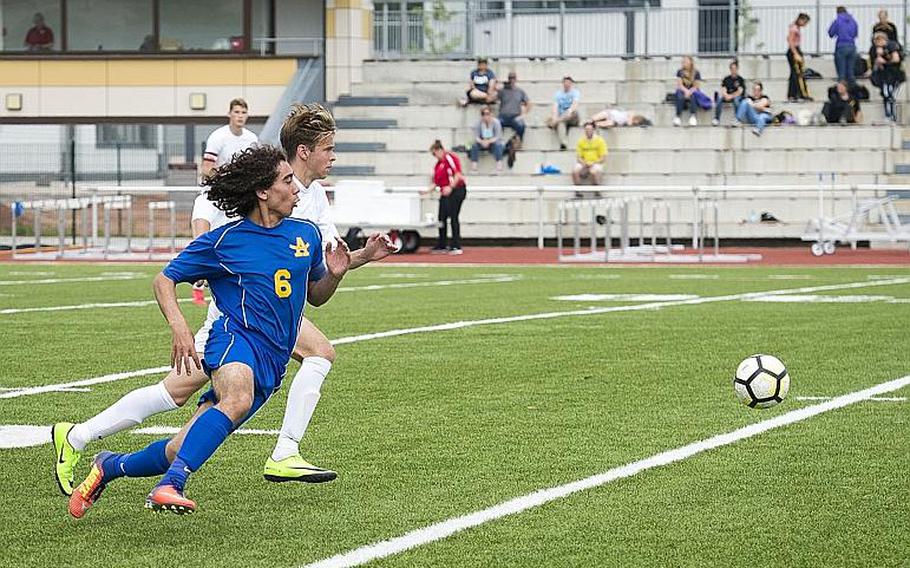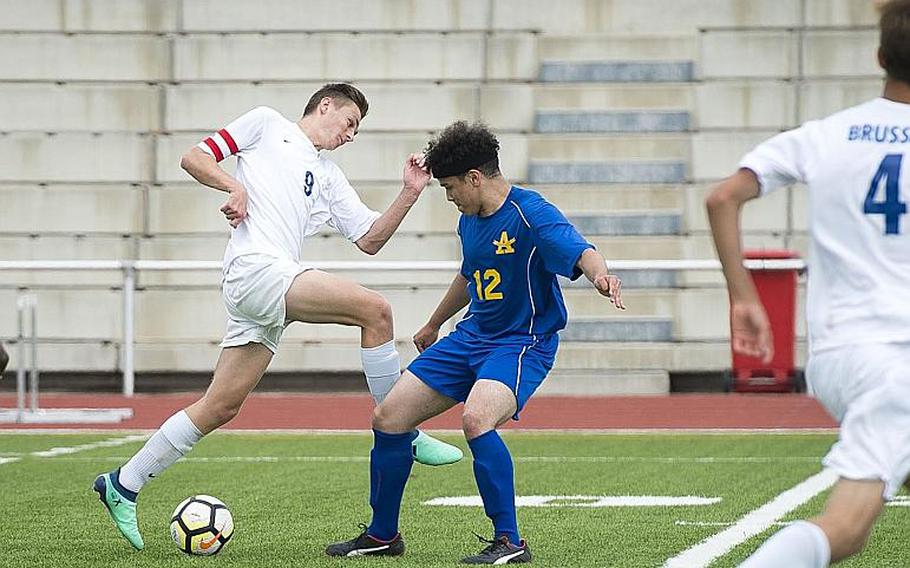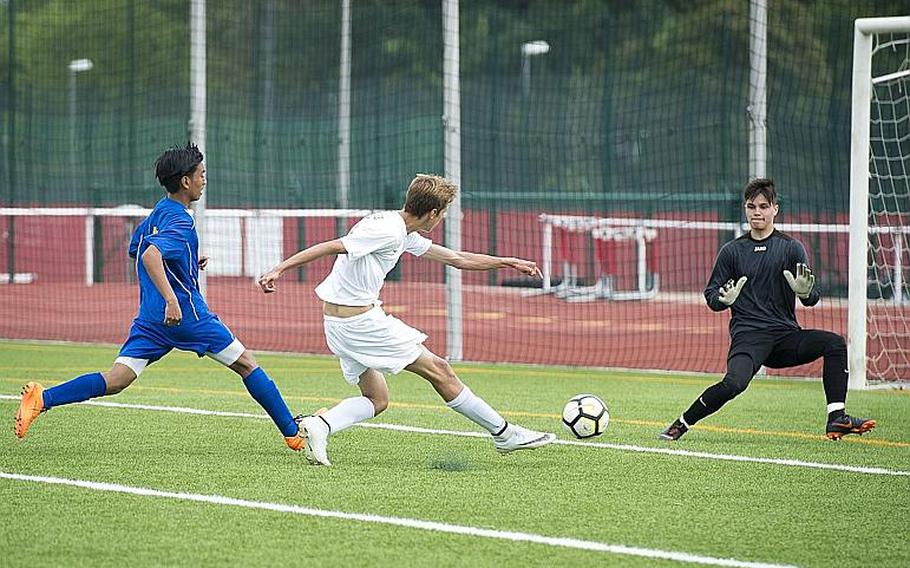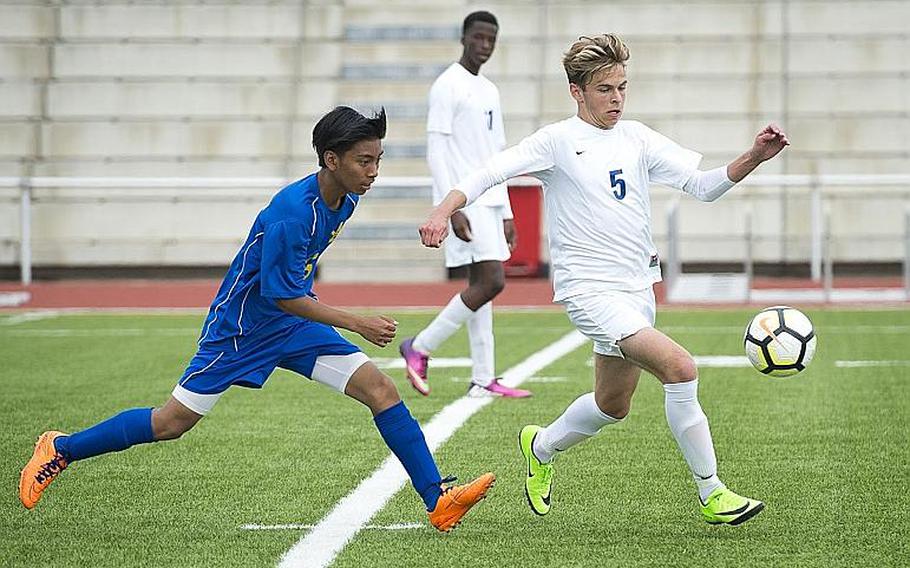 KAISERSLAUTERN, Germany -- By definition, a brigand is a member of a traveling gang that extracts treasure through overwhelming force.
The Brussels Brigands completed their ransacking of the DODEA-Europe Division III boys soccer tournament and claimed their second straight small-school crown on Thursday at Kaiserslautern High School, capping an overwhelming run through the round-robin bracket with a 7-0 mercy-rule defeat of the Ansbach Cougars.
Brussels was the presumptive Division III champion all season, a fact it continually reaffirmed throughout an undefeated divisional schedule and triumphs over upper-division opponents such as Lakenheath and AFNORTH. This week, Brigands coach Ronnie Percy made sure his players avoided "overlooking" even the most overmatched of their tournament opponents.
"You have to constantly remind them that it's every game, and it's every second of every game that you have to focus on," Percy said. "Everything that you have has to go to that, and it's the constant refocusing them on the task at hand."
To make that happen, the Brigands set their sights beyond simply winning the championship. Senior goalkeeper Dominick DeFazio said the team challenged itself to not allow a single goal in the tournament, a mission it completed with Thursday's shutout win.
"We had to set even deeper goals for us to perform as best we could," DeFazio said.
The repeat championship was particularly special for the team's core of 10 seniors, many of whom have played together throughout their prep careers. DeFazio, a longtime multiple-sport star for the Brigands, missed last year's championship run due to injury.
"It was big for me to come back, first season back, and win a championship," DeFazio said.
Tournament MVP Aljaz Urbanc scored three goals to lead the Brigands, while Noah Gray scored twice. Ansbach competed throughout, but the talent discrepancy was far too vast to overcome.
"We just played hard. That's all we did," said Ansbach coach Bruce Collins, who was without injured all-tournament striker Kevin Kamara for the final. "It just went their way. They were a better team, and hats off to them."
The game was reminiscent of last year's Division III final, a 3-0 Brussels defeat of Ansbach. For the Cougars, however, a second straight trip to the European final is cause for celebration as well as disappointment, concrete proof of the shrinking school's continued relevance in DODEA-Europe sports.
Last year, Ansbach combined its boys and girls soccer programs into a single co-ed team, rescuing both from folding due to an insufficient number of players. That arrangement continued this season and yielded similar success as the Cougars' 16-player roster won every round-robin game save for Wednesday's 2-0 loss to the Brigands.
Collins expects the co-ed soccer squad to continue in the coming seasons, and he's all for it.
"I think it's really good to have both of them out there," Collins said. "I enjoy it. I think it's a great thing."
Twitter: @broomestripes