Marksmanship athlete of year
Brann shot way to an unexpected title
---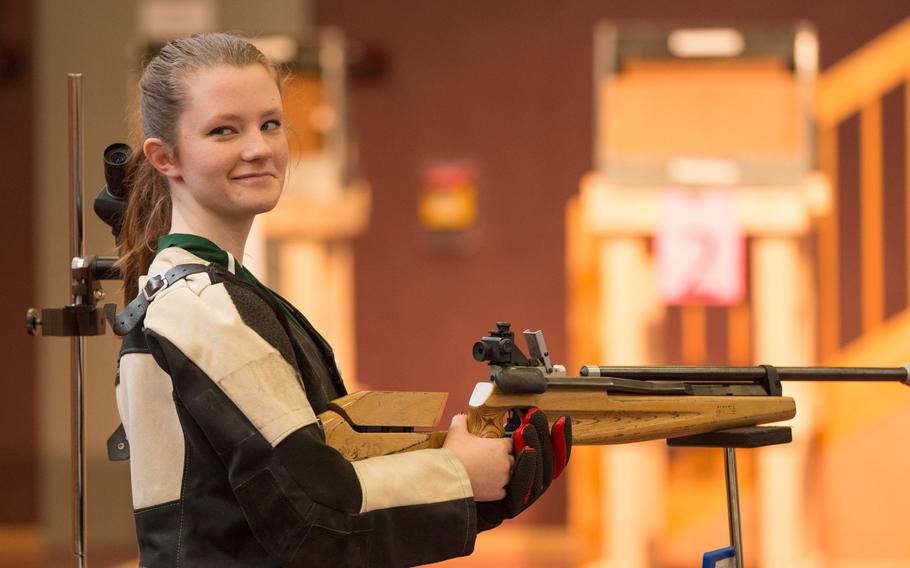 Alconbury junior Brittany Brann spent the 2015-16 DODEA-Europe marksmanship season managing her expectations.
By the end of it, she'd managed to exceed them all.
Brann, the 2015-16 Stars and Stripes marksmanship Athlete of the Year, wasn't sure her inexperienced Dragons rifle squad was ready to make the competitive leap to the European tournament. But they scrapped their way to the last spot in the meet.
"I didn't even know we were going to go to Euros," Brann said. "The majority of our team was new shooters."
Once her team was in that meet, Brann figured that would be the clear highlight to cap the Dragons' season. She barely entertained the idea that she might contend for a championship, and was mostly just grateful to her rapidly-improving teammates for helping her get there.
"I knew I was alright," Brann said.
Brann had monitored the scores produced all winter by defending champion Stuttgart and figured she'd settle somewhere into the pack below the Panthers.
"My goal was to shoot in the top 10. I didn't even think about placing or anything like that," Brann said. "I had no idea I could even shoot at their level."
But things changed once Brann was on site at the championship meet, lining up against Europe's best in the kind of shoulder-to-shoulder competition she rarely sees from her outpost in England.
She did her best to make sure her approach didn't change.
"I wasn't worried about the fact that I was shooting with all these amazing shooters," Brann said. "I was just focused on my target."
In fact, Brann was focused to such a degree that she didn't know how well she was doing. When coach John Pardo told her how well she'd done, Brann said she didn't believe him. But the official score confirmed it. Brann's overall score of 283 placed her one point ahead of a Panther-heavy field for the individual European championship.
Ultimately, Brann had exceeded her own expectations by doing her best not to have any.
"You can't feel pressure in rifle. It's all focusing on your shot," Brann said. "I think this shot is all that matters. I want to shoot a bullseye on this shot.
"I was just in the zone I guess."
Twitter: @broomestripes
---
---
---
---