Boys soccer preview: Heidelberg aiming for seventh straight title
by
Rusty Bryan
May 21, 2003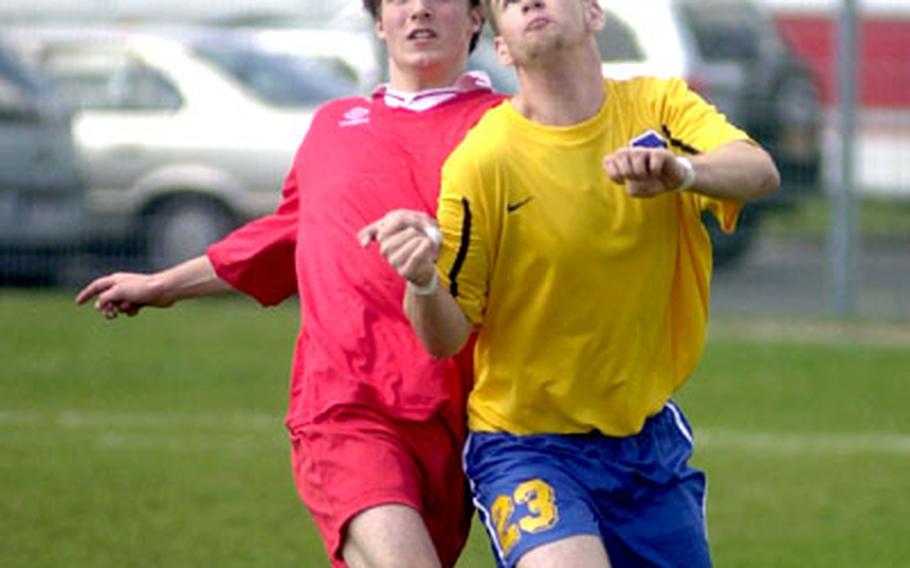 Strong offense and tough defense put Heidelberg in good position to win its seventh straight European title when the division tournament starts Thursday in Ramstein, Germany. Also defending European crowns this weekend are SHAPE and Milan.
Division I
On its way to a 7-0 record, Heidelberg has outscored its opponents 23-3. The Lions' closest call came in a 2-1 victory at Lakenheath (3-1-1 in D-1) on May 3.
But Lakenheath and its star, Luke Croucher, will travel to Germany by bus and must sleep on gym floors.
Heidelberg will be powered by Christoph Ascherl, Philip Soriano, Xavier Otero and Kevin Thorne.
Although Ramstein (1-4-1 in D-1), which hosts the tournament, and Wiesbaden (2-3) usually mount strong postseason runs, both are under .500 in league play.
Kaiserslautern (1-3-1), International School of Brussels (1-3-1) and Würzburg (2-2) round out the field.
Division II
SHAPE needed overtime to turn back Hanau in last season's European final.
The Spartans bring a 4-1-1 record into this year's tournament, which starts Thursday at AFNORTH in Brunssum, Netherlands.
Mannheim (5-0-1), with its formidable back line anchored by Caleb Maglio, could provide resistance, as could Black Forest Academy, 3-0-1 in its past four games.
SHAPE fell 2-1 to Mannheim on April 3.
AFNORTH (3-3) packs plenty of punch in scoring aces Dominik Breuer and Jan-Phillip Hamm and has the home-field advantage.
Patch (2-3-1), Vilseck and Bitburg (both 1-3-1), and Hanau (0-5) are the other teams in the tournament.
Division III
Since the D-3 schools split into their own tournament in 1999, the event has been dominated by the private schools in Italy — American Overseas School of Rome in 1999, 2000 and 2001 and Milan last season.
AOSR and Milan are back this year, but Division III-North champion London Central (4-0-1 in the regular season), suits up a powerful co-ed team lead by C.J. Nogoy, Brenna Gallagher, Alex Laverty, John Wigandt and Andrew Nelson.
Adding to the uncertainty for the Italy entries is the fact that neither of them won the ASIL regular-season title, which was claimed by Aviano, a Med Regional casualty.
Also in the Friday-Saturday field at Baumholder are III-North regional runner-up Brussels (2-1-2), III-South regular-season champion Hohenfels (3-1), and surprising III-South regional champ Bamberg (2-3).