Boys high school basketball roundup: Owens, Admirals make the most of trip to England
by
Stars Stripes
January 31, 2010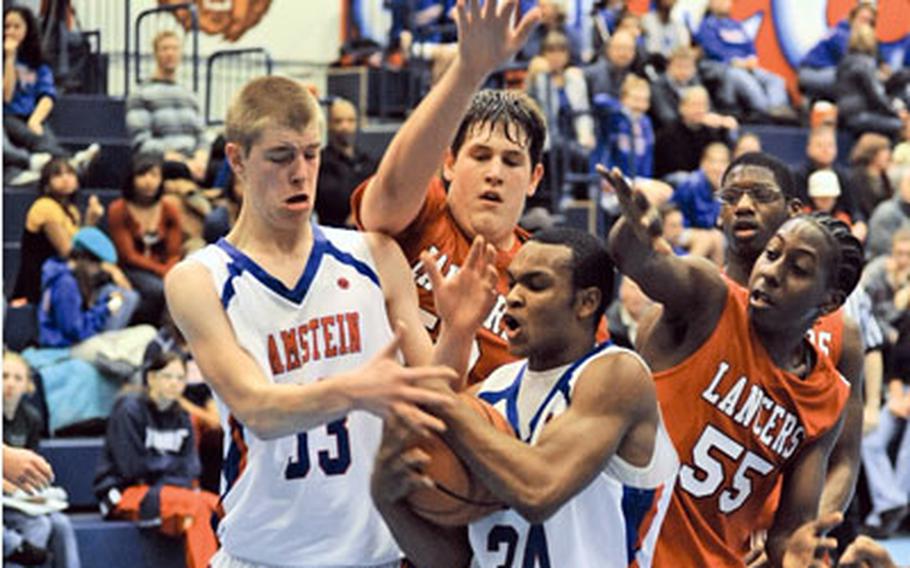 It's been a long time since England endured a raid as one-sided as the one mounted by the Rota Admirals on Thursday through Saturday against three Division III rivals.
Riding the scoring and rebounding of All-Europe sophomore Trevon Owens, the visitors from Spain made the most of their only regular-season games against DODDS-Europe teams by steamrolling to a 6-0 mark in the three-day, round-robin event that also included the Alconbury Dragons, Brussels Brigands and Menwith Hill Mustangs.
Owens posted five double-doubles in Rota's six games, all double-digit victories by last year's European small schools runner-up.
On Thursday, Owens chalked up 23 points and 17 rebounds in a 53-30 romp over Menwith Hill and 22 points and eight rebounds in a 63-28 conquest of Alconbury. Owens continued his onslaught Friday, gashing Brussels for 30 points and 10 rebounds in a 61-26 romp and again punishing Menwith Hill, this time with 29 points and 12 rebounds.
He closed out his foray into England on Saturday with 27 points and 14 rebounds in Rota's 58-37 conquest of Brussels and 26 points and 15 rebounds in the Admirals' 63-36 victory over Alconbury that clinched the sweep.
Those totals increased his weekend averages to 26.1 points and 15.1 rebounds per game and left no doubt that the Admirals intend to be the last man standing in next month's European Division III tournament at Mannheim.
"We're very happy about the way things turned out," Rota coach Ben Anderson said by telephone Saturday night.
In other boys games of note on a weekend when most of the schedule north of the Alps was snowed out:
Ramstein 69, Lakenheath 31: Friday night at Ramstein, the Royals buried Lakenheath in a 23-6 first-quarter hole and romped to their sixth victory of the season.
All-Europe senior Dillon Wadsack, with 26 points in part-time duty, led Ramstein, which is unbeaten since a 58-47 loss to Patch in a non-regional game on Dec. 4.
Paul Federinko, with eight points, led Lakenheath's scoring in a game in which the clock ran continuously during the fourth quarter.
Kaiserslautern 64, Lakenheath 53: Saturday at Kaiserslautern, R.J. Conyers and Thomas Russ each scored 16 points and Russ also grabbed 10 rebounds as the Red Raiders consigned the Lancers to an 0-for-Germany regular season and advanced their overall record to 4-2. Federinko, who tallied nine rebounds, again topped the scoring for Lakenheath (3-5) with 16 points.
AFNORTH 56, SHAPE 33: Friday night at Mons, Belgium, Yannick Hickman, with 25 points and six rebounds, and Aaron Highbarger , with nine points and five rebounds, made sure SHAPE (0-11, 0-5 in Region I) remained winless.
AFNORTH (4-3, 3-2) put the game away by outscoring their hosts 22-8 over the game's final eight minutes.
Heidelberg 50, Bamberg 47: Saturday at Bamberg, Heidelberg, which had coasted 62-16 the previous night on the same floor had to mount a 21-10 fourth-quarter run to complete the Region III sweep.
Devin Jackson led the way for Heidelberg (6-1 overall, 5-1 in the region) with 18 points and 13 rebounds as the Lions clawed back from a 37-29 deficit after three quarters.
Jackson also aided the cause with five assists and four steals. Bamberg (6-4, 4-4) got 15 points from Quadel Webb.