Boxing program a hit in S. Korea
---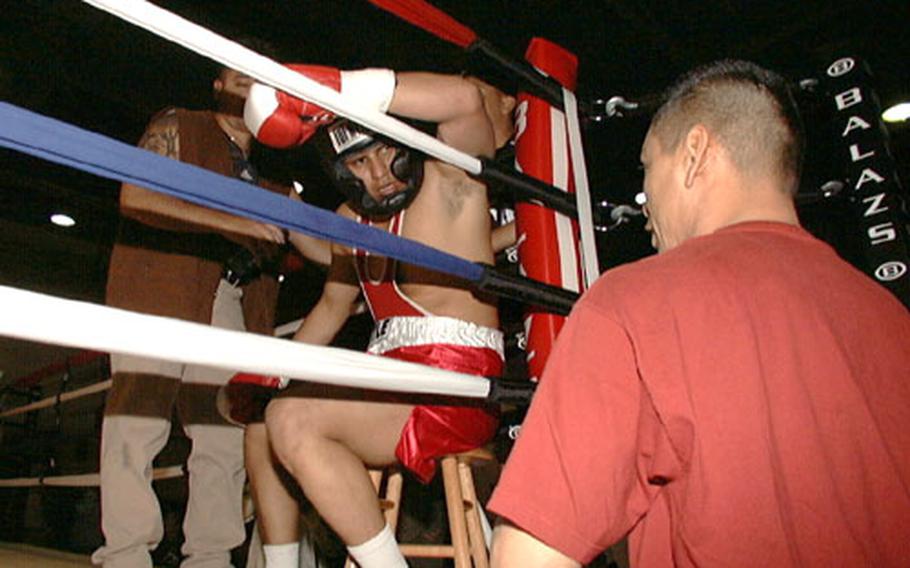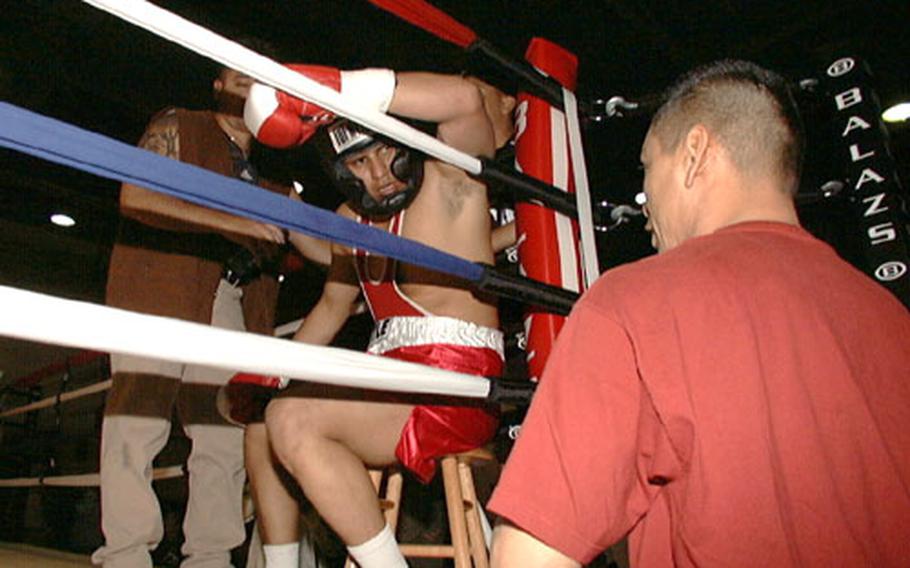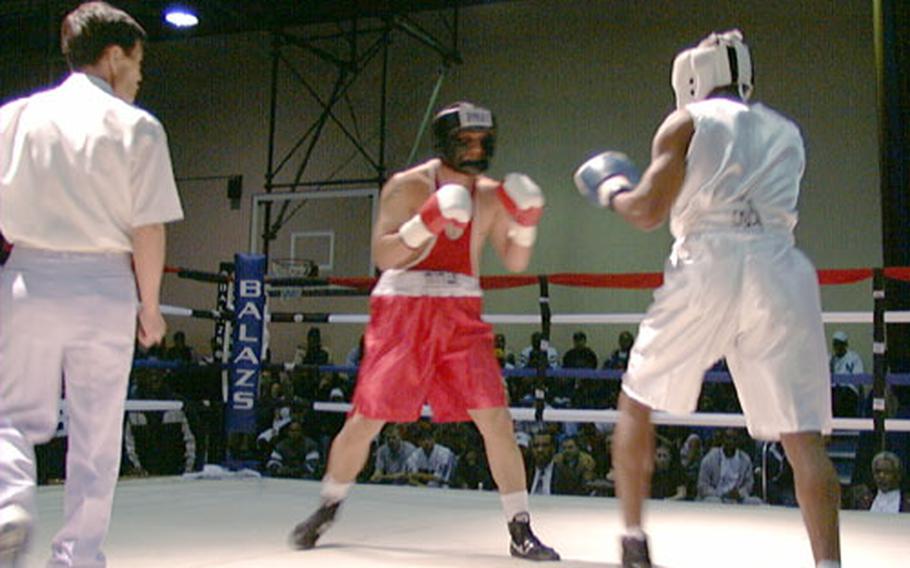 TAEGU, South Korea — They were well into the first round, and the crowd was shouting advice — but coach Miguel Marquez was frustrated.
His fighter wasn't listening. Not to him, anyway.
Marquez wanted him to go in hard on his opponent and hammer him aggressively, without holding back. But his guy, Army Spc. Robert Flores, wasn't taking hold.
It lasted not one but two rounds that Saturday night last month at Camp Walker's Kelly Fitness Center Gym.
Finally, Flores realized his mistake. In the third round, he went on the attack, knocking down his opponent, who was back up quickly. But it wasn't enough, as Flores' more active foe won by decision.
Hardly discouraged, Flores said it taught him a lesson. He's now more determined than ever to stay with the Army's new boxing program in lower South Korea.
"I'd like to win the next match," said Flores, a military police officer with the 728th Military Police Battalion in Taegu. "I just gotta fight smarter. I thought I probably could have won that last fight if I could have just gone after him sooner. I have to listen to my corner. Coach Marquez knew exactly how to beat him and I wasn't going along with that, and that's why I lost.
"I'm definitely going to stay with it."
So are the program's organizers, who saw the March 8 debut card draw the biggest crowd in memory for any Kelly gym event. Encouraged by that, they're mounting some big steps to expand and promote the fledgling organization, said Melvin Gaither, the 20th Support Group's chief recreation officer.
They plan to stage the next big tournament on July 4, outdoors on nearby Kelly Field.
"We will advertise it to the max with banners and the marquee and the MWR booklet," said Gaither, "and we'll put it in fliers and everything. We'll have it out there this time.
"But we still had a great turnout without a lot of publicity — it was amazing."
Officials are also trying to establish a training facility at the Army's big logistics base on Camp Carroll in Waegwan, Gaither said. They're hoping to line up a coach who would do at Waegwan what Marquez does in Taegu.
They'll contact unit commanders in hopes of stirring up interest in the local program. Many have said they'd support it, provided the appropriate training and medical safeguards were in place.
"If the commanders push it ... most of my work is done," said Marquez. "All I have to do is sit here and wait for people to walk in for practice."
And they'll explore the possibility of setting up bouts between company and battalion-sized units in Area IV. That would not only enhance troop fitness and unit pride but could also enlarge the fighter pool for area-wide events, such as the one set for July 4.
Meanwhile, an Army medical unit in Taegu is providing treatment teams at ringside, as it did on March 8.
"Before the last event, we mentioned it to the company at formation, and we will continue to do so for future events," said Maj. Tzvi Robbins, commanding officer of Headquarters and Support Company, 168th Medical Battalion, at Camp Walker.
At each card, the unit will assign a "provider" — a physician or physician's assistant — who'll perform pre-fight checkups on each fighter the day of the event. They'll also be ringside at match time with one or two unit medics.
"I understand there were quite a number of spectators at this last one," said Robbins, "and I'm hoping to go myself. Perhaps even as a provider."
---
---
---
---