Boxer's comeback engineered by Army civilian
by
Steve Mraz
December 12, 2008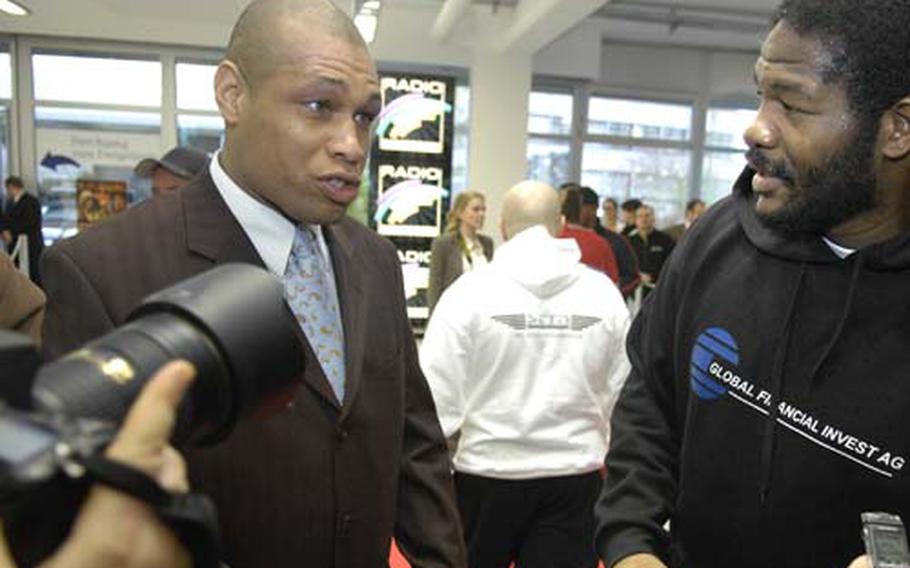 KAISERSLAUTERN, Germany — Herb Smith still looks like a boxer.
He has the physique, the presence and — if you look hard enough — the scars above his eyes that prove his pugilistic past.
The former professional and All-Army boxer remains engaged in the sport even though he has hung up his gloves.
When he's not working as a civilian for the Army in Kaiserslautern, Smith serves as the manager of former heavyweight champion Riddick Bowe. Bowe fights Saturday night in Mannheim, beginning a comeback bid at age 41.
So how did an American living in Germany link up with Bowe?
"If I told you, you wouldn't believe me," Bowe said. "This cat called me one day out of the clear, blue sky. I never heard of Herb Smith before so we talked. He told me, 'You should come to Germany, whatever, whatever.' Then after I spoke to him for a while — maybe 45 minutes — I agreed to come."
Bowe arrived in Kaiserslautern in early September, and since then, he's shed about 50 pounds under Smith's guidance. The boxer, who in 1992 defeated Evander Holyfield for the World Boxing Association, World Boxing Council and International Boxing Federation heavyweight titles, now lives and trains in Kaiserslautern. Bowe actually resides with Smith in K-town.
"Well, he's bigger than I am so he takes my bed from me, so I have to sleep on the sofa," Smith said. "He's a really nice guy. He has a big heart."
Smith knew of some people in Germany who were interested in working with Bowe, but they weren't sincere, Smith said. So he decided to take on the challenge himself.
"In the boxing business, you can have a lot of talent, but you have to have some good people in your corner," Smith said. "As soon as I realized these people weren't genuine – and I knew that [Bowe] was — I wanted to try and do something for him."
Smith is a one-time Louisiana Golden Gloves champion who turned professional in Europe and served as a sparring partner for three world champions, he said. Through his experience, Smith met a lot of people in the European boxing world and learned the business.
Back when Smith and Bowe were coming up in the boxing world, the men had the same Army boxing trainers. Their common experience allowed an opening for a relationship.
"[Bowe] had Army trainers because to find the best talent, he had to go and fight against Army guys," Smith said. "He met a lot of the Army trainers, people that I know, so we could talk the same kind of language."
Upon his arrival in Europe, Bowe visited the best doctors in Germany and underwent a thorough mental-capability evaluation that lasted seven hours, Smith said. Also of importance was improving Bowe's fitness.
"I said if he could show me that he was healthy and he was willing to lose weight, then the sky would be the limit for him," Smith said.
"The heavyweight division is wide open right now. Everybody talks about his age. With his abilities, he can go all the way to the top."