Bowe looks rusty, still beats Pukall
by
Steve Mraz
December 15, 2008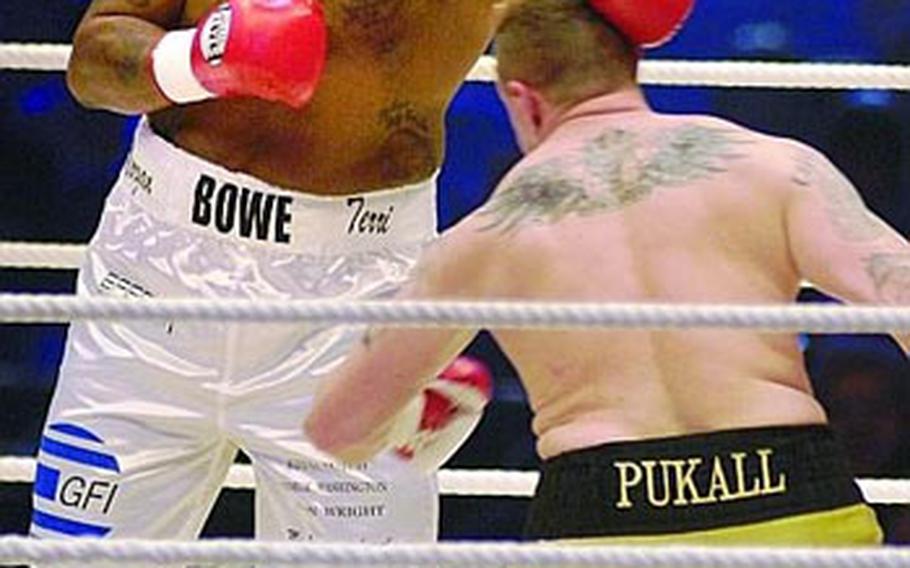 MANNHEIM, Germany — Early last week, former heavyweight champion Riddick Bowe predicted he would knock out Gene Pukall Saturday night in the second or third round.
The 41-year-old Bowe won but in a lackluster performance, winning a unanimous decision in the eight-round affair.
The bout was the first time "Big Daddy" Bowe fought professionally since 2005 and served as his third fight in 12 years. Bowe's time away from the sport showed.
The bearded Bowe, who moved to Kaiserslautern three months ago to resurrect his boxing career, failed to knock out a much smaller opponent, who prior to Saturday night had been KO'd in the first round of two of his last three fights.
Overall, the fight was marked by little action and less movement. For much of the fight, the men stood nearly flat-footed, not venturing far from the center of the ring.
Still, Bowe controlled the over-matched Pukall from the start and brought his opponent crashing to the canvas with a lone left hook at the end of the fifth round. It was the only real excitement of their bout.
The men took to the ring just after 9 p.m. Saturday with Pukall choosing a rock song for his entrance music. "In da Club" by 50 Cent blared through the SAP Arena as Bowe made his way to the ring in a white robe and white trunks.
The lack of movement and relatively few punches of the first round could be chalked up to the boxers feeling each other out. The boxers exchanged punches at the end of the second round, but none of the blows did terrible damage.
As the fight continued, Bowe, at times, would drop his gloves to his side to either adjust his trunks or when he appeared to be getting instructions from his corner. He still did damage to Pukall, landing some heavy rights to the 33-year-old's face. For most of the fight, the crowd was as quiet as clergy, but a few shouts of "go Big Daddy" and "move" could be heard.
Throughout the fight, Pukall did his best to keep his face buried behind his gloves, but at the very end of the fifth round Bowe landed a left hook that dropped his challenger like a bad habit. Pukall stumbled back to his feet late in the count, and the round ended seconds later.
The fight dragged on until the bell sounded to end the bout following the eighth round.
Bowe improved to 43-1 (33 KOs), while Pukall's record now stands at 14-13-2. Bowe billed the fight as a comeback bid to regain the heavyweight belts. While he showed flashes of his old self Saturday night in a few combinations, Bowe will need to improve by leaps and bounds if he's serious about a title run.
Bowe Riddick pre-fight interview by Steve MrazPhoto Gallery