Boardercross comes to U.S. Forces skiing
by
Kent Harris
February 8, 2004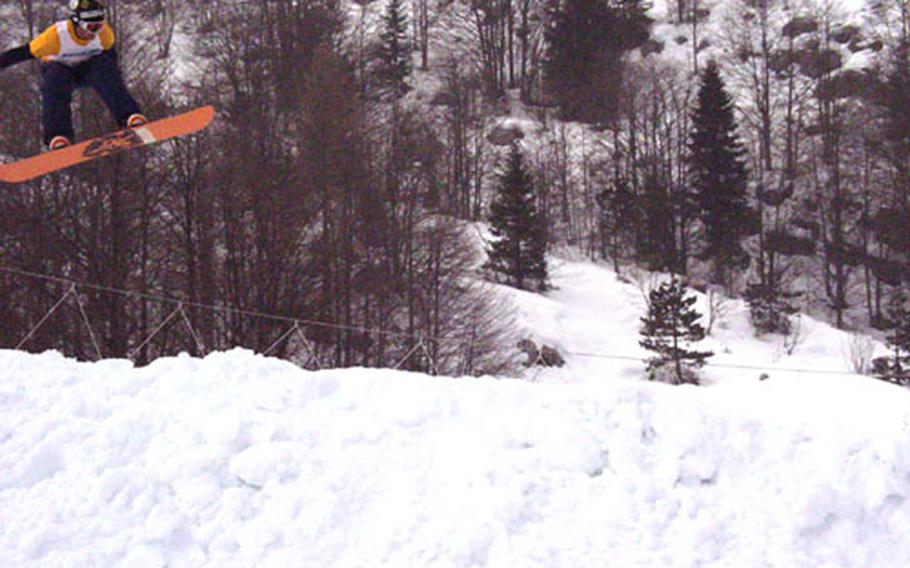 PIANCAVALLO, Italy — It wasn't quite the Winter X-Games.
No live television. No world champions. No big endorsements. Very few groupies.
But the first leg of the U.S. Forces Ski and Snowboard Championships got a little closer to the popular ESPN contests Saturday by giving competitors a chance at a new event — the boardercross.
Multiple snowboarders leave the starting line at the same time and head down the mountain to the finish line.
"In the X-Games, it's more roller derby," said Debra Ponzio of the U.S. Air Forces in Europe sports office. "It's the first one crossing the line however they can. We said we'd allow some incidental contact, but not intentional. The main thing here is that everyone has fun and is able to go back to work next week."
Injuries were not a problem. Neither was crowding. Showing there might be room for tinkering, the races consisted mostly of competitors trying to navigate a course that none of them was familiar with. A series of Italian races beforehand prevented practice time, so the racers — most competing in the event for the first time — weren't sure how fast they could go.
That didn't stop Andrew Gardner, a senior airman from Aviano, from taking the men's open event and probably putting in the fastest time of the day. The event was not timed.
Gardner's style points may have given him good karma in the final. He was the only competitor to seriously get airborne on the final jump during his qualifying heat. Trailing Vicenza's Jacob Risch in the final, Gardner benefited when Risch took a tumble before the final jump.
Gardner, a member of the 555th Fighter Squadron's Aircraft Maintenance Unit, played it safe this time and coasted to the victory.
Risch may have showed the most versatility on the day, though. He finished second in snowboarding and fourth in the men's open giant slalom on skis.
In fact, he had the quickest run of the day down the slopes, finishing in 34.02 seconds. But a bad first run put him in fourth behind Aviano's Thomas Pagano, who turned in the third- and fourth-best runs of the day.
The slalom competition was set for Sunday.
Most of the competitors Saturday were from Aviano or Garmisch. So those from southern Germany may have an advantage on the rest of the competition when the second leg of the championships is held March 6-7 in Garmisch. Winners will be crowned using the combined results of both competitions.
---
---
---
---