DODDS-Europe Division II football finals
Bitburg thwarts Mannheim's storybook ending
by
Seth Robbins
November 6, 2010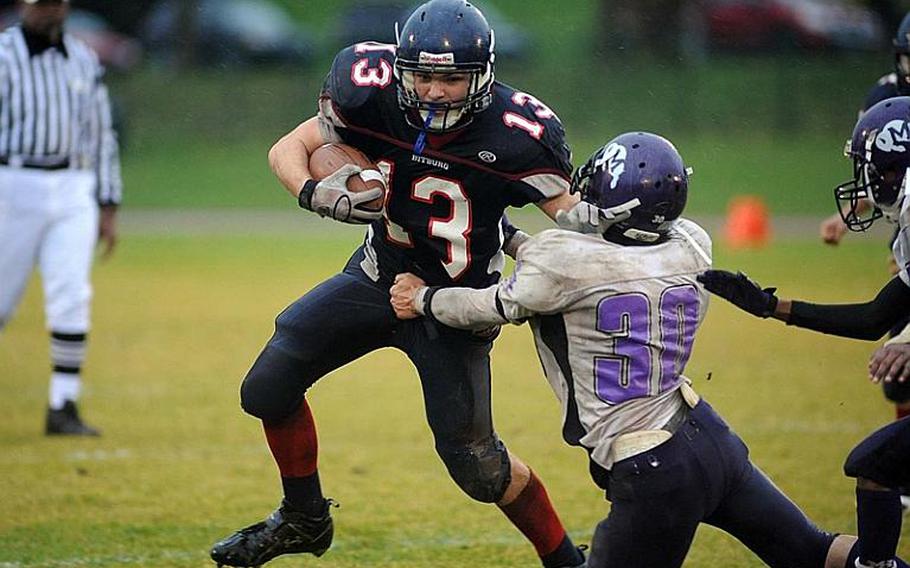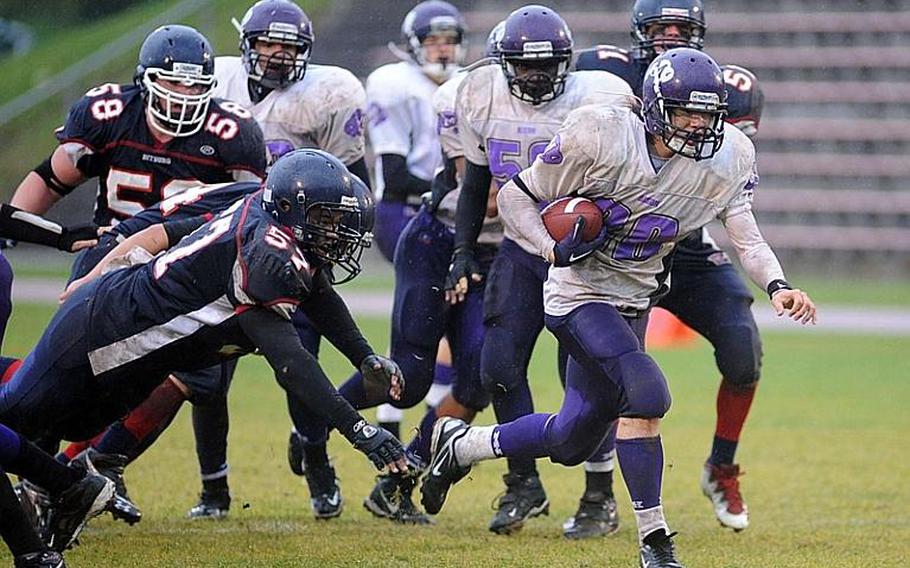 BAUMHOLDER, Germany - Using a hard-nosed running attack, Bitburg earned its second straight DODDS-Europe Division II football title Saturday, toppling Mannheim, 33-7.
A stifling defense from the Barons, along with a slick field, shut down the high-powered Bison offense. Sophomore Kyle Edgar, who rushed for 166 yards, led the way for Bitburg on the ground.
"I had some great guys blocking for me," Edgar said after the game. "I just had to find the holes."
During the first quarter, Bitburg methodically moved the ball with a series of short runs, both to the outside and up the middle. And the Bitburg defense pitched in by grabbing two interceptions, the first of which was caught deep in Mannheim territory by Matt Flood. After the interception, Bitburg quickly capitalized, with junior running back John "LJ" Downey punching the ball into the end zone for a 6-0 lead.
In the second quarter, Bitburg took advantage of a Mannheim fumble with a nine-play series that ended with Flood, a junior running back, running it in for a touchdown. And then late in the quarter, the Barons marched the ball down the field again. With only two seconds left, junior quarterback Corey Bashon threw a 14-yard touchdown pass to senior running back Aaron Mayfield, giving Bitburg a commanding 20-0 lead at the half.
Mannheim fought back in the third quarter, with sophomore running back Aaron Garrison quickly scoring after a bobbled punt by Bitburg gave the team excellent field position. Garrison was Mannheim's leading rusher, finishing the game with 68 yards.
Bitburg, however, added two more touchdowns in the fourth - one off a 57-yard run by Edgar - to put the game out of reach.
Bitburg Coach Mike Laue handed much of the credit for the win to his offensive and defensive lines, which overpowered the smaller Mannheim players. On the defensive side, senior Gary Horn led the way, with seven solo tackles and 3 assists. As a group, Bitburg running backs rushed for nearly 350 yards, often in 5- and 6-yard bursts.
"These guys played tough, tough, tough," Laue said after the game.
Mannheim had success running and passing the ball against the much larger Bitburg defense for much of the game, but penalties and turnovers killed drives. For Mannheim, which hadn't been in a title game since 1990, the loss was a bittersweet end to their final football season. The school is scheduled to shut its doors in June.
"I hope these guys hold their heads high," said Mannheim's senior quarterback Adams Cornelius. "We worked hard, we just came up short."
Mannheim's coach Frank Macias, who has been with the school for seven years, held back tears as he walked off the field.
"This is the only school I've ever known," Macias said. "I hate to see it go."
---
---
---
---