Bitburg steamrolls Baumholder for 18th straight win
by
Rusty Bryan
September 30, 2011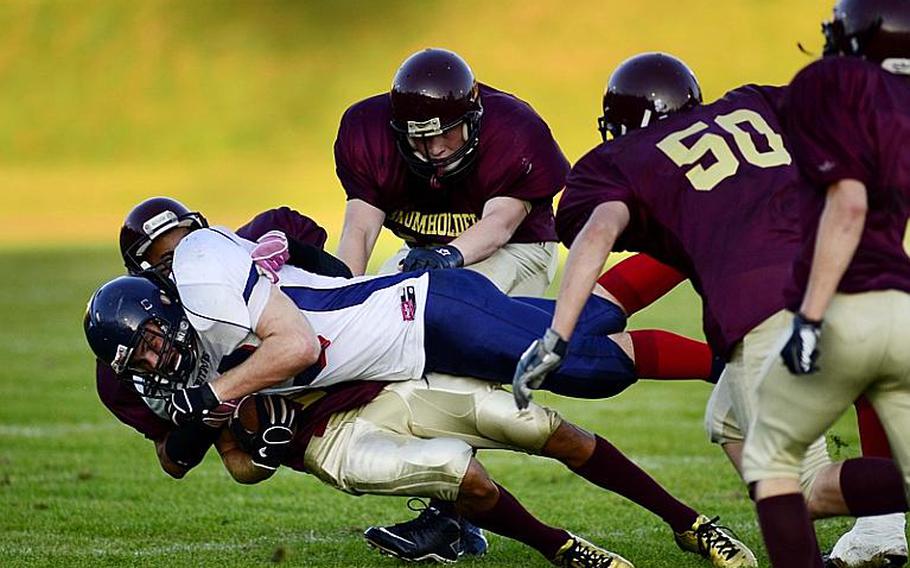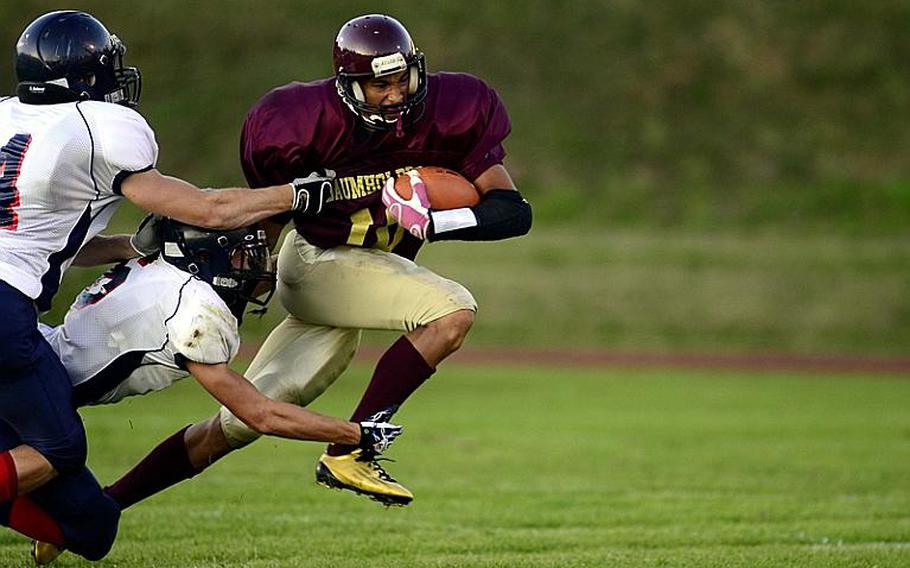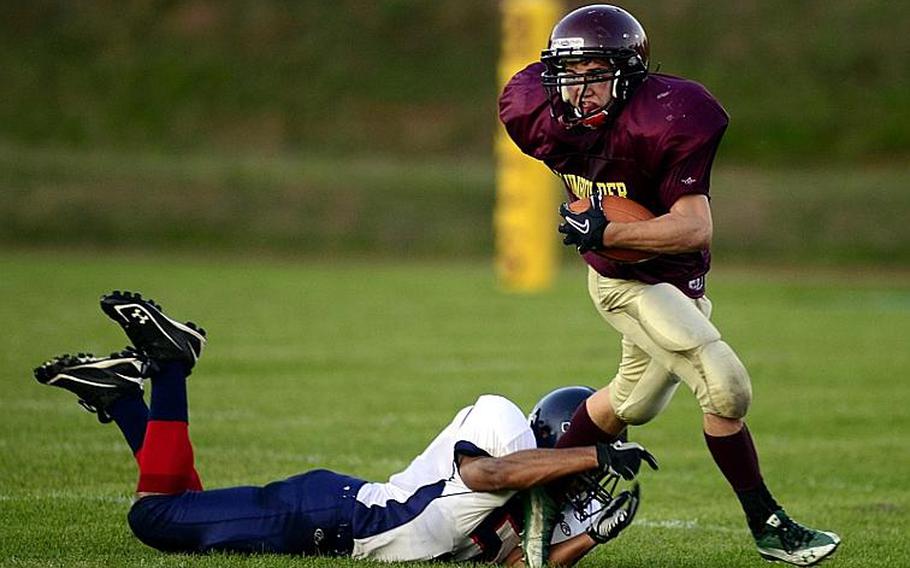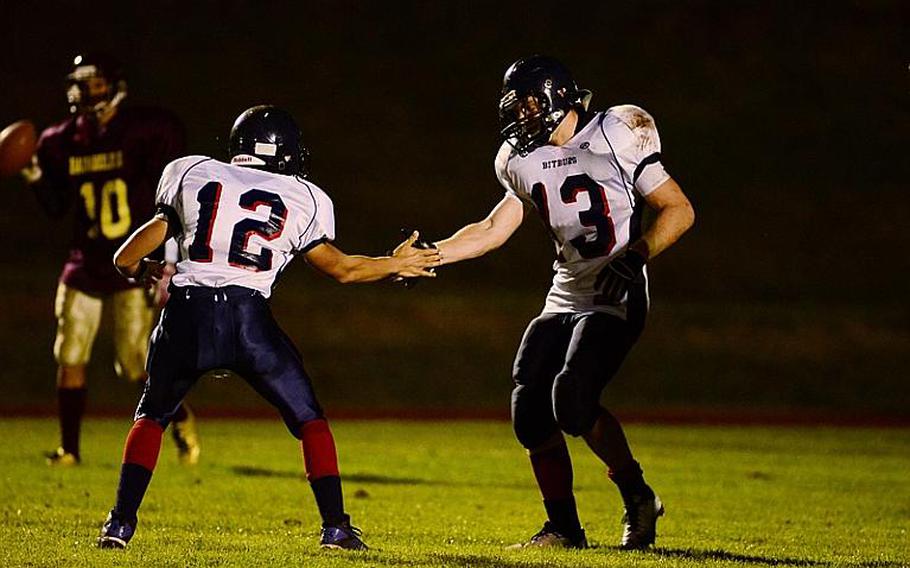 BAUMHOLDER, Germany – The two-time defending European champion Bitburg Barons dominated the battle up front Friday night to claim a 40-14 victory over the previously unbeaten Baumholder Bucs.
"We're fortunate to have the bodies we have," Bitburg coach Mike Laue said about his line, which can call on three 290-pounders and another who tips the scales at 285. "We work hard during the offseason getting bigger and stronger, but we lift during the season. We get bigger and stronger during the season, too."
If the Barons, who won their 18th straight game Friday, get much bigger and stronger, they'll drain whatever suspense that might be left in the drive for the D-II three-peat.
The Barons' front, for example, sprang ball carriers for 366 yards in the first three periods Friday night, going up 40-0 and then turning the game's final 13 minutes and 11 seconds over to the Bitburg reserves. Leading the way was All-Europe running back Kyle Edgar, who ran for touchdowns on plays covering 51, 61 and 56 yards among his 197 yards gained.
"I run behind the best O-line in Europe," said Edgar, whose first TD run began in a large void cleared for him by 285-pound All-Europe right tackle Darian Billups, "and I've got two great backs blocking for me."
One of those backs, Austin Schmidt (10 carries for 86 yards), got in on the scoring action himself, crashing over from a yard out 5 minutes, 19 seconds before halftime. Edgar ran in the two-point conversion to put the Barons up 24-0 at the break. The other, Matt Flood, gained 69 yards on his 10 carries.
Senior quarterback Corey Bashon scored Bitburg's first TD Friday night, plunging in from a yard out to cap a 12-play, tone-setting 40-yard drive.
"The first drive says everything," Bashon said about a first quarter played entirely in Baumholder's end of the field thanks to Bitburg's defensive dominance.
"It sets the standard," added Billups.
Billups, along with leading Bitburg tacklers Bryce Randall (six stops), and Shaquille Williams and Matt Flood (five tackles each) set the standard on defense. The Barons held Baumholder to seven yards on 10 plays from scrimmage in the first period and 10 rushing yards and 40 yards passing in the second stanza.
"I was proud of our defense," Laue said. "To hold a team with all the weapons they have is an accomplishment."
Friday, Baumholder's weapons locker was missing running back James Milledge, a Bitburg-type power runner who was nursing a sore leg. But the Baumholder duo of quarterback Christian Kubas and wingback Ben McDaniels connected five times for 74 yards, including a TD play of 30 yards. It came, however, after the Barons had gone up 40-0 late in the third period and had turned things over to their reserves. Ben Halliday scored on a run of six yards with 6:02 to play.
In the third period, an offsetting-penalties call cost the Bucs' duo an apparent 70-yard scoring play.
Baumholder's best chance to get back into the game came near the start of the second quarter. The Bucs recovered a fumble on their own six yard-line, then finally flipped their abysmal field position when McDaniels ran 30 yards from his own 10 on a fake punt. A personal foul penalty moved the ball to the Bitburg 45, but the Barons forced a punt, and broke Edgar for his 51-yard run three plays later.
Baumholder (2-1 overall, 1-1 in II-North) is scheduled to play at AFNORTH on Saturday, and probably needs a victory over the rapidly maturing Lions and another against visiting International School of Brussels on Oct. 14 to assure itself of a playoff berth.
The victory clinched a playoff spot for Bitburg (4-0, 3-0 in II-North. The Barons are to close out their regular season Oct. 8 at ISB, a D-II semifinalist in 2010. A victory there would assure Bitburg of a home game Oct. 22 in the European Division II quarterfinals.
Or, as Laue summarized the matter to his team, "We've got ISB to take care of."