Bitburg sophomore's change of sports looks better in '09
by
Rusty Bryan
September 24, 2009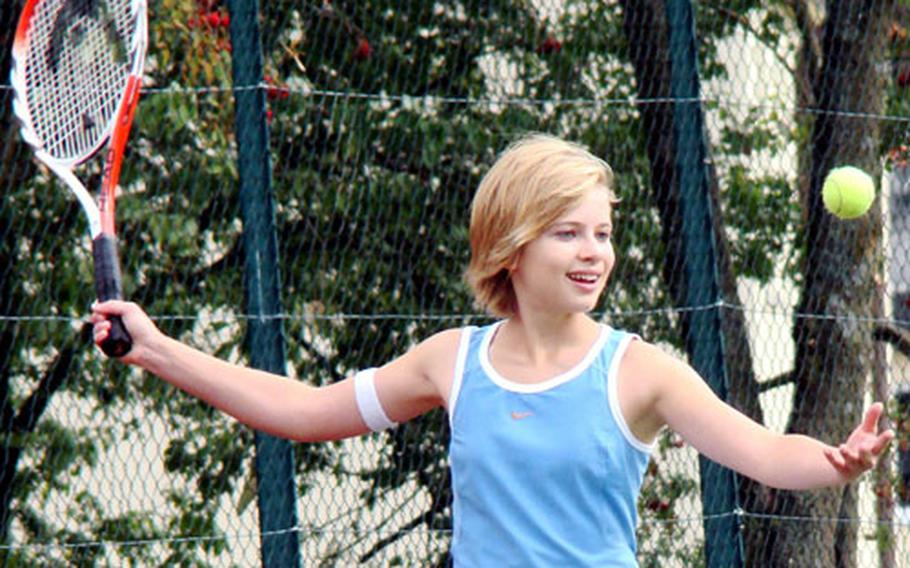 BITBURG AIR BASE, Germany — A year ago, Kaitlyn Miller was a freshman choosing between running cross country as Bitburg's likely No. 1 or playing tennis far down the depth chart.
"Last year, she ran a 6:15 mile," Bitburg physical education teacher Denny Lemmon said Monday. "I told her she could be the star on our cross-country team."
A no-brainer, right?
Wrong. Instead of testing European-championship waters in her first year in high school, Miller chose to play tennis.
Miller did not win a match until her final outing of the season, and her choice mystified Lemmon, at least until last Saturday.
"I could not understand her thoughts of being a mediocre tennis player versus being the star in cross country," Lemmon said. "On Saturday, I watched her play against the International School of Brussels. What an incredible change in skills from one year to the next."
The match Lemmon watched was vindication of Miller's sports choice. It was a 6-2, 6-4 conquest of 2008's fifth-place European finisher, ISB's Tamara Castells.
"I decided to play tennis last year because I really love the sport," Miller, now a 15-year-old sophomore, said Tuesday during practice. "My dad (Marc Miller) plays. I do love running, too, but when I was playing tennis, it just felt right. I knew it was the right sport for me."
Even if at first the results weren't quite right.
"Playing in that No. 4 spot was a struggle for her," Bitburg tennis coach Pete Vadney said. "She lost all of her matches until our final match of the year at Baumholder, where she finally tasted victory in a tiebreaker."
And acquired a taste for winning.
"She began lessons in the local area immediately after the season, and played tennis with her dad," Vadney said. "This summer, her parents entered her into some [stateside] tournaments where she surprised some of the local favorites."
Miller credits her German coach and her father for elevating her game.
"I took tennis lessons once a week with a German coach," Miller said. "He taught me all the strokes. He said if I wanted to improve, I needed to play my dad two or three times a week."
The regimen elevated more than Miller's mechanics.
"I struggled last year because I didn't understand the game as well as I do now," she said. "In those tournaments, I learned you can't let your emotions control you. If you do, you lose sight of your strategy."
The stateside experience boosted Miller's confidence and complemented the competitive drive that carried her through last year's brutal tennis apprenticeship.
"Coach Vadney told us before the match they were the best team in Europe," Miller said. "I didn't expect to win, but I was determined not to lose love-and-love. I wasn't going down without a fight."
Miller didn't come close to going down.
"I noticed that when I kept her back by the baseline, she didn't hit as many winners. I also saw that her backhand was weak, so I hit everything deep to her backhand," said Miller, who followed her victory over Castells with a 6-0, 6-0 conquest of AFNORTH's Taylor Bonnenclark.
With her 2008 victory total already doubled, Miller can start planning to qualify for Europeans next month in Wiesbaden, where the fast indoor courts are to her liking.
Later this year, Miller, who Lemmon said has reduced her mile time to 6 minutes, 11 seconds and broke Bitburg's two-mile school record in 12:39, will find herself facing another choice.
"Last year, I played softball," she said. "It's really fun, and I love the coaches. But one of my teachers is the track coach, and he wants me out for track."
Another no-brainer, except that this athlete chooses with her heart as well as her head. Stay tuned.
---
---
---
---