Bitburg scores big one
by
Mark Abramson
October 4, 2009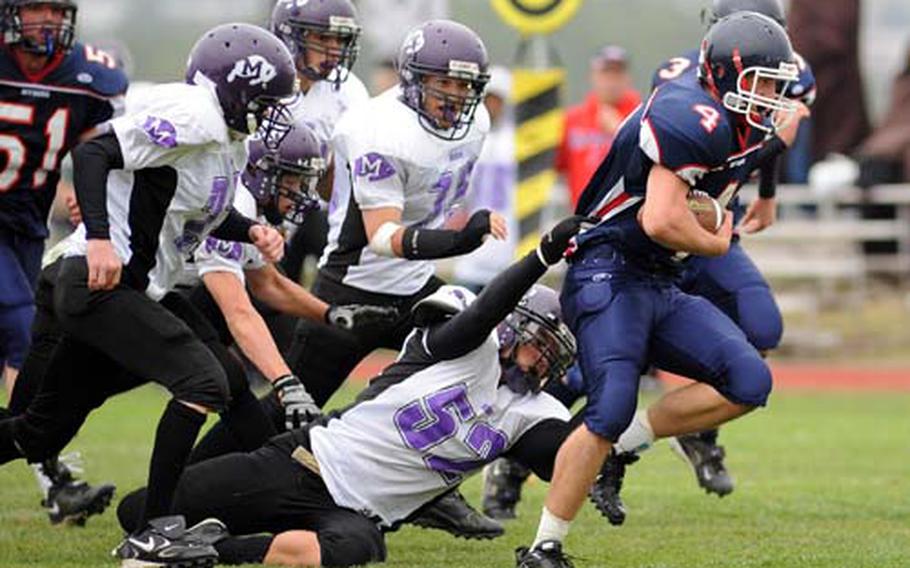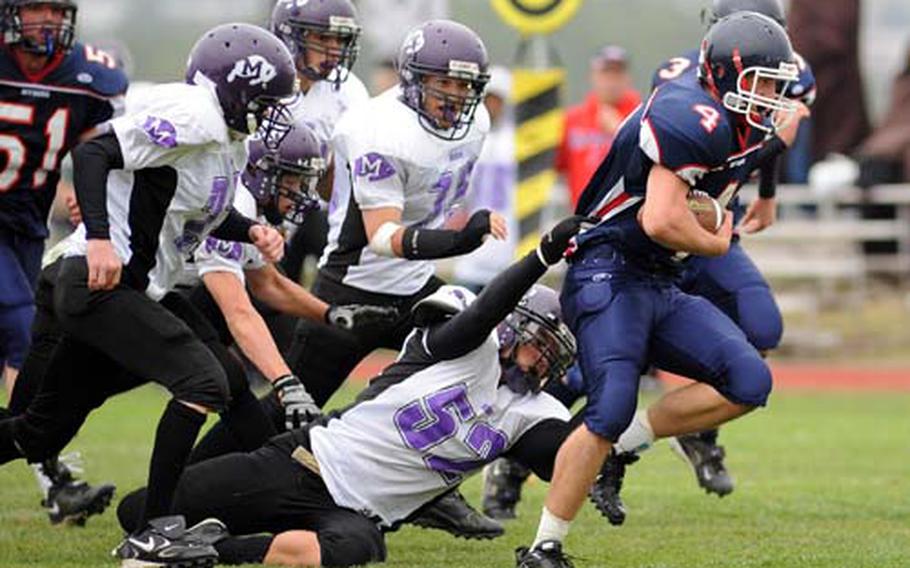 BITBURG, Germany — In a do-or-die game, Bitburg scored its first victory of the season Saturday by dominating Division II rival Mannheim.
Bitburg, which lost its first two games to Ansbach and International School of Brussels — both undefeated — whipped the Bison 35-0 on a blustery day that had the delighted homecoming-game crowd bundled up in blankets but staying to the end.
The Barons did most of their damage on the ground, rushing for 316 yards on 44 carries and passing for just 31 yards. They ran for nearly 200 yards in the first half when they built a 14-0 lead.
The bruising ground attack was led by 5-foot-7, 160-pound senior Brandon Massie, who got the scoring started with a 48-yard touchdown scamper in the first quarter. Massie finished with 128 yards rushing, including a second touchdown run of 44 yards in the third quarter.
"We had to win this game. We just stepped it up," Massie said. "I was expecting more out of their passing game."
Massie credited his big game to his offensive line's blocking and being able to see the field clearly to hit the holes quickly. He also kicked five extra points and had several big punts.
"Brandon is playing well for us," Bitburg coach Michael Laue said. "Our guys are progressing."
Senior Derek Waters scored on a 1-yard run and Matthew Less went in on a quarterback keeper to put Bitburg up 28-0. Sophomore Adam Garcia finished the scoring with a 31-yard touchdown run.
Mannheim (1-2) struggled offensively all afternoon. The Bison had only 19 yards rushing and 54 passing. They tossed three interceptions and fumbled twice. Many of their turnovers were drive-killers.
Junior Jacob Lankford was a bright spot for the Bison, recording 15 tackles and recovering a fumble in the fourth quarter. The fumble was Bitburg's only turnover, and it caused no damage as Bitburg senior Darnell Guppy intercepted a pass shortly afterward with four minutes remaining.
Mannheim coach Frank Macias said before the game that the rest of the season "should be interesting." He said Bitburg had never started 0-2 before in the six years he has been in the league.
"We knew they were big," Macias said of Bitburg. "They were fighting for their lives."
Turnovers put his team in a tough spot.
"We got to win out," Macias said of the Bison's hopes for making the playoffs.