Bitburg's Schmidt tabbed as best male competitor
---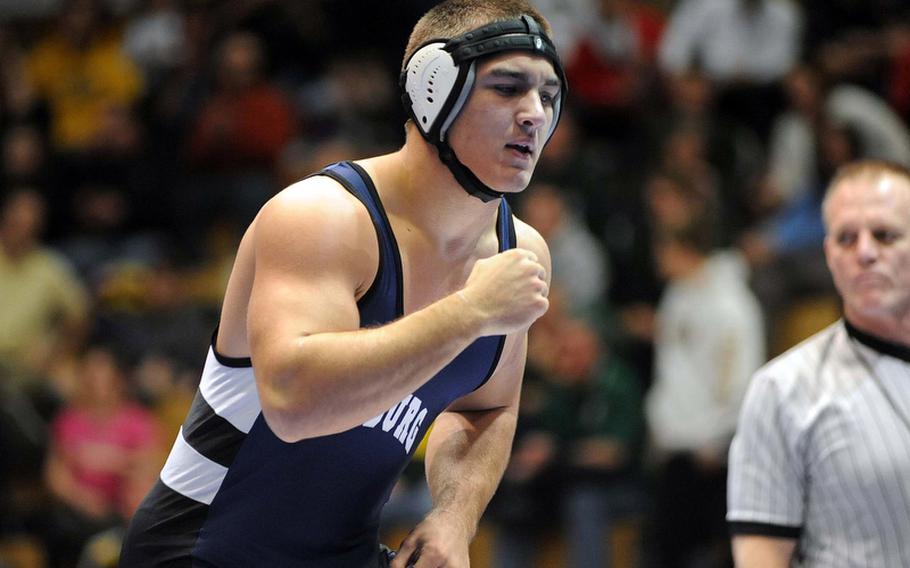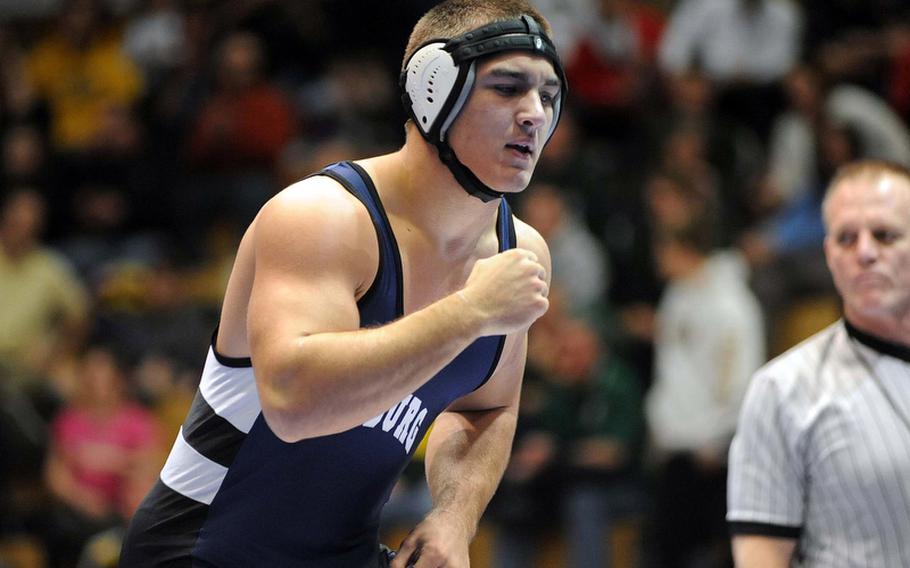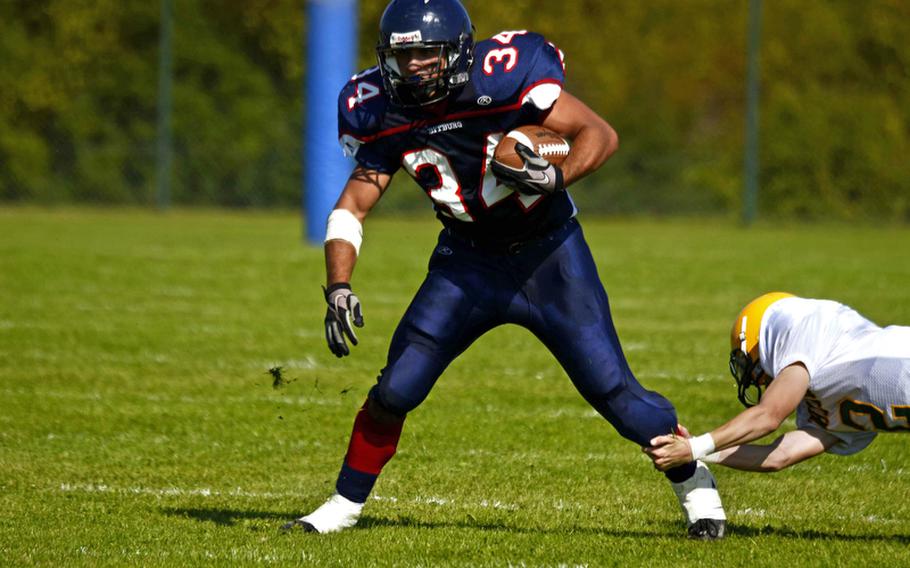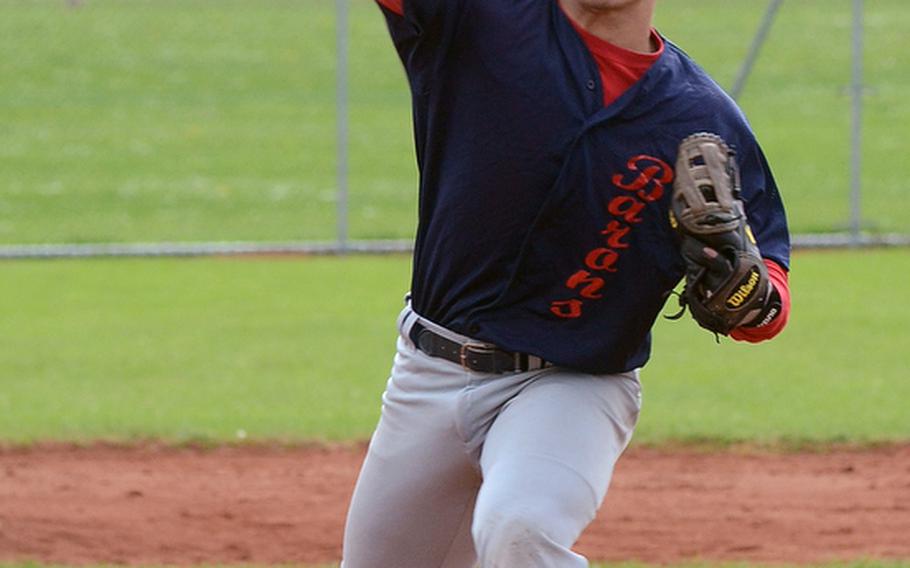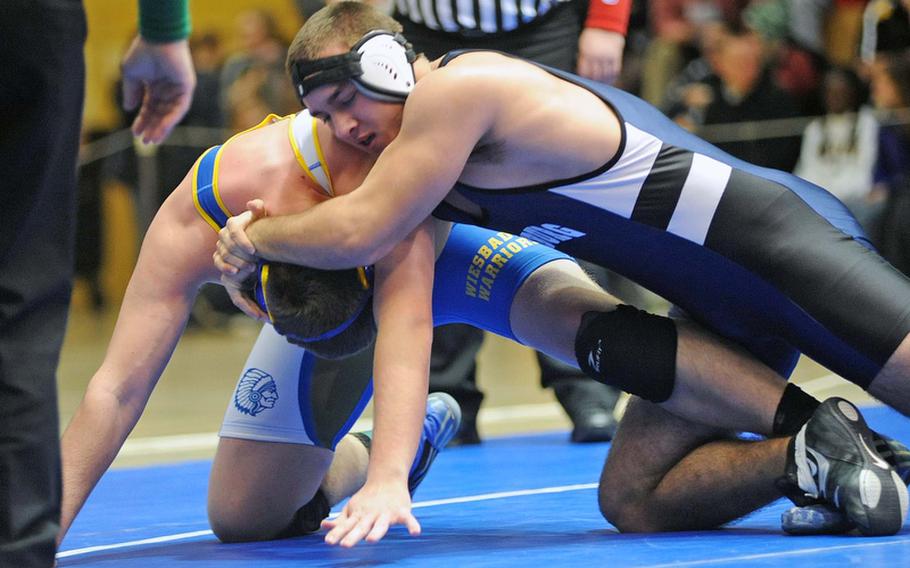 For Bitburg graduate and 2012 DODDS-Europe male Athlete of the Year Austin Schmidt, the highlight of his athletic year came early in the second semester.
Schmidt said by telephone Thursday from San Antonio that, for him, the high point of the year was "probably the wrestling championship."
But Schmidt, voted the school system's best male athlete by a panel of coaches chaired by Department of Defense Dependents Schools-Europe athletic coordinator Karen Seadore, excelled at other sports as well.
Schmidt earned All-Europe honors by helping the Barons to a third straight European Division II football championship and All-Europe baseball status as a pitcher-first baseman for the D-II runners-up.
A punishing runner at fullback for the Barons, the 6-foot, 205-pound Schmidt made the All-Europe and All-Star teams as a defensive end after recording 36 tackles — 10 of them for losses — four sacks and recovering three fumbles.
"Teams ran away from Austin's side," Bitburg coach Mike Laue summarized.
And in baseball, according to Barons' coach Chris Moran, Schmidt, who batted .487 with 16 RBIs and compiled a 1.55 ERA with 46 strikeouts in 31.2 innings pitched, was "a coach's dream player."
Schmidt capped his season by allowing just one earned run each to top-seeded Naples and eventual champion SHAPE in the D-II/III tournament, striking out 16 in 10 innings of work.
But he's more than just a performer.
"He leads on and off the field," Moran wrote of his four-year letterman who holds all of Bitburg's offensive records and made just one error in 47 chances at first base and shortstop. "He plays the game with his heart and mind as well as anyone I have seen."
But the season he compiled for the D-II champion Barons' wrestling team stood out because it capped his career progression from a 145-pound fifth-place finisher as a freshman to the European 220-pound championship as a senior.
His first career mat gold medal punctuated an unbeaten season in which he dominated two weight classes – 195 and 220. Schmidt began the season at the lower weight, but moved up in search of more competition.
He didn't find it.
"Only one match during the year was not a pin," Bitburg athletic director Chris Howard pointed out to the selection committee, "and that was a tech fall in the second period."
Schmidt, who lost a 10-1 major decision in the 160-pound title to Lakenheath's Derek Franco as a sophomore and an 8-1 verdict to Patch's Marshall Haas in 2011's 189-pound finale, put an exclamation point on this year's march to gold by posting seven tournament falls in a total of around 14 minutes. He ended his season with a 59-second fall in the title match.
For all that, baseball remains Schmidt's preferred sport. He's in Texas playing for a traveling team and letting the coaching staff at Angelo State University take a look at his considerable abilities.
A 3.22 student, Schmidt wants to stay in sports.
"If I'm not playing," he said, "I'm going to be coaching."
---
---
---
---