Bitburg's Matthews aims to keep top ranking in DODDS-Europe tennis
by
Rusty Bryan
October 23, 2003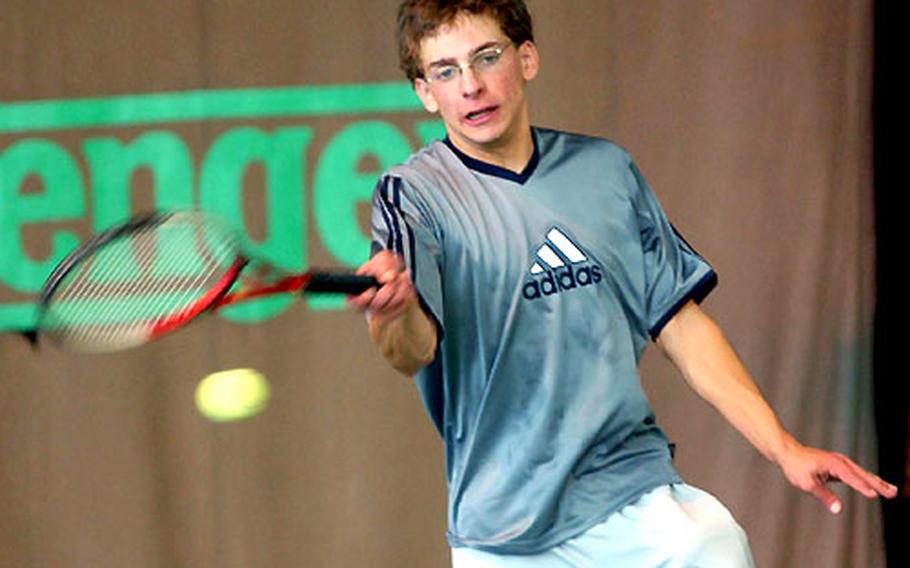 There are several reasons why Bitburg senior Jordan Matthews is seeded No. 1 in the European tennis championships which begin Friday in Wiesbaden, Germany.
Some reasons, such his ability as a shot-maker — especially on his backhand side — are obvious to anyone who's watched him play. Or played against him.
"Anytime someone tries to gain an advantage on him, he usually responds with that blistering backhand," Bitburg coach Pete Vadney said. "It usually works."
Equally apparent is Jordan's record against the best of the competition he'll face in the Europeans. He's unbeaten, with victories over No. 2-seeded Jun Koide of International School of Brussels, and Hanau's Devin Hayes, just to name two.
Less obvious is Matthews' inner strength and confidence, said Vadney, who has coached Matthews since he was a seventh-grader.
"He was down 5-4 to Jun [Koide] in the final set," Vadney said, "and came to me and said, 'Well, I guess I'd better get playing.'
"I told myself, 'Man, that's a senior dealing with senior pressure.'"
Matthews' prowess on the court wasn't exactly evident when he showed up on the Bitburg courts five seasons ago, Vadney said.
"He wasn't a force until between his freshman and sophomore years," he said. "That year, he decided to get serious about his tennis. He took some lessons in the spring and came out for the season considerably improved."
He's continued to do so, finishing fifth in Europe as a junior before earning this year's top seed.
Surprisingly, Matthews said he's not a year-round club player.
"I don't have time," he said. "In winter I do cheerleading, and in spring I play soccer."
While the link between those two activities and tennis may be hard to see, Vadney thinks tumbling routines may carry over to the courts.
"Tumbling is part of his game," Vadney said. "He's great athlete. He's so quick that he covers the court better than anyone else in DODDS. A lot of times an opponent will hit a shot that looks so much like a winner they'll almost put their racquets down only to find that he's returned the ball."
Despite the top seed and his athletic ability, Matthews says there's room for improvement.
"My favorite stroke is my backhand," he said, "although most people will tell you my forehand's better. My greatest challenge is my serving. I've worked on it a lot."
He's also worked with his teammates.
"He's been a real leader on the team," Vadney said. "He's been a team captain for two years. This year, a lot of times, it's been myself and 28 kids out there. A couple of times I've told him you've got to give me a hand out here, and he's been a second coach for us."
This weekend, Matthews will have just one man to coach through the pressure of being the top seed here.
"Sure, there's pressure," Matthews said, "but it's nice not to have to work your way to the top."
---
---
---