Bitburg's Davidson: 'It's all about strategy'
by
Rusty Bryan
September 20, 2007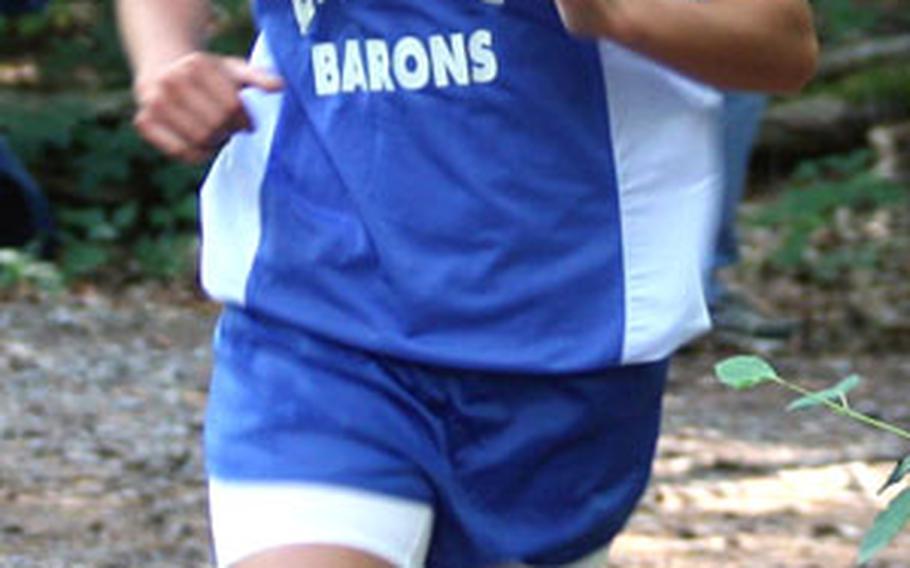 BITBURG AIR BASE, Germany — Bitburg junior Sandra Davidson is wrestling with a decision as she prepares for this week's cross country meet at Kaiserslautern.
"It's all about strategy," the 16-year-old said Monday before practice as she weighed her options for her first rematch with Patch's Maggie Redmond, who edged her for second place in last year's European Big Schools championships.
"Do I run as hard as I can, or wait for Europeans?"
If Davidson, who posted a time of 20 minutes 35 seconds to Redmond's 20:34 in last year's championships, opts for the first choice — as hard as she can — she might push both runners to personal bests. Davidson, you see, is coming off a summer spent doing hill training in the Blue Ridge Mountains of Virginia.
"I went to a running camp with two teammates," Davidson said. "We did a lot of running up a three-mile straight to the top of a mountain."
But if she decides on waiting until Europeans, don't expect her to let the leaders run away Saturday. Davidson doesn't do coasting.
"I always want to run really fast," she said, "and try to get a good time."
With a strong Ramstein team also in the field Saturday, good times might well be had by all the top finishers.
They were last week. Davidson led teammates Rachel Poock, one of her running-camp mates, and newcomer Jade Thrasher, bronze medalist in last year's Far East championships, in a 1-2-3 tribute to their former coach, the late David Turner. Turner died of an apparent heart attack Sept. 7 while running with the team.
"That was our goal, to get 1-2-3 for Mr. Turner," Davidson said. "We want to run for him all the way to Europeans."
Davidson, who began competitive running as a freshman, said Turner provided plenty of inspiration during his two years with the team.
"He'd figure all the course records for every race," Davidson said, "and then whisper in my dad's ear, 'Make her go faster. She's close to the record.' "
Turner's absence isn't the only one Davidson is feeling this season. Two-time European champion Colleen Smith of Kaiserslautern, who finished 36 seconds ahead of her in last year's finale, has transferred to the States for her junior year.
"I'd like her to be here," Davidson said. "I ran with her a bit last year and she pushed me faster. That's what you want — people who push you to be stronger."
Davidson, an All-Europe softball pitcher, will find plenty of people like that when she moves to California in December and ends a nine-year stay in Germany.
"I'm really going to get hit with reality there," she predicted. "Over here, I'm a good runner, but they're going to be a lot faster. It'll be my last year, too, so I'll have to get faster quickly."
How much faster?
"My dad always says 'Run fast enough to win.' "