D-II baseball
Bitburg rallies to top Vicenza, take first
by
Rusty Bryan
May 28, 2011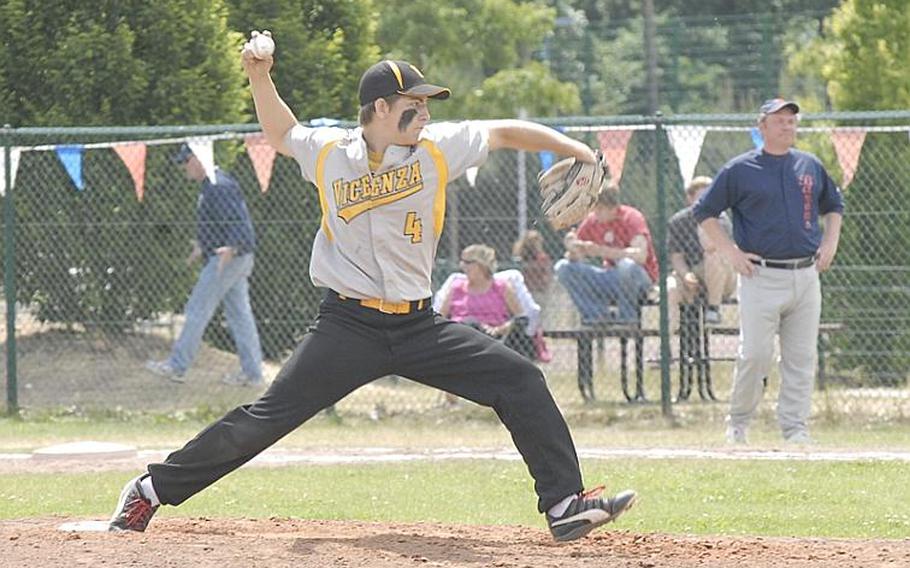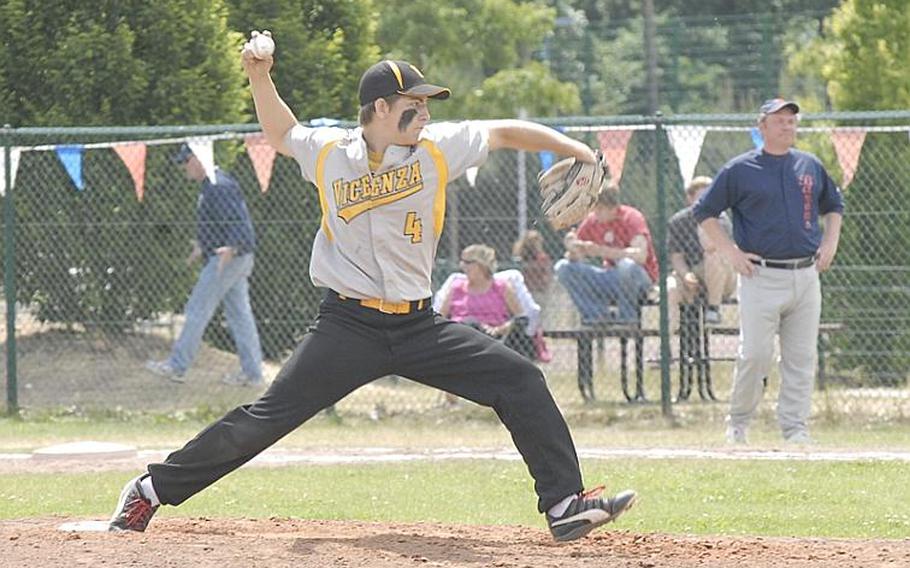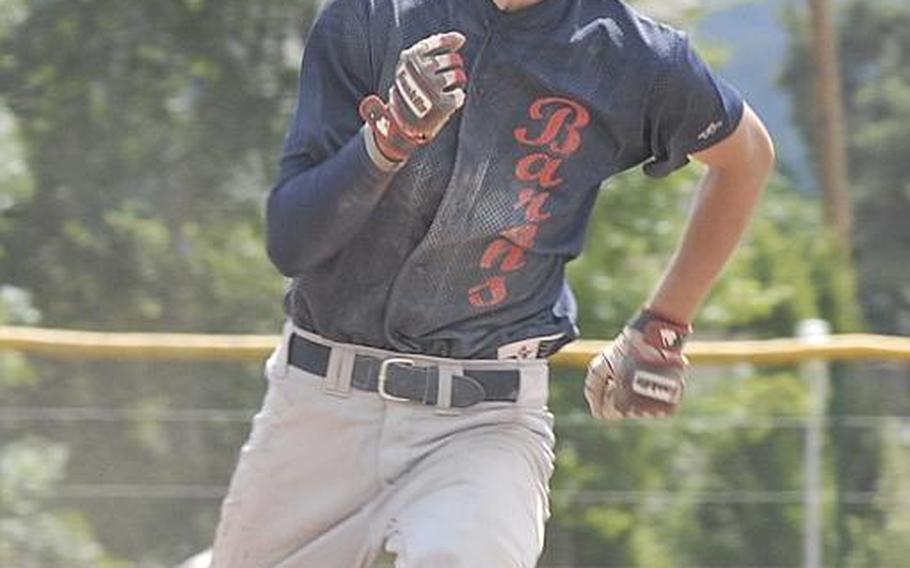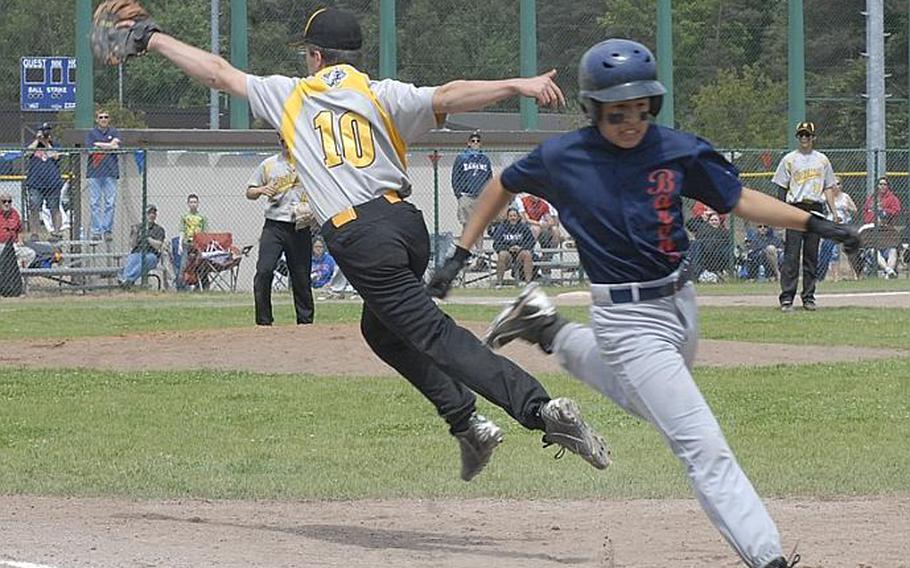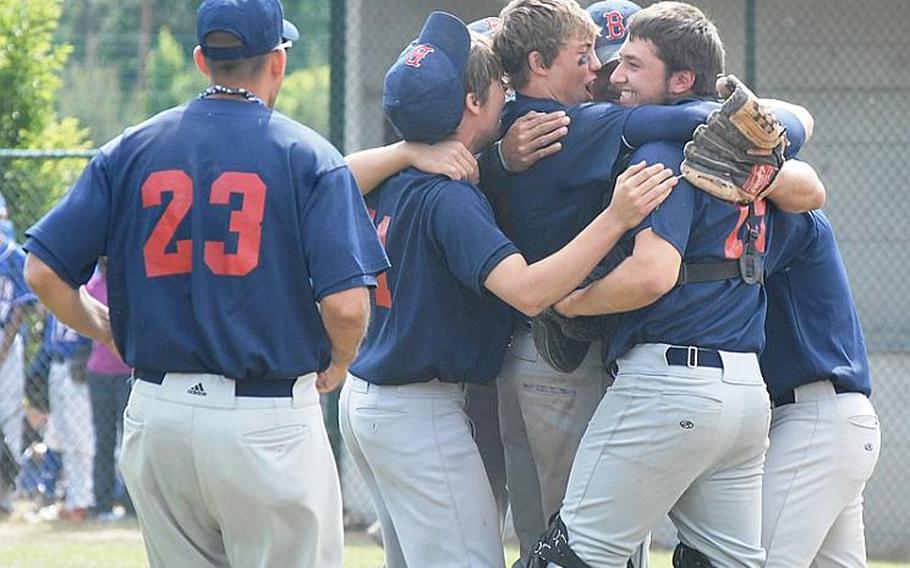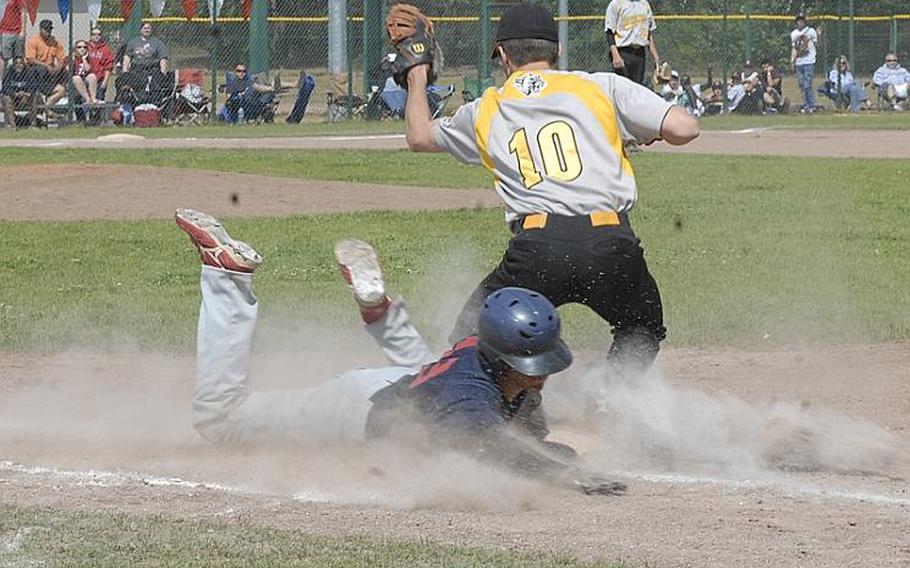 RAMSTEIN AIR BASE, Germany – Zach Nichols came up with the answer Saturday for the Bitburg Barons.
Moments after Vicenza's Cooper Armstrong had tied the game 3-3 with a resounding two-run homer over the center field fence, Nichols doubled home Austin Schmidt with the first run in a two-run rally that gave Bitburg a 5-3 victory over the Cougars in the European Division II baseball championship game.
The hit was the first of the day for Nichols, who earlier had reached base twice on Vicenza errors and driven in a run on a ground-out.
The batting performance was typical of the day Bitburg batters endured again Vicenza starter Jeremy Huller, a curve-balling right-hander who had the Barons lunging at the ball all day.
"It was crazy," Nichols said about Huller's performance. "We could not get our bats to the ball."
Huller, who retired four batters on infield pop-ups, eight on ground balls and saw four other potential ground-ball outs result in base runners via Vicenza errors, said experience and his breaking ball accounted for most of Bitburg's batting challenges. He struck out four and allowed nine hits.
"I pitched the last three innings against them (in Bitburg's 2-1 pool-play victory on Thursday)," Huller said. "I kind of knew who I could get out with the curve."
Huller also induced ground balls that Bitburg hustle turned into three infield hits.
The biggest of those came in the decisive seventh, when Schmidt, who came on in relief of Bitburg starter Notley Reavis after Armstrong's homer, beat out a grounder with a headfirst slide into first. He then came all the way home on Nichols' double.
"It was important to score right away," Nichols said. "If we hadn't, we probably wouldn't have won. If we'd stayed tied, Vicenza would have won in (extra innnigs), or somehow."
Schmidt, the team's closer, made sure Bitburg kept the lead. He needed just seven pitches to strike out Vicenza's first two batters in the bottom of the seventh.
"I was feeling pretty hot," Schmidt said.
An error and a four-pitch walk, however, put the tying runs on for Vicenza before Schmidt completed striking out the side with a high fast ball to Armstrong.
Schmidt fanned four of the eight batters he faced while allowing no hits and walking two.
As the team's closer, Schmidt had been in that kind of situation many times before, right?
"Yes," he replied, "but nothing that close."
---
---
---