DII football quarterfinal
Bitburg pulls away from Hohenfels
---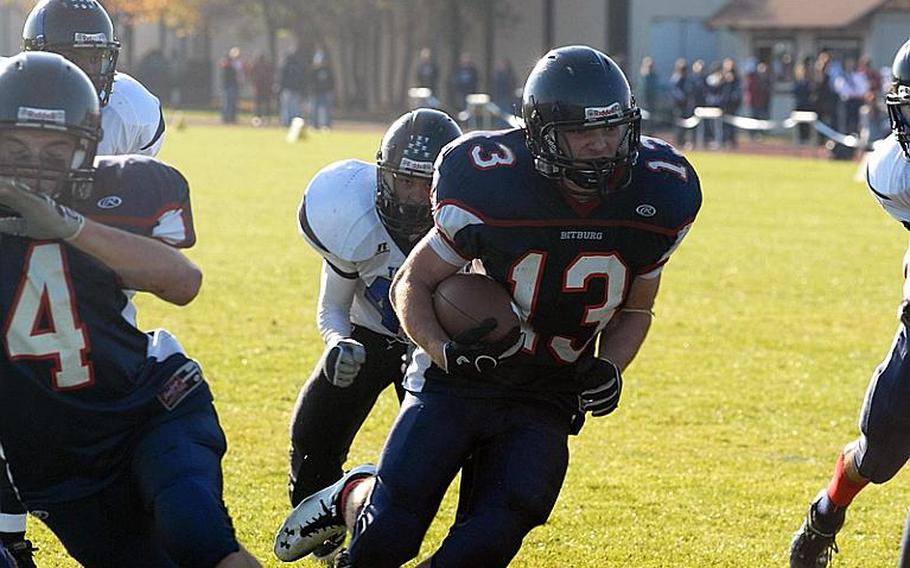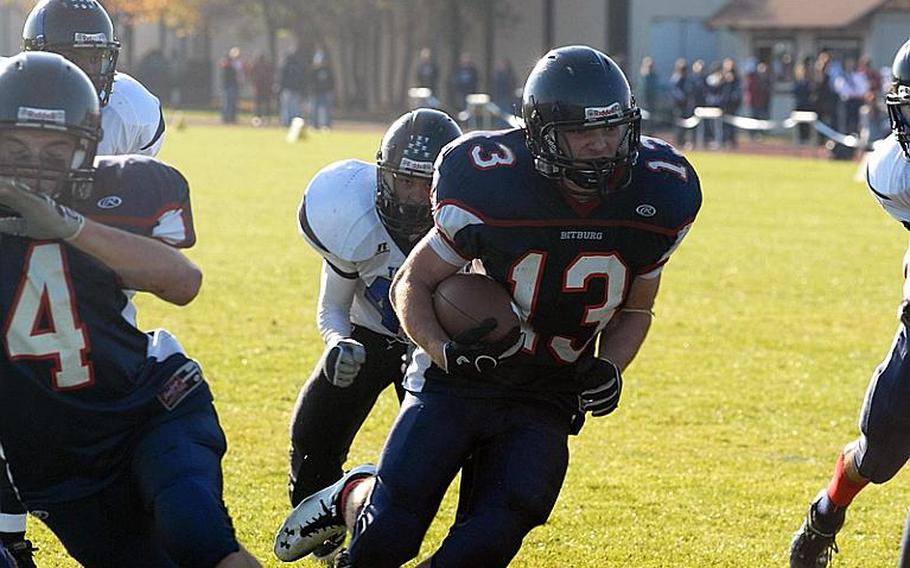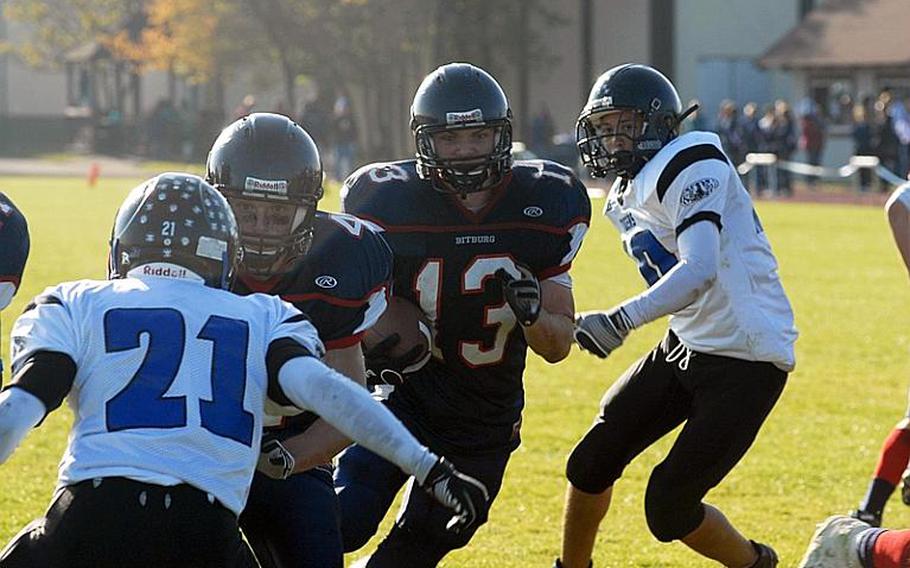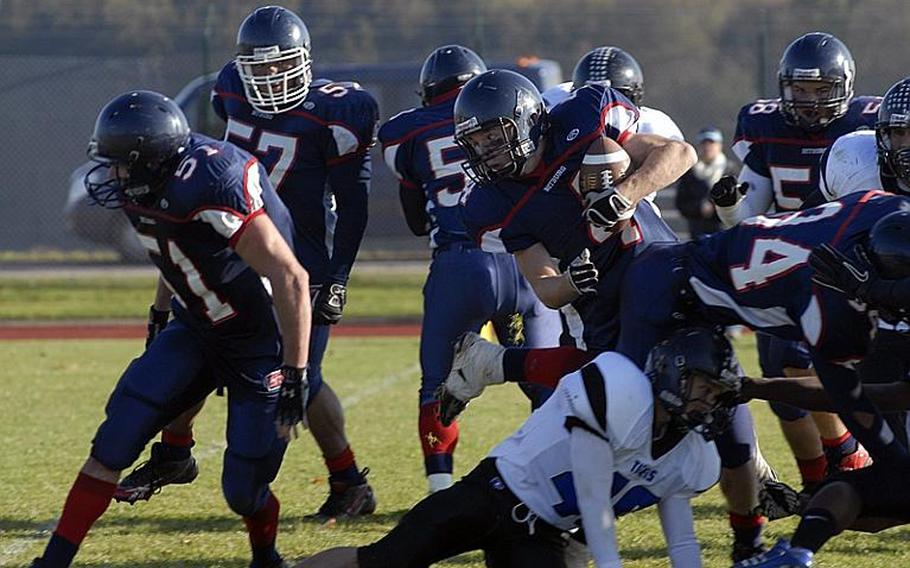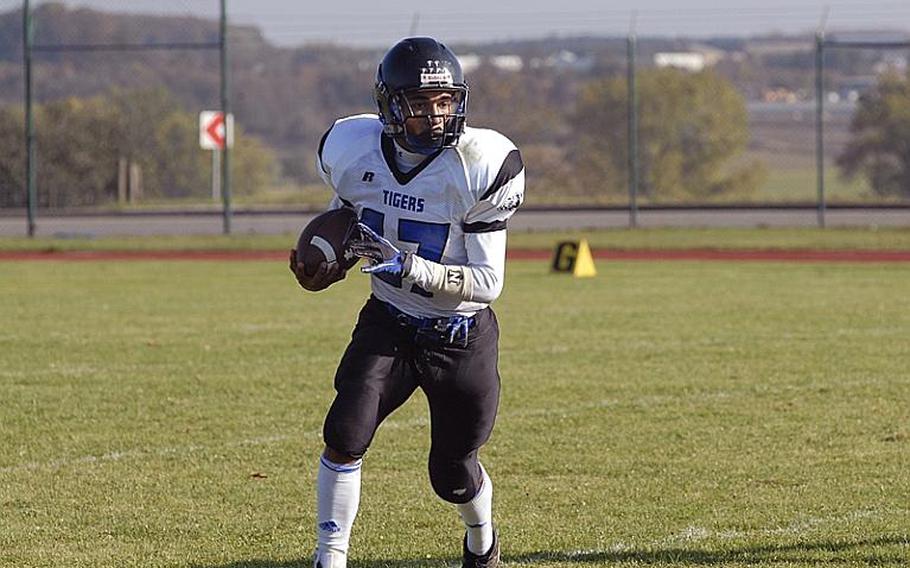 BITBURG, Germany - The Bitburg Barons relied on a stout defense and a solid running game to hand the Hohenfels Tigers a 44-0 courtesy-rule defeat Saturday during a Saturday European Division II quarterfinal matchup in Bitburg.
It was a tale of two halves for the two-time defending champion Barons, as they exploded with 32 second half points to tame the pesky Tigers. It was a stark contrast to the trench-warfare-like first half, where each team was battling for field position.
Junior All-Europe running back Kyle Edgar penetrated every formation the Hohenfels defense could throw at him as he banged his way to five touchdowns. Edgar, who rushed for 198 yards on 25 carries, also scored on four two-point conversions.
"You guys gotta get fired up," screamed Bitburg coach Mike Laue from the sideline, following a scoreless first quarter. His message seemed to reach his players as Edgar broke the scoring drought soon after with a 12-yard touchdown run.
The Tigers were in shape to head to halftime trailing by only 6, but junior Bryce Randall picked off a pass by Tigers senior Xavier Davis, setting up a touchdown run up the gut by Edgar.
"When things like that happen, they turn the game around," said Randall, who led Bitburg's defense with 6 tackles.
For a Barons squad that's used to having things under control well before halftime, the tough Hohenfels defense served as a wake-up call.
"We knew we weren't playing at the level we've been playing," Edgar said.
A 34-yard touchdown run by Edgar and a subsequent two-point conversion put the Barons up 20-0 and served as a spark for Bitburg that the Tigers couldn't overcome.
"I just wanted to make sure our team won, this was our hardest challenge of the year," Edgar said.
Despite the numbers on the scoreboard increasing steadily in favor of Bitburg, the game remained a hard-fought affair with tempers flaring and personal fouls mounting for both sides.
"We kept our heart, we kept giving everything we had … we didn't give up until the last whistle," Davis said. His coach agreed.
"They executed everything we asked them to do," Tigers coach Ed Lynch said. "We did everything we could; we were just outweighed."
The Barons defense put up another solid collective effort, as they prevented the Wildcat formation of Hohenfels from getting to the outside. Randall led the way with six tackles and two assists. Senior Austin Schmidt tacked on four tackles and three assists, while keeping constant pressure on the quarterback, and senior Shaquille Williams had four tackles for losses. Seniors Edwin Santos and Zach Nichols each had a fumble recovery.
For the Tigers, senior Jean Aquino and sophomores Zach Davis, Derek Walker and Gilbert Pinckney each had two tackles.
The victory, Bitburg's 20th straight, ties defunct Frankfurt's winning streak from 1971-74, for fifth place on the all-time DODDS-Europe list.
Bitburg's coach sent a sobering reminder to his team following the game.
"You've got 8 hours to enjoy this one, because on Sunday, we start the next one," Laue said.
Scoring summaryBitburg 44, Hohenfels 0Saturday at BitburgHohenfels 0 0 0 0 _ 0Bitburg 0 12 24 8 _ 44
Bitburg - Kyle Edgar 12 yard run (kick failed)Bitburg - Edgar 13 yard run (kick failed)Bitburg - Edgar 34 yard run (Edgar run)Bitburg - John Downey 2 yard run (Edgar run)Bitburg - Edgar 4 yard run (Edgar run)Bitburg - Edgar 3 yard run (Edgar run)
---
---
---
---