Girls DII final
Bitburg climbs a step to top of podium
by
Dan Stoutamire
May 20, 2017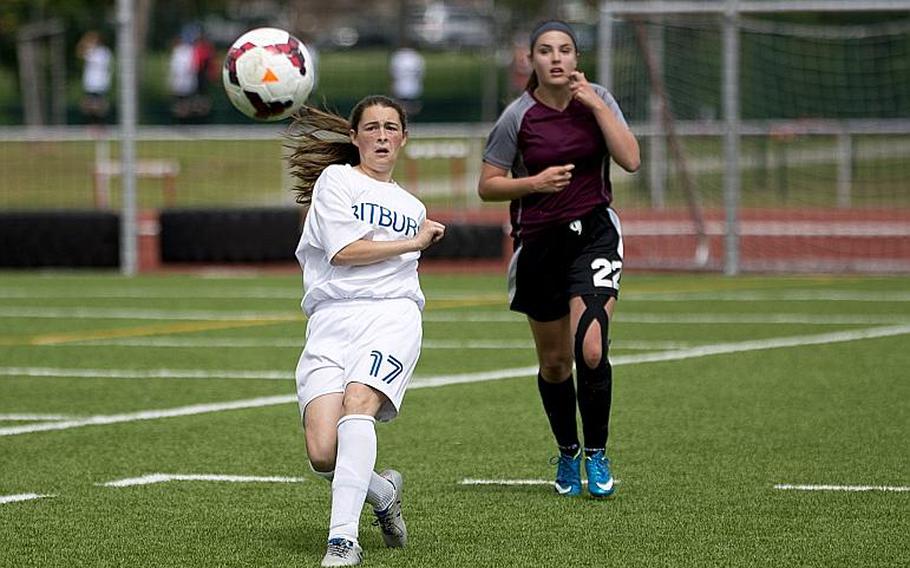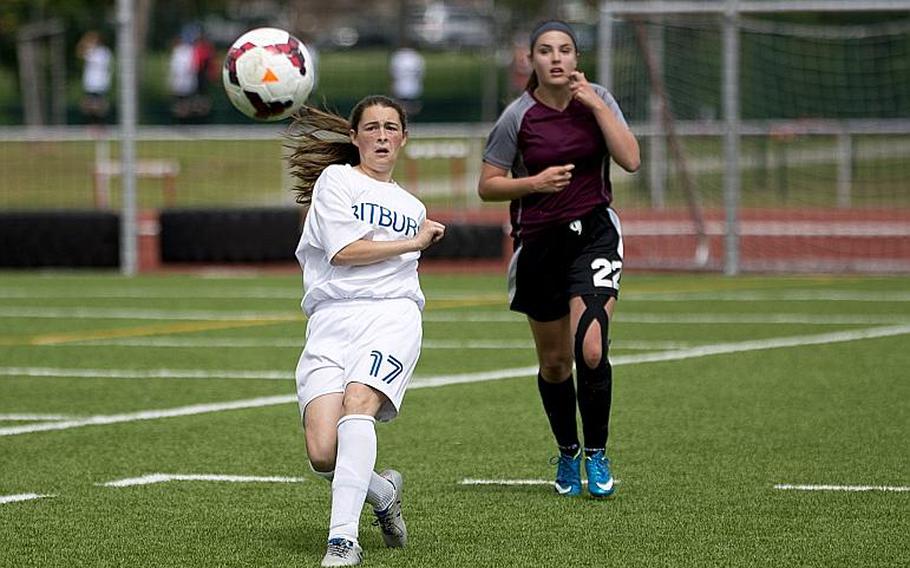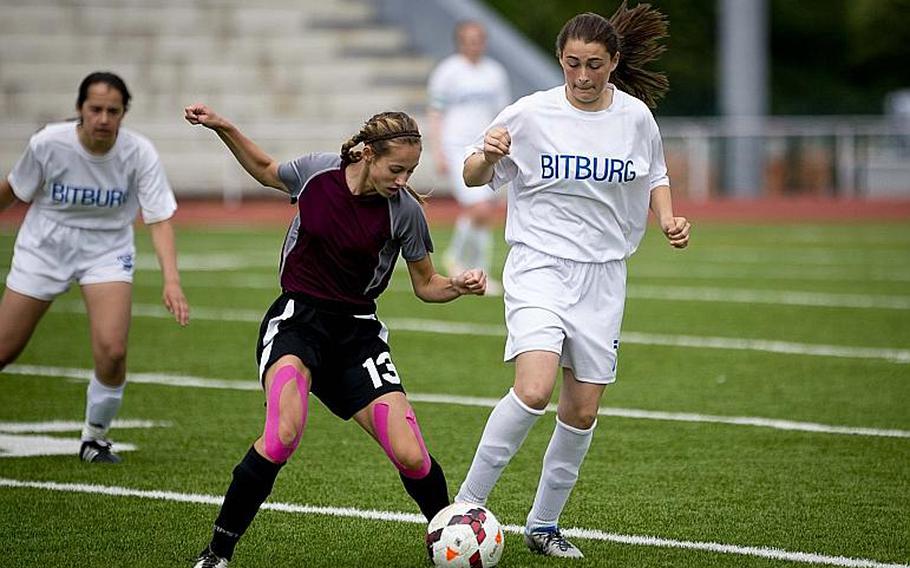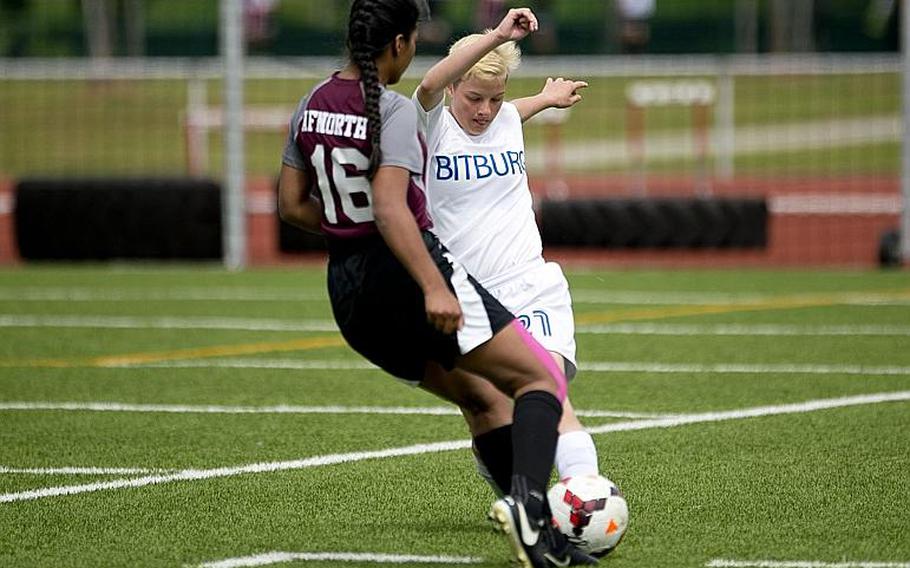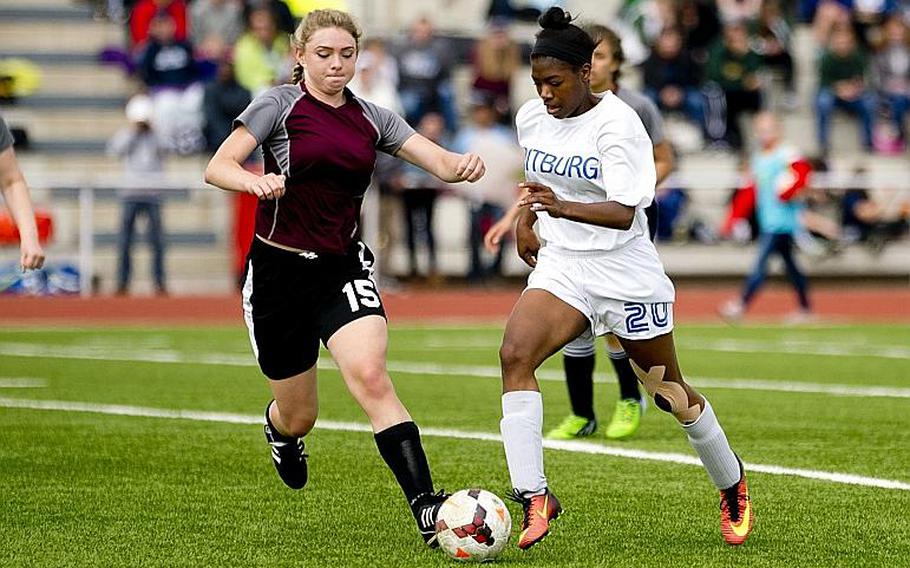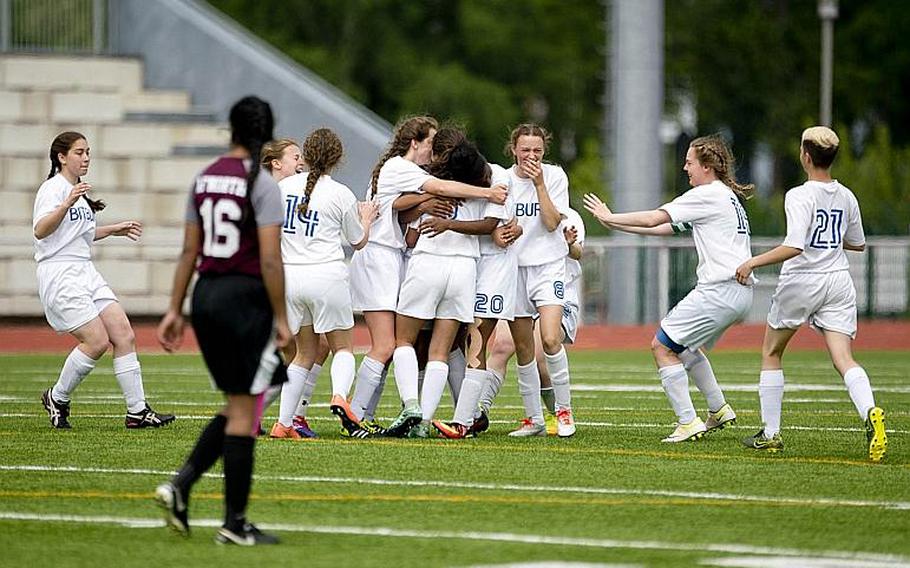 KAISERSLAUTERN, Germany — Speedy Bitburg striker Ashlynn Floyd, playing in her first DODEA-Europe girls' soccer championships, was the difference Saturday for her side as the Barons rode Floyd's finishing to a 2-0 win over the AFNORTH Lions.
Floyd's first goal was a scrappy finish on the goal line, while the second came after a devastating run and placed finish from the left.
"I just kept what my coach has been teaching me and kept going and going and eventually I got it in," Floyd said of her repeated attacks on goal. "I honestly think we're one of the closest teams out here. Even if we made a mistake we still kept going."
If not for a typically strong performance from Lion goalkeeper Abigail Stanley, the score may have been even more lopsided.
In addition to Floyd, a sophomore who played last year on a German team before being convinced by her classmates to play for her school this season, Bitburg benefitted from strong performances all tournament long from central defender Talje Hoene and central midfielder Amanda Zubowicz.
"They shored up each section of the field for us, Talje with her speed at the back, Amanda being able to move the ball and Ashlynn, of course, with her speed," Bitburg coach Mark Spencer said. "I've never seen a girl at this level that fast, so that was our bread and butter, having that spine that could move side-to-side and flex sometimes but take care of (the ball) too."
AFNORTH was an outsider to make it so far in the tournament, but won its bracket and the semifinal behind consistently strong play from Spencer and effervescent freshman striker Kyla Kolosky, who constantly put Hoene and other Bitburg defenders under pressure. Paige Vanden, a junior midfielder who was suspended for Friday's semifinals, returned with great effect on Saturday and was the Lions' most dangerous attacking player.
AFNORTH coach Liz Ferris, who will be moving from Brunssum to England next year, said she was proud of her team's efforts on the season despite the disappointing championship result.
"Overall I think our season has been a really good battle," she said. "We could not have lost to a better team, I'm just really happy for Bitburg – they played really well and brought their "A" game."
The Barons, last year's runners-up to Black Forest Academy, worked all offseason to improve their chances at a happier result this time around, Spencer said.
"Coming second place last year, we had a foundation and got a bunch of new girls in that had skill and so, (it was about) just teaching them the fundamentals and taking it from there," he said. "They took everything I taught them and utilized it in the games every week, and it was so neat to see them grow week to week, learning new things and then implementing them."
Twitter: @DKS_Stripes