Billington takes 12th in Triathlon Worlds
by
Matt Millham
September 1, 2007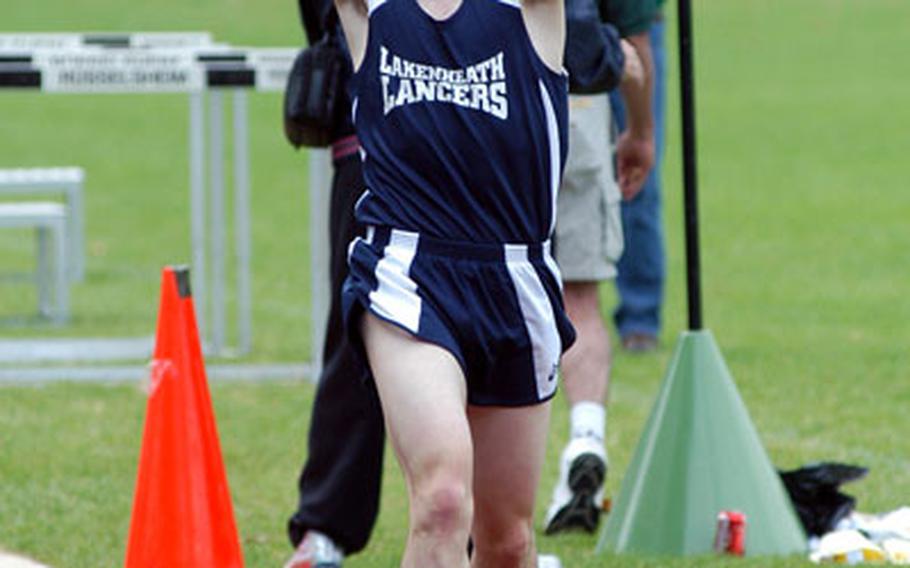 European edition, Saturday, September 1, 2007
Lakenheath High School graduate Greg Billington finished 12th Friday in the junior men's division of the International Triathlon Union's World Championships — a marked improvement over last year but still not where he wants to be.
He was the highest U.S. finisher.
"I was hoping for a top-five (finish) or the podium," he said from his hotel room in Hamburg, Germany, where the event was held.
But he added, "I raced as well as I could on this day. I am happy with the result."
Billington's time of 55 minutes, 17 seconds was 1:34 behind the winner, Aurelien Raphael of France. The event combines a 750-meter swim, a 20-kilometer bike race and a 5k run.
He said his swim "did not go as planned" and that he was jostled a lot during the rough start.
Billington, who finished 42nd last year in Lausanne, Switzerland, thanked his coaches for his improvement and also praised the competition. "I knew it would be amazing," he said of the field.
Billington plans to return to the States on Monday to attend Wake Forest University in North Carolina, where he will run cross country. His next triathlon competition will be in May.
Billington had plenty of reasons to be confident about his chances Friday. In early June, the 18-year-old had won the junior elite division at the Hy-Vee Triathlon in Des Moines, Iowa — a major competition and Olympic selection event.
Later that month he beat the best young U.S. and Canadian triathletes to win the junior elite division in the Canadian national triathlon championship.
Then, in mid-August he won the boys junior elite division in the U.S. national triathlon championships in Colorado.
The only setback he'd had all season was a July 4 bicycle crash he can't even remember. He wound up with a handful of stitches in his lip and didn't start a scheduled race in Pittsburgh a couple of weeks later, which he watched, uncomfortably, as a spectator.
"Greg is disappointed if he doesn't win every race," said Garrett Billington, his father. "He has very high expectations for himself."
Running is Billington's ace in the hole. In the Canadian triathlon championships, he came out of the first leg — the 750-meter swim — in seventh place. At the end of the second leg — the 20k bike race — he was in ninth. Then he ran the final leg — 5k — in 16 minutes, 33 seconds, a full 49 seconds better than the next fastest runner in his division, to victory. He was even faster than all the elite men in the division above.
Billington had similar results in the U.S. national championships in Longmont, Colo., where seven boys were out of the water before him. He held his own on the bike, and made up ground in the run to grab gold again.
Billington spent six weeks this summer at the U.S. Olympic training center in Colorado Springs, Colo., with other members of the U.S. junior national triathlon team, where he spent a lot more time on the bike than usual.
Billington's father said his son's attitude when he was dropped off at the national training center was nonchalant. When the older Billington asked his son if he was excited to be there, he said he always expected he'd make it there.
While there, he trained alongside Hunter Kemper, the only American triathlete to ever be ranked No. 1 in the world by the International Triathlon Union, the sanctioning body for it's international world championships. Kemper is also a Wake Forest graduate.
Billington hopes to follow in Kemper's footsteps and compete in the Olympics. He has his eye on 2012, and is almost sure he'll be ready for the 2016 game.
But he knows he needs more work to compete with the best of the world's elite men.
"There's no way I can compete with Hunter Kemper," he said. "Yet."