European D-II/III baseball
Big inning gives SHAPE first baseball crown
---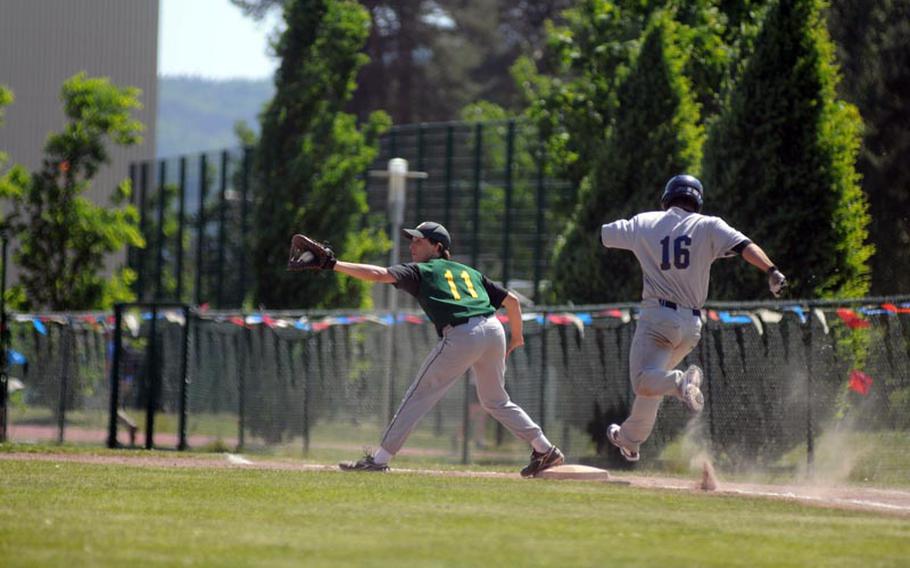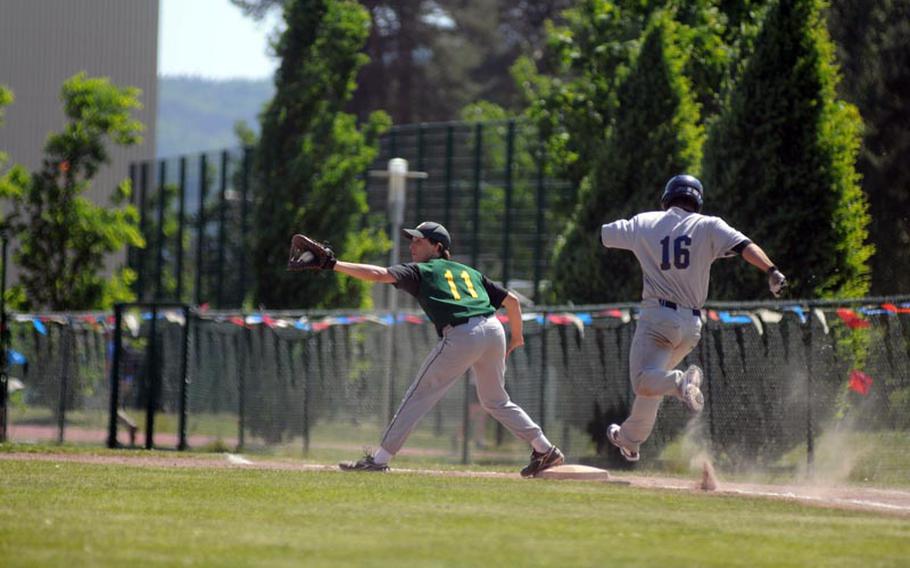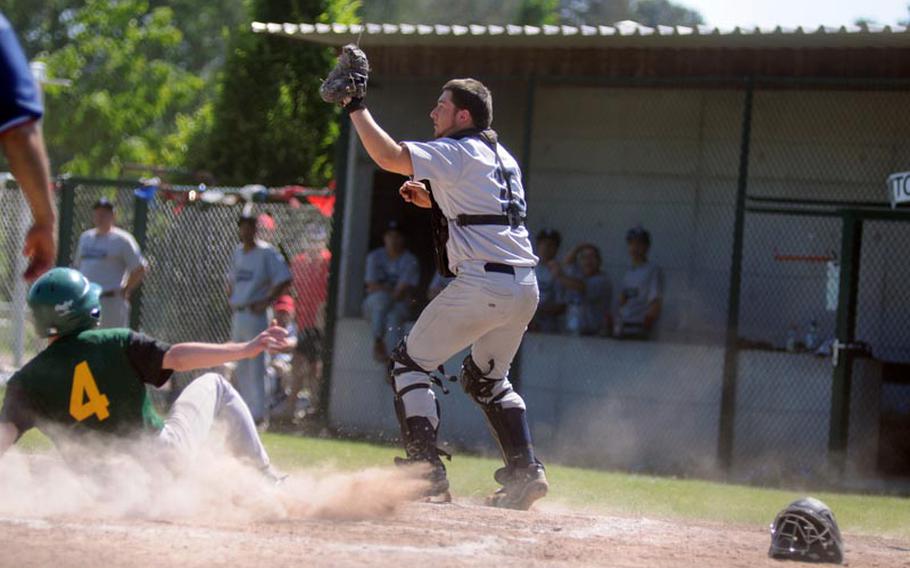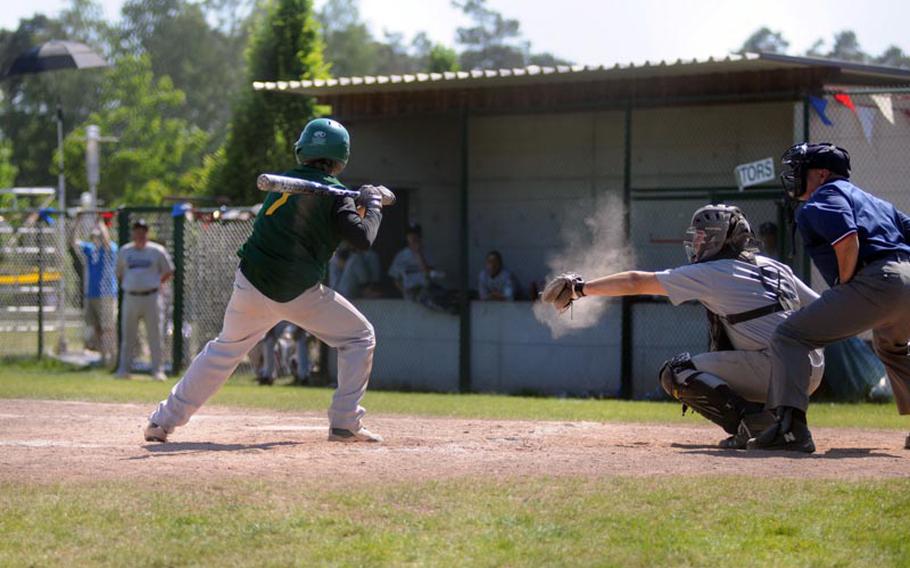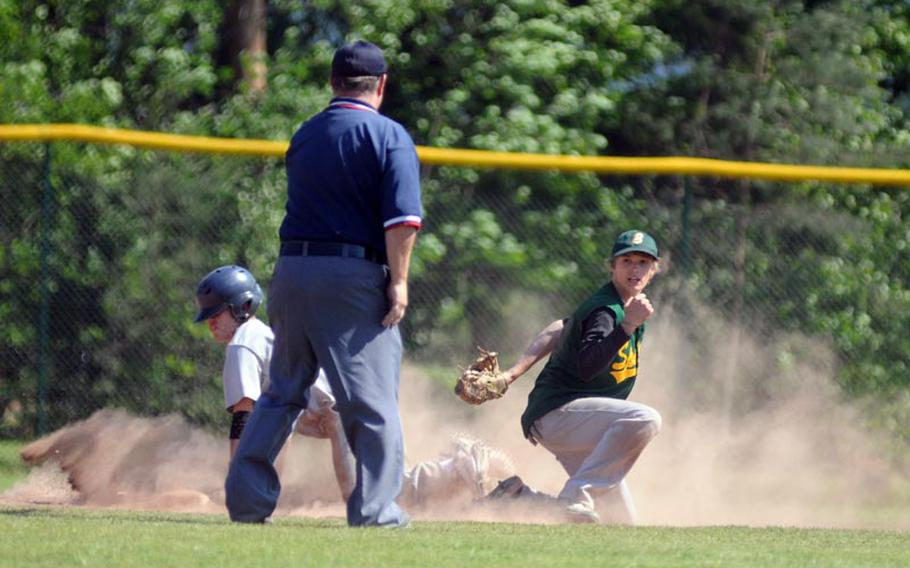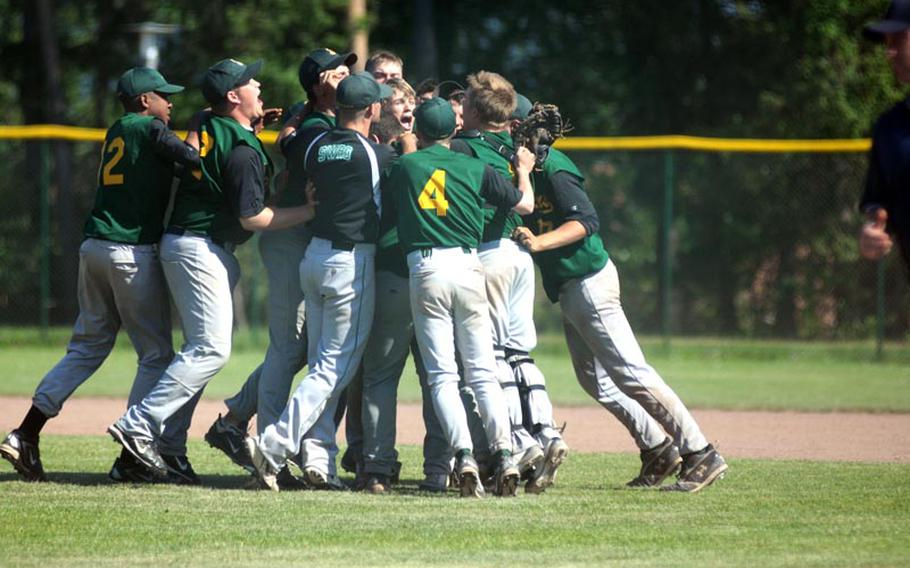 RAMSTEIN AIR BASE, Germany — The SHAPE Spartans rode a big inning of small-ball torture and seven innings of baffling stuff from sophomore southpaw Clay Coon to a 10-5 Division II-III title-game victory Saturday over the Bitburg Barons that handed the Spartans their first European baseball championship.
"It felt great," said Coon, who went the seven-inning distance and tamed the Bitburg bats that had been averaging 14 runs per game here, about his stuff on Saturday. "I was trying to keep them off balance with my knuckleball and breaking ball."
Although he allowed 11 hits, Coon effectively scattered them. Except for Bitburg's three-run second, when the defending D-II champion Barons bunched two doubles and a single, Coon allowed more than one hit per inning only twice and struck out nine. Significantly, six of the nine were caught looking.
"They're fastball hitters," SHAPE coach Kenny Goff said. "All our pitchers throw the slider, changeup, curveball and knuckle ball."
Knuckle balls from teenagers?
"My pitching coach, Matt Kuchera, called all the pitches from the dugout," Goff said. "We don't call too many knucklers because it's not accurate."
Coon got all the help he needed in SHAPE's eight-run third, during which just four balls got out of the infield. The Spartans manufactured most of those runs on bunts, superb base running and two Bitburg errors.
"We like to small-ball them to death," Goff smiled. "We like to keep the ball in the infield."
Senior Colin Helfenstein got the inning started with a solid single to right and came around to score when Bitburg starter Austin Schmidt threw Austin Eperjesi's sacrifice bunt into the right field corner. Tourney MVP James Workman followed with another single to plate Eperjesi, and the track meet was on.
Nick Westrick reached on an error and Coon on a fielder's-choice grounder when the Barons elected but failed to get the lead runner. Sam Mans connected for a run-scoring single and Thomas Muldoon followed with a two-run single. Jacob Cortright's bunt single loaded the bases again, and Helfenstein then produced the signature hit of the frame, a squeeze bunt that plated Muldoon.
Evan Less came in to register the final two outs of the inning, but SHAPE scored twice more before Bitburg's nightmare ended.
When the dust settled, SHAPE was up 8-3 and sky high, and fourth-seeded Bitburg on its way to final season record of 11-6.
According to Workman, SHAPE benefited from a doubleheader split May 19 when Bitburg traveled to Belgium on the final weekend of the season.
"We got a good look at what they had," he said, "and it gave us confidence."
Not that the second-seeded Spartans, who ended their season 14-3, needed all that much of a confidence boost
"We knew we had a good group of guys who were willing to work hard," Workman said. "The whole season, we've been solid."
In Saturday morning's semifinals, Bitburg bounced top-seeded Naples 12-2, and SHAPE eliminated No. 5 Vicenza, last season's D-II runner-up, 9-1.
Bitburg continued its power surge in ousting Naples. Sophomore outfielder Devin Billups went two-for-three with a grand slam and drove in six runs. Senior lead-off batter Matt Flood stole two bases and raised his tournament batting average to .857 with a two-for-two outing which produced three RBIs. Friday, Flood hit a three-run homer and drove in five of his nine tourney RBIs in a 17-2 quarterfinal romp over Ansbach.
Bitburg ace Schmidt picked up the victory over Naples, throwing just 50 pitches in the four innings he worked. He allowed three hits and just one earned run. He struck out four.
Freshman right-hander Colton Lund pitched the final inning, allowing no runs and no hits. In four innings pitched in this tournament, Lund allowed no runs and no hits.
---
---
---
---