DII girls final
BFA stuns unbeaten Bitburg in championship
by
Dan Stoutamire
February 27, 2016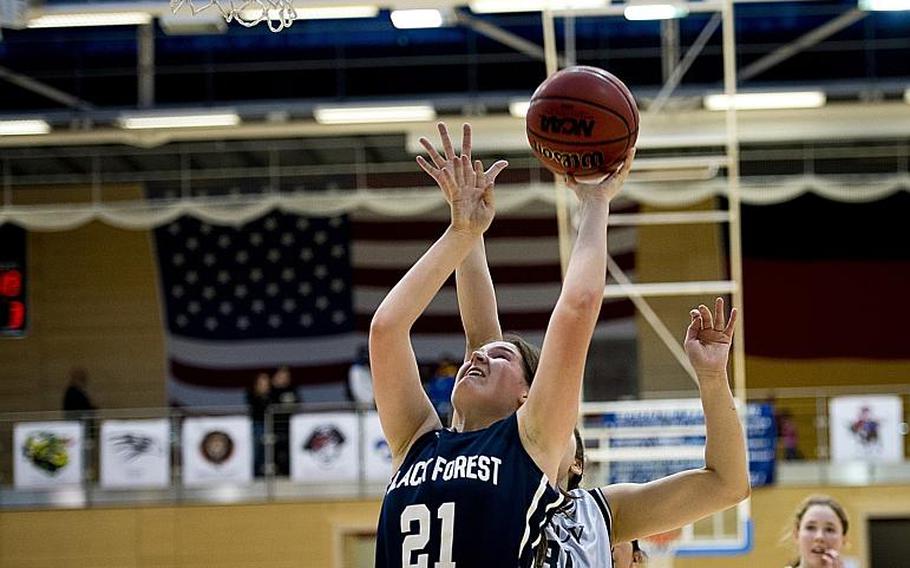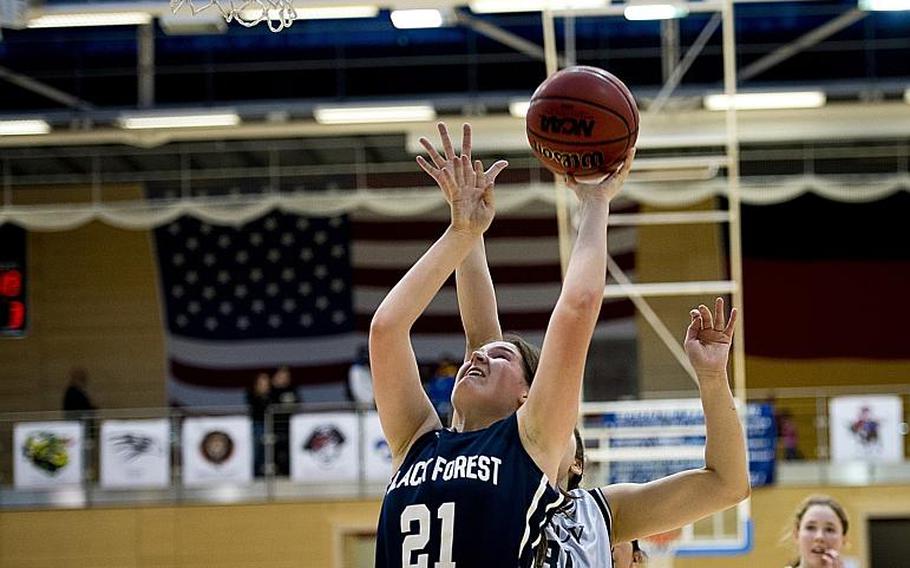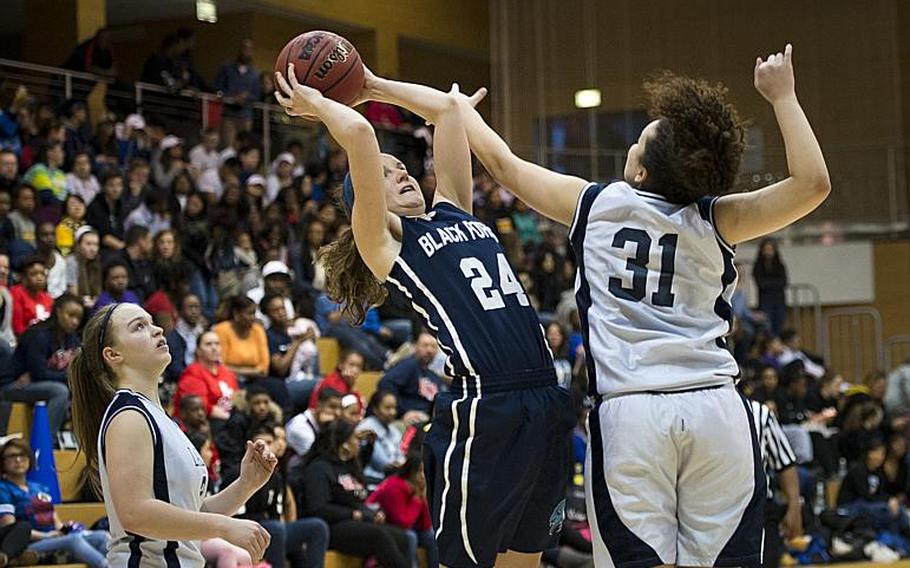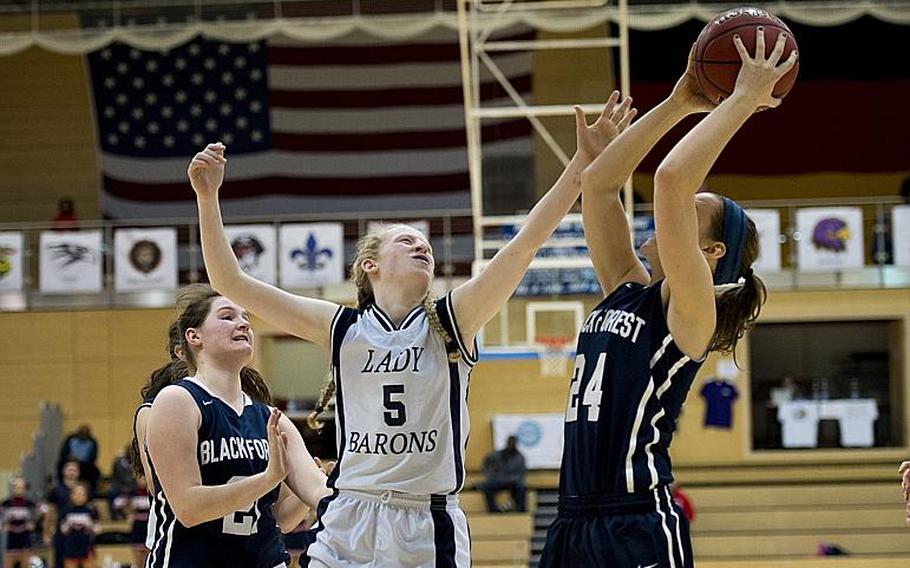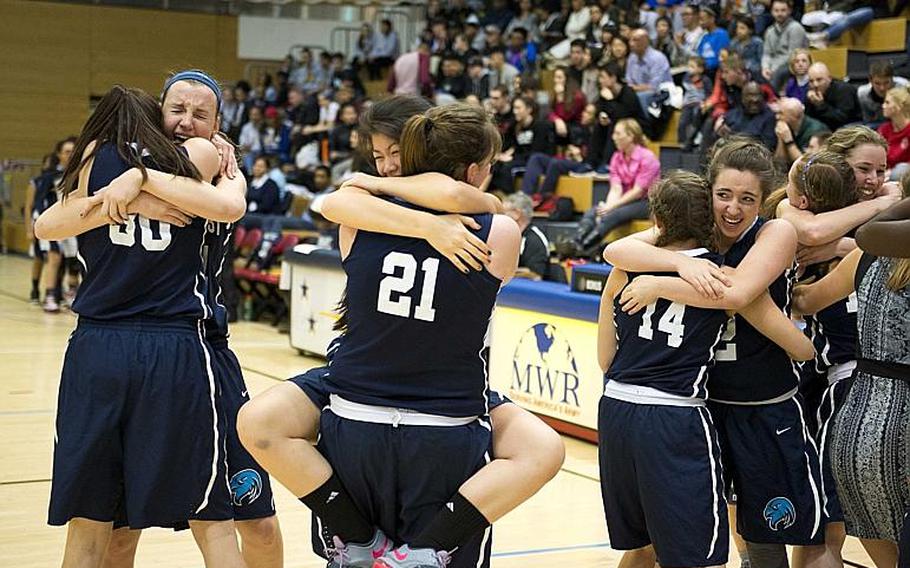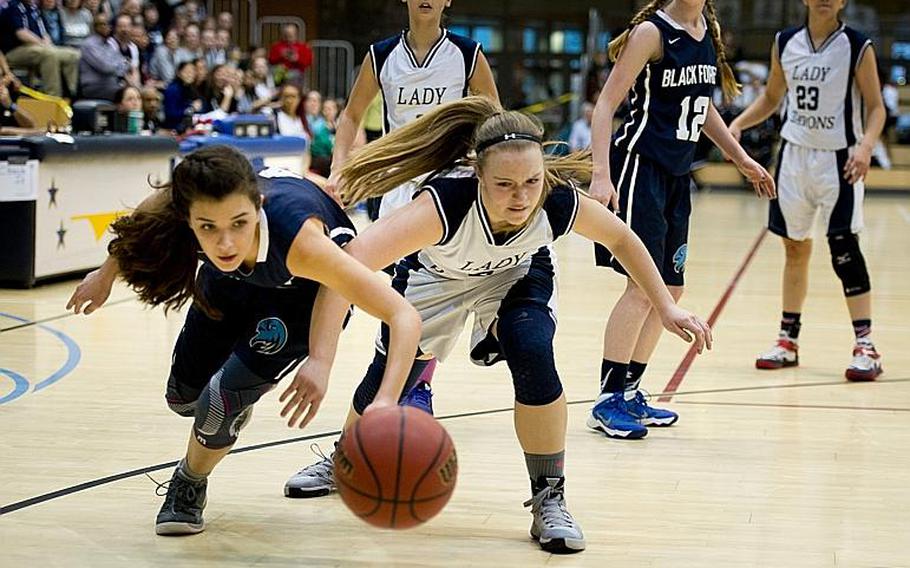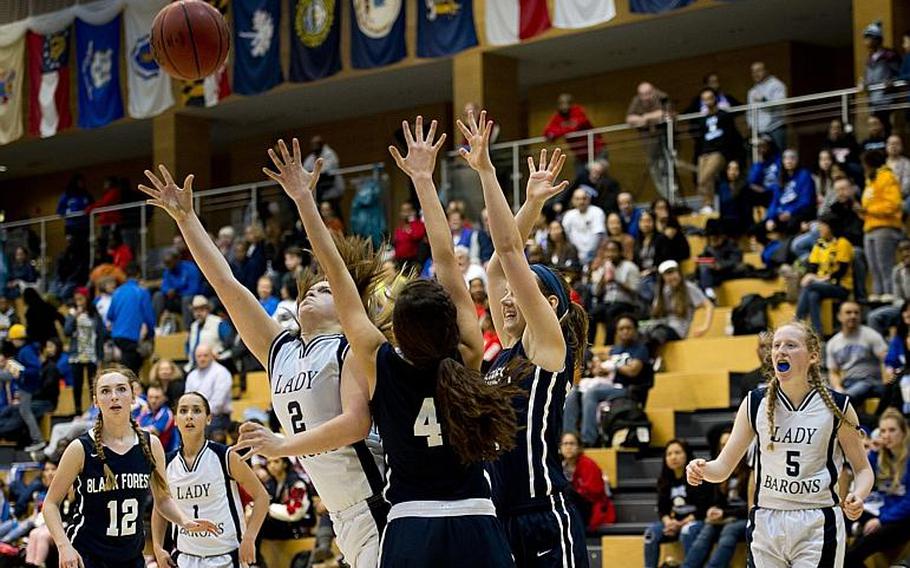 WIESBADEN, Germany — Black Forest Academy was just too talented, too composed and too fast Saturday and the result was a DODDS-Europe Division II girls basketball title.
With a 25-16 win, BFA avenged its only two divisional losses on the year, both at home to Bitburg in January. The top-seeded Barons, previously undefeated, had charged through the tournament unchallenged before the final.
The Falcons used a smothering full-court press in the early stages of the game that threw the Barons off of their rhythm as Bitburg could only manage six points in the first half.
The decision to play that way was the players', said coach Cindy Kennedy.
"That's always been our forte, is good, strong defense," Kennedy said. "They're just 100% all the time, and that's been our strongest asset on the team."
Senior guard Anna Kragt had seven rebounds along with five forced turnovers and she was ably assisted by fellow guard Naomi Ruegg, who had six steals and two blocks, and sophomore 6-footer Katie Greathouse, who put up eight points to lead all scorers.
Both Kragt and Greathouse have brothers on the boys team, which played Rota in the following game.
"We're each other's cheerleaders," said senior forward Mia Rottier, who had a team-high ten rebounds. "BFA doesn't have a cheer squad but we don't need one because our fans and our teammates are right there for us."
After a 14-6 first half, BFA extended its lead to 12 with a couple quick buckets inside.
Bitburg eventually rallied, but Naomi Ruegg hit a dagger jump shot to take the lead to seven with under two minutes left.
"We came here wanting to win and expecting to win, and it's something that we've wanted to do for each other, and we did, and it feels awesome," Rottier said.
Despite the loss, Bitburg can look back on a nearly perfect season, spurred by the backcourt of juniors Hailey McKenna, Alexa Landenberger and senior Audrey Simmons and dominant post presence Elise Rasmussen.
"Today was not our day," coach Chris Howard said. "I couldn't be more proud of them — we've had an undefeated season, and that takes a team a long way. I hate to have their only loss be the last game, but they should take pride in all the hard work they put in."
Rasmussen, a junior, played a great game in the finals, ending up with six points and double-digit rebounds before fouling out with 1:33 remaining.
"We have a lot of people leaving, but hopefully next year we'll have some come in, and we'll work hard over the summer," Rasumssen said.