BFA boys proving they belong in big-school league
by
Gregory Broome
January 23, 2020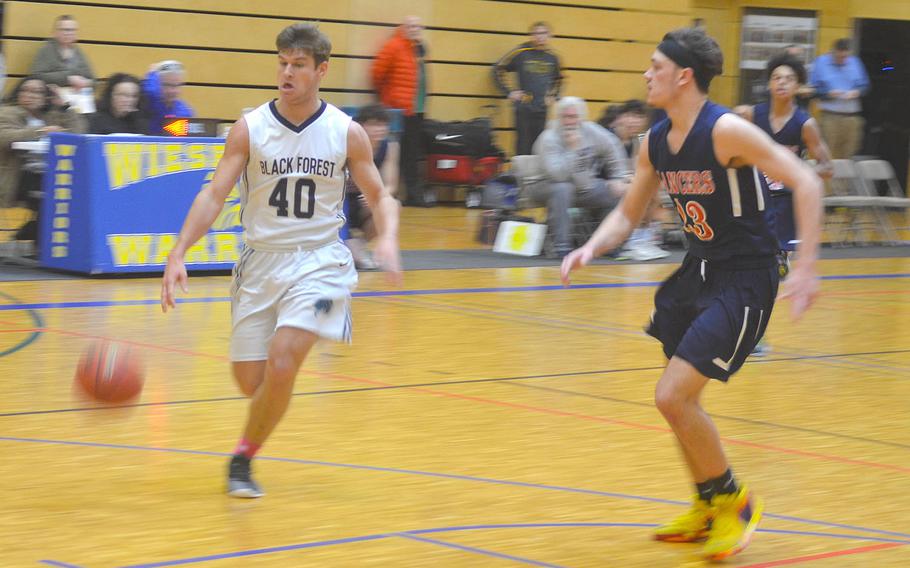 Black Forest Academy's basketball schedule isn't all that different from previous seasons. What has changed are the stakes.
In years prior, BFA was a Division II powerhouse that played a predominantly Division I schedule due to geographic proximity. Now, thanks to an offseason realignment, the Falcons are a Division I team themselves. Matchups with Wiesbaden, Kaiserslautern, Stuttgart and other big German schools are nothing new for the program. But those matchups are now played under a new paradigm.
"In the past, we could kind of use those Division I games as a benchmark of how good we were, or how weak," BFA boys coach David Kruse said. "We can no longer just be content to say, 'We lost, but we played them tough. Now let's win our Division II games and Division II tournament.'
"We want to win games."
BFA, which lost all six of its games against Division I competition last season before winning the Division II European title, enters the final month of this regular season with a 5-1 record and a share of first place. While they're not the tournament favorite they often were in Division II, the Falcons are also not a mere Division I participant. Wiesbaden coach David Brown called Black Forest a "legit contender" after watching the Falcons dispatch Lakenheath and SHAPE in Wiesbaden last weekend.
BFA's adjustment to the Division I level started in earnest with a pair of season-opening games against Stuttgart. The Falcons forced overtime on a last-second shot in a 69-65 win Dec. 6, then completed the sweep a day later with an equally competitive 55-53 victory.
"Those were two really important wins. We could just as easily have lost both," Kruse said, calling the narrow wins a "huge confidence boost."
As well as things have gone so far, the season's toughest tests remain ahead. BFA's remaining regular-season schedule includes doubleheaders with perennial power Wiesbaden and reigning dynasty Ramstein, the two teams with whom the Falcons are tied at one loss apiece. In late February, BFA takes its place in its first Division I tournament bracket.
Kruse hopes this season will create the foundation for a perennially successful Division I contender.
"That will be the goal - not just this year, but putting teams together every year that will compete," Kruse said. "It will be a challenge."
broome.gregory@stripes.com Twitter: @broomestripes