Belgian schools dominate DODDS-Europe tennis finals
by
Kevin Dougherty
October 30, 2005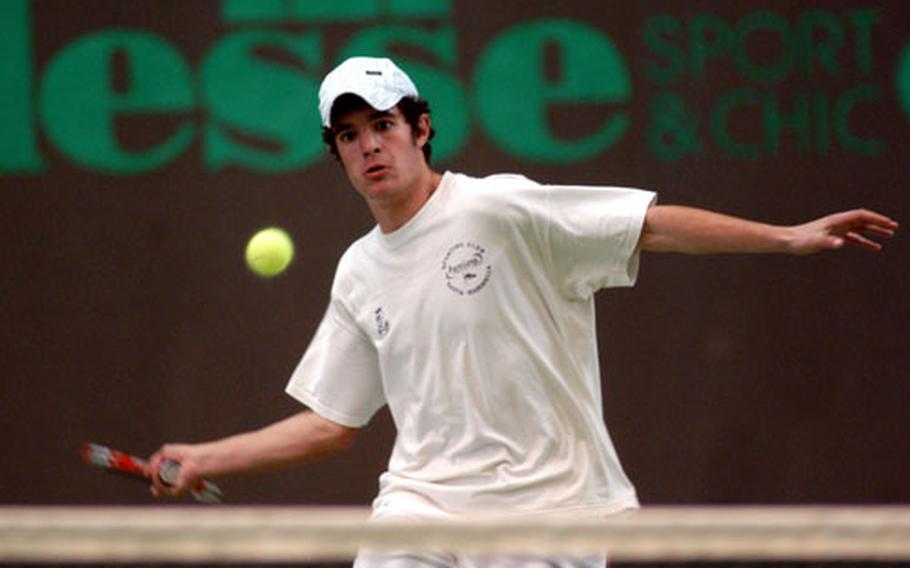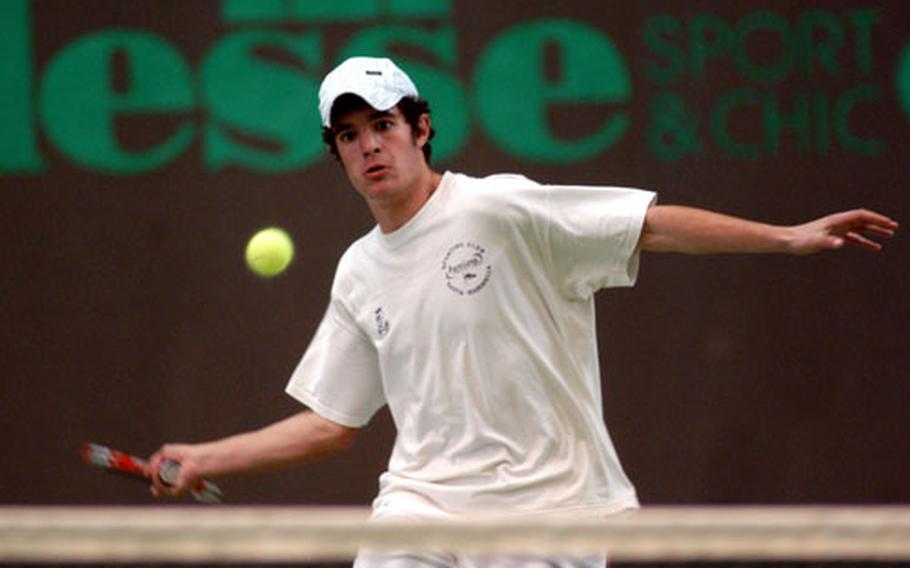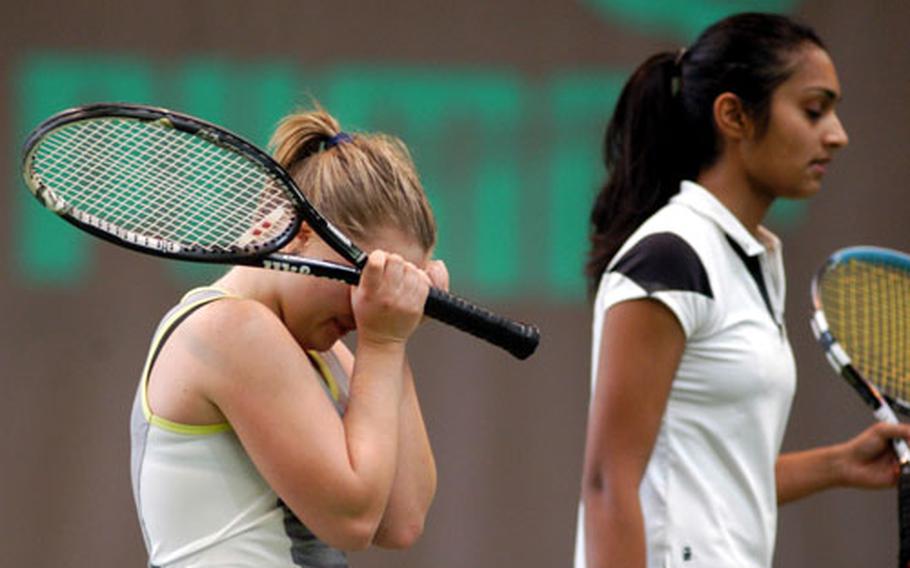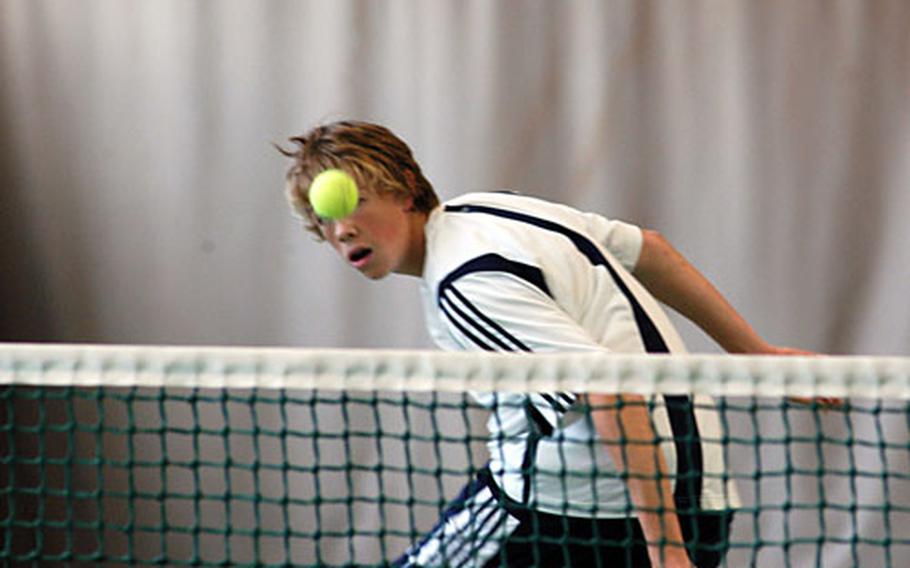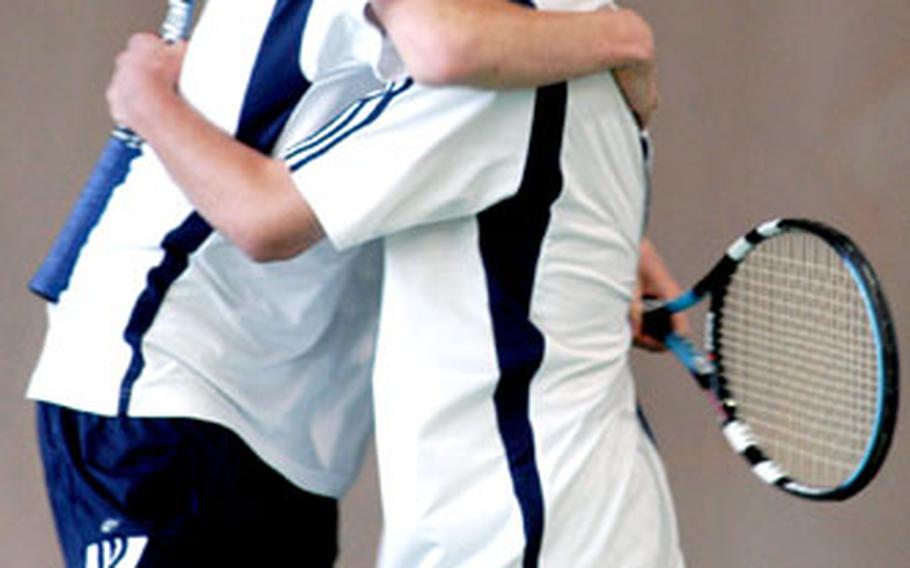 WIESBADEN-NORDENSTADT, Germany — Tennis and Belgium seem seem synonymous these days, from the professional duo of Justine Henin-Hardenne and Kim Clijsters to this year's DODDS-Europe tennis champs.
Players from two Belgian-based high schools claimed three of the four titles on the final day of the European tennis championships. The other title — boys doubles — went to Heidelberg.
First, Claudio Giraldi captured the boys crown, beating Michael Sanchez of Heidelberg, 6-2, 6-3. Then, Krista Citkovska won the girls title with a 6-4, 6-4 victory over Shivani Saxena of Milan.
Giraldi and Citkovska are sophomores at SHAPE High School in Mons, Belgium.
"When I saw Claudio win, I thought to myself, 'I have to win. I have to win,' " Krista Citkovska said moments after completing her victory.
The girls doubles title went to Yuna Shibata and Izumi Takeuchi of the International School of Brussels. The two defeated Maggie Curry and Megan Jones of Ramstein, 6-2, 7-6 (7-1).
Citkovska's match was tight from first serve until final shot. Saxena actually led the second set 3-0 before losing six of the next seven games.
After Saxena's last shot hit the net, Citkovska leaped joyfully into the air and then cried with relief.
"Always when I play, I'm always second," the 16-year-old said.
Citkovska was pleased with her serve and forehand, but called her backhand "horrible," something Giraldi wants to work on as well.
"I don't have a very good backhand," Giraldi said in halting English.
Based on Saturday's match, the Italian teen doesn't seem to have much else to work on. His serve repeatedly came in hard and fast, forcing Sanchez to be extra diligent on the carpeted surface.
"His power was overwhelming," Sanchez said. "My strokes weren't working out the way I wanted them to. I just kind of broke down and lost my concentration."
Midway through the second set, Sanchez seemed to regain the attentiveness he may have lost. He won three of the last five games, but by then Giraldi's 4-0 start was too much to overcome.
Still, Sanchez has much to be proud about, especially considering he took up the game in his early teens. Two years ago, he finished fourth, and last year took third in the Europeans.
"I'm happy I got this far," Sanchez said.
The winning shot came in front of the net as Giraldi reached high to smash a shot well out of Sanchez's reach.
Giraldi roared at the sight of it. In fact, Giraldi roared quite a bit, often in Italian. He said later such outbursts help spur him on and that none of it was directed at Sanchez.
"I just tried to block it out," Sanchez said. "It really didn't change anything."
The longest and most entertaining match took place at the end of the day, when everybody else was finished and waiting for Heidelberg's Blair Martin and Sam Pohl to conclude their match with Phil Burroughs and John Keenan of Lakenheath.
The three-set match also featured a fair amount of yelling, with members of both teams screaming at themselves in an effort to improve their play.
"I've got to work on that," Pohl said afterward.
Pohl had the crowd in stitches when he loudly admonished himself for getting between Martin and the net. The result: the ball ricocheted off Pohl's head and out of bounds. Point Lakenheath.
"Move your fat-ass head out of the way," Pohl bellowed. The crowd laughed.
In the end, Pohl and Martin got going enough to pull out the 6-4, 6-7 (8-10), 6-4 match.
These tight matches, said Pohl's father, Jim, are "a lot harder on the parents than on the kids."