Beavers, Robinson lift Kadena to inaugural OFL championship
by
Dave Ornauer
December 13, 2004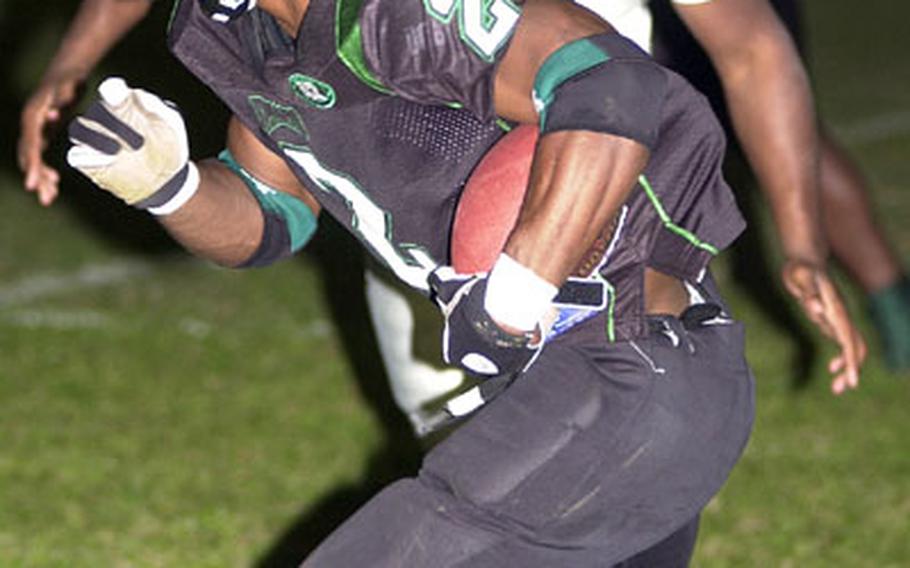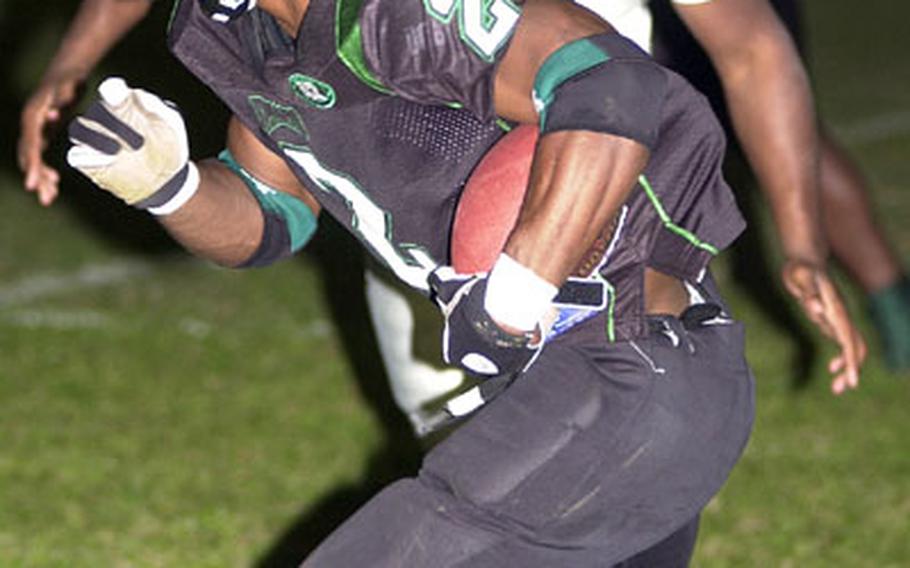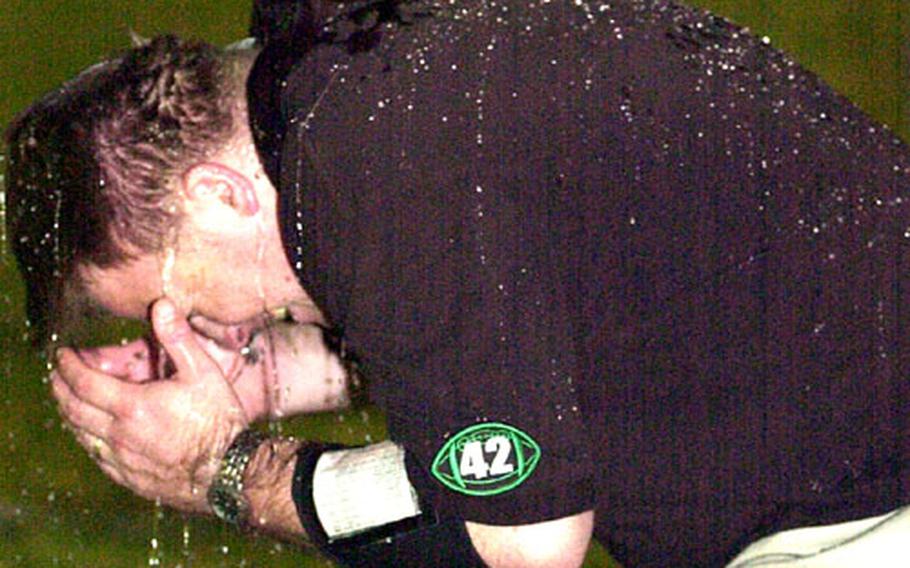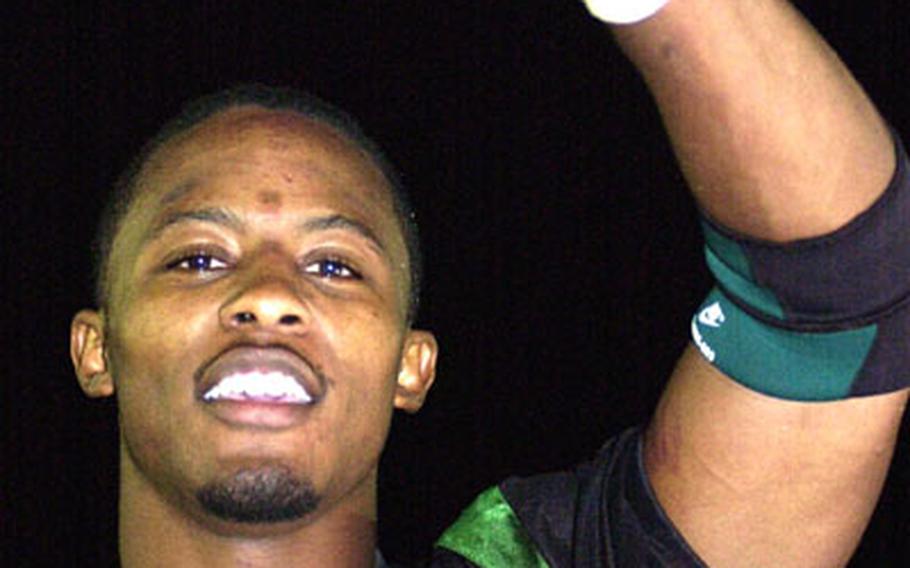 CAMP FOSTER, Okinawa — The first championship of the Marine Corps-sponsored Okinawa Football League belongs to an Air Force team, thanks to the running of Trent Beavers and the passing of Paul Robinson.
Beavers, chosen as the league's MVP, ran 24 times for 197 yards and his 30th and 31st touchdowns of the season. Robinson completed only three of 13 passes — but all for TDs — as the Kadena Dragons defeated the Schwab Panthers 44-14 in Saturday's OFL title game.
It didn't come without an early scare. Quarterback Jermain Parlow and Schwab's spread offense scored twice in a five-minute span to take a 14-8 lead.
It was only the second time Kadena, which pounded Schwab 52-0 and 50-7 during the regular season, trailed in a game this year.
"Schwab's been a good first quarter-first half team all season," Kadena coach Will Cupp said. "That doesn't excuse us from not keeping them out of the end zone. They made great plays, with great execution. But once we adjusted and caught on to what they were doing, that was all she wrote."
Beavers, Robinson, receiver Sam Wicks (two TD catches) and linebacker James Francis (three sacks, one interception-return touchdown) wrote the final chapter in a dream season for the Dragons.
Beavers got the rally going with a 29-yard scoring run in the second quarter.
"He's done everything we've asked him to do, on offense and defense," Cupp said of Beavers, who also recorded a sack. "He gets the sacks and [while running] he takes the hits and keeps going."
Then Robinson, who put the Dragons on the scoreboard first with a 17-yard strike to Wicks, hit him again, this time from 74 yards out.
As for Robinson, "he made the big plays when he had to," Cupp said. "When it counts, nobody is more clutch than our quarterback."
Wicks capped the second touchdown drive by holding the ball out and high-stepping into the end zone, drawing a 15-yard unsportsmanlike-conduct penalty. He was ejected in the second half for a similar foul after a two-point conversion.
"At least he didn't pull out a Sharpie," Cupp said, alluding to NFL wide receiver Terrell Owens' similar prank on "Monday Night Football."
Cupp was then informed that Wicks, in fact, did pull out a Sharpie to sign the football after his first touchdown catch. Cupp rolled his eyes.
Wicks' ejection was emblematic of a game that featured league records of 36 penalties and 340 penalty yards. Kevin Dorsey of Schwab also was booted from the sloppy contest, which included nine turnovers.
Francis rambled 40 yards for a touchdown with an intercepted shovel pass. Beavers added a 5-yard third-quarter TD run, and Robinson capped the scoring with a 30-yard fourth-quarter pass to Chris Clarke.
Robinson finished with 177 yards of total offense. Nathan Graves also had three sacks for the Dragons.
Schwab, cheered on by hundreds of Marines bused in from Camp Schwab, about an hour to the north, did what it could behind the arm of Parlow, pressed into starting duty after injuries sidelined starter Juventino Camarillo.
Parlow finished 12-for-37 for 198 yards, throwing a 44-yard TD pass to David Burnell and rushing 2 yards for another score. He also intercepted a pass off Robinson.
Burnell had 116 yards total offense and 282 all-purpose yards. Ronnie Hawkins had two sacks and recovered a fumble.
"Our playbook wasn't big enough to carry us deep into the game," coach Robert Bufkin said. "Our guys played hard, [but] Kadena was Kadena. My hat's off to them. They're a championship team."
OFL playoffs
Semifinals
At Camp Courtney, Okinawa
Sunday, Dec. 5
Kadena 50, Kinser 0
Schwab 21, Courtney-Hansen 16
Championship
At Mike Petty Stadium, Kubasaki H.S., Camp Foster, Okinawa
Saturday, Dec. 11
Kadena 44, Schwab 14
Kadena 8 22 8 6 44
Schwab 14 0 0 0 14
First quarter
Kadena—Sam Wicks 17 pass from Paul Robinson (Trent Beavers run), 5:30
Schwab—David Burnell 44 pass from Jermaine Parlow (Edward Herrera kick), 5:53.
Schwab— Parlow 2 run (Herrera kick), 10:09.
Second quarter
Kadena—Beavers 29 run (run failed), 1:44.
Kadena—Wicks 74 pass from Robinson (Tarrick Jackson pass from Robinson), 13:28.
Kadena—James Francis 40 interception return (Beavers run), 14:13.
Third quarter
Kadena—Beavers 5 run (Charles Clark run), 11:35.
Fourth quarter
Kadena—Chris Clarke 30 pass from Robinson (run failed), 2:35.
Kadena Schwab
First downs 20 10
Rushing 41-290 19-19
Passing yards 121 198
Comp-att.-int 3-15-1 12-37-3
Sacks-yds lost 2-18 8-68
Total offense 60-391 68-140
Return yards 4-84 7-190
Total yards 475 330
Turnovers 4 5
Penalties-yards 19-210 17-130
INDIVIDUAL STATISTICS
Rushing — Kadena, Trent Beavers 24-197, Paul Robinson 8-56, Charles Clark 4-37, Leonard Simmons 3-4, Ossian Satterwhite 1-0, John Robinson 1-(minus-4); Schwab, Micorda Randall 4-16, David Burnell 2-4, Ricorda Randall 2-1, Jermaine Parlow 10-(minus-1), James Weathersby 1-(minus-1).
Passing — Kadena, Paul Robinson 3-13-1-121, Trent Beavers 0-2-0-0; Schwab, Jermaine Parlow 12-37-3-198.
Receiving — Kadena, Sam Wicks 2-91; Chris Clarke 1-30; Schwab, David Burnell 6-112, Ricorda Randall 2-31, Benjamin Merry 3-21, James Weathersby 1-22, Kyle Spencer 1-12.
---
---
---
---