Beatty's attitude, not times, gives lift to London Central cross country team
by
Rusty Bryan
October 19, 2006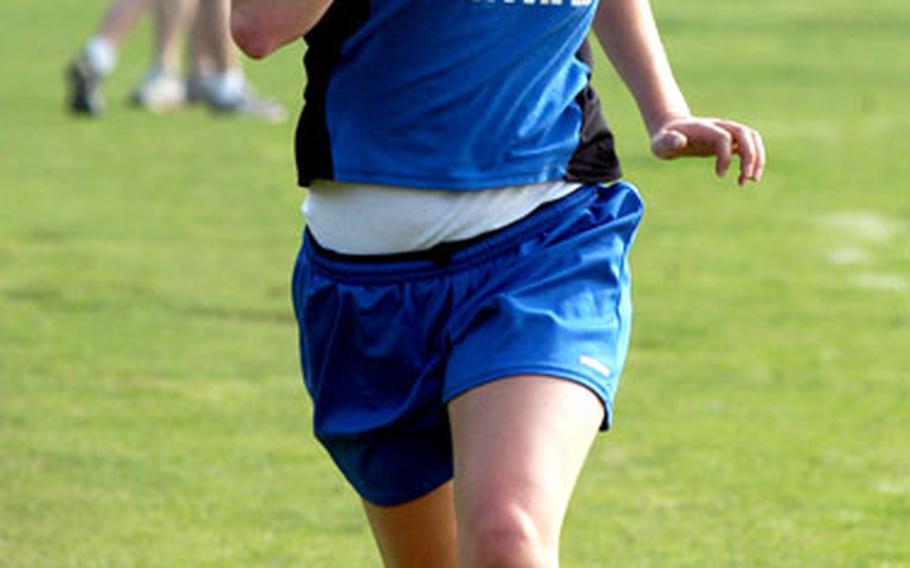 With her times hovering around 23 minutes, 30 seconds for 5,000 meters, London Central junior Samantha Beatty isn't favored to win the European cross country championship next week.
But she's already won the admiration and respect of her teammates and coaches.
"I've had great leaders," said Fredo Ontiveros, a football and wrestling coach who began guiding the cross country team this season. "But I've never had anyone take a leadership role as seriously as she does."
Beatty, who was a member of Patch's perennially powerful cross country squad the past two years, moved to London Central as a dorm student in August after her parents were transferred to Morón Air Base in Spain.
She immediately began spreading her message about creating a winning attitude to her new neighbors.
"At Patch, it was understood that the team was good," Beatty said by telephone on Monday. "Here, we have a lot of girls who hadn't run before. Not much was expected of them."
Beatty focused on changing that. She says the camaraderie of dorm life made it easier — psychologically and physically.
"Living in the dorm, you never get away from your teammates," she said. "My best friend lives right across the hall. It's been great."
The compactness of the dorm world also helps stretch training time, she added.
"We train right here on base," she said. "It's easy to get here and get home. At Patch, I had to catch a bus home."
Ontiveros said the other runners quickly came to respect Beatty's leadership and experience.
He recalled the team's bus ride to its first meet. Amid the noisy exuberance, Beatty handed each teammate a letter of encouragement.
"They weren't expecting it, and that bus got so quiet you could have heard a pin drop," he said. "They really took it to heart."
Ontiveros says Beatty's impact on her teammates' results have been measurable. In a meet Saturday involving all U.K. schools, London Central had three of the top six finishers in the girls race, including Beatty in fourth.
He cited the improvement of Jade Lewis, who has lowered her personal best by 1 minute, 40 seconds over the last two weeks and finished second Saturday.
"Just about every week," he generalized, "everyone runs a personal record."
The team is now pointing toward the Europeans, Oct. 28 in Schwetzingen, Germany. Afterward, Beatty, a soccer player of note who played on a German team as well as Patch's Division II champs, is contemplating a multi-sport future, including basketball.
"I've never played on a team," she said of her hoops plan. "But everyone says, 'Come out, come out,' so I might give it a try. I'm pretty athletic."
And, she might have added, inspirational.
"You can never have too many Sam Beattys on your team," Ontiveros said.