Baumholder rolls as European football season begins
by
Rusty Bryan
September 9, 2011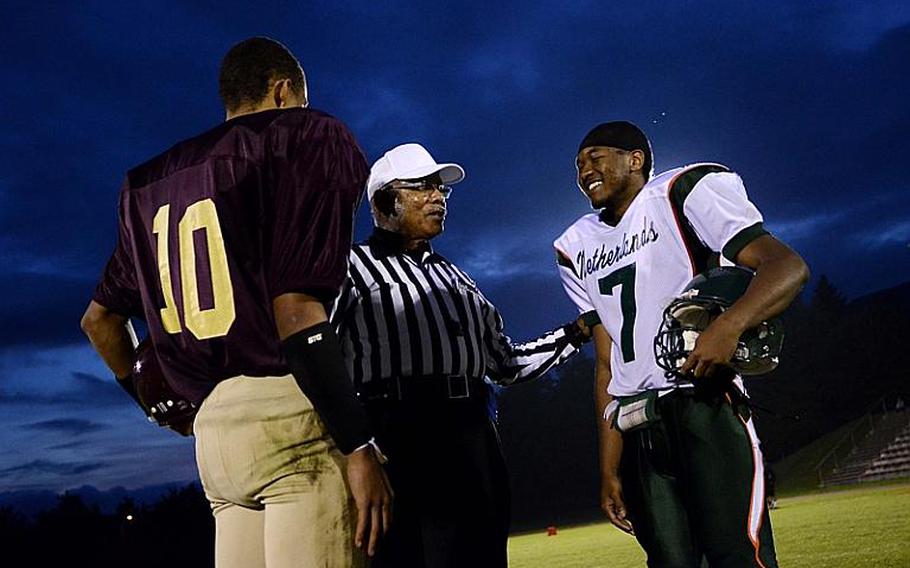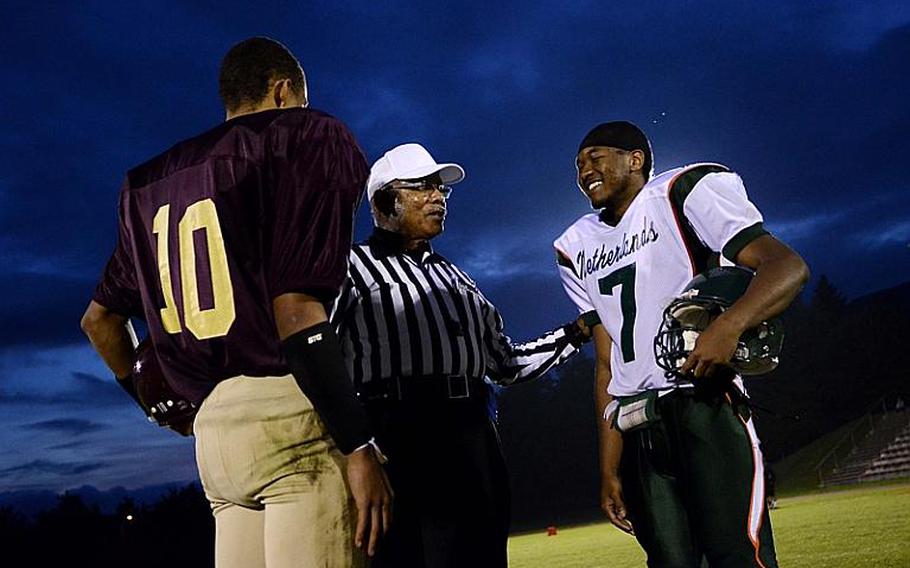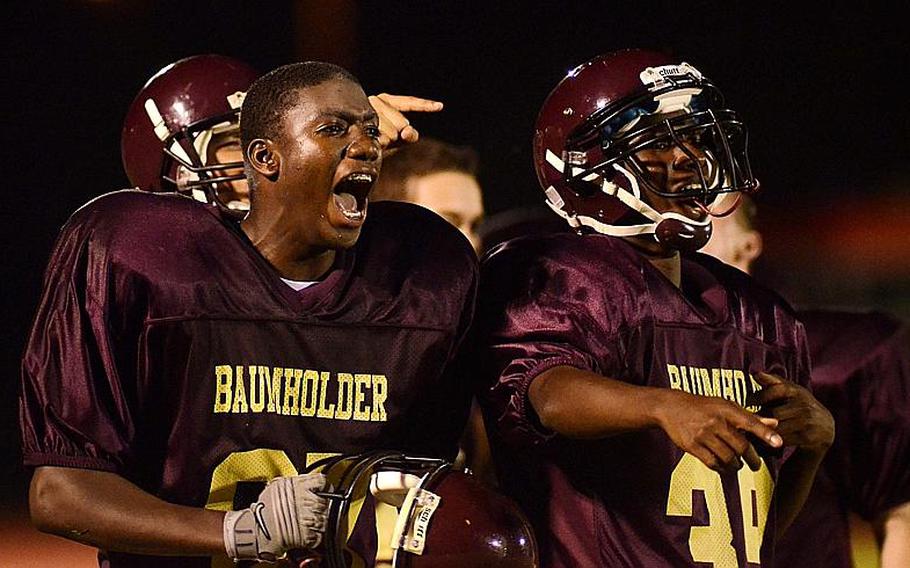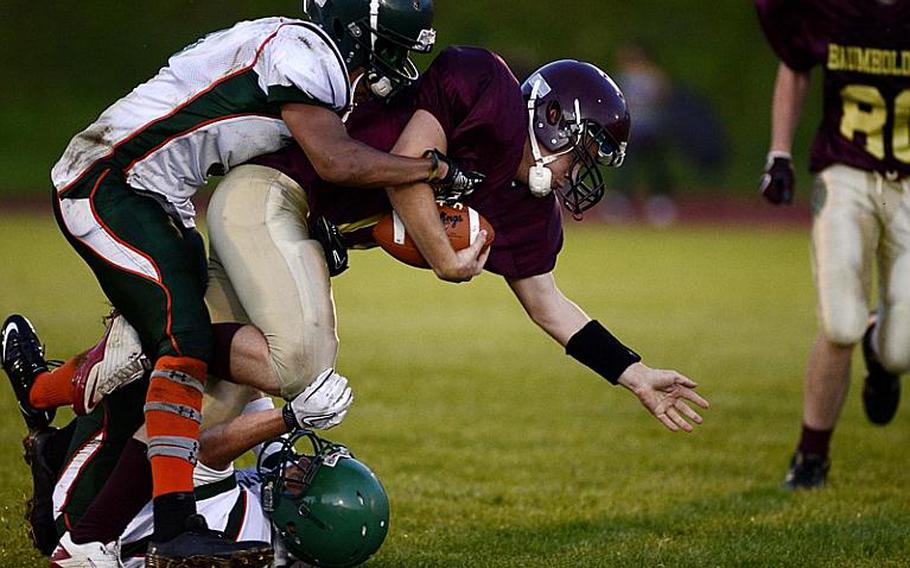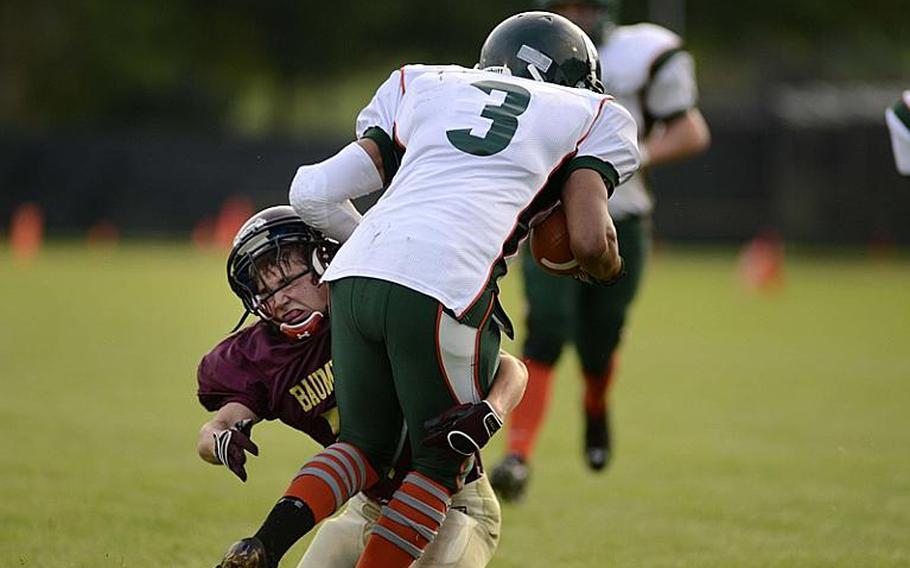 This story has been corrected
BAUMHOLDER, Germany – Midseason form arrived on opening night in the Baumholder Bucs' 41-6 victory Friday over the AFNORTH Lions.
"We've been working hard," Baumholder coach Carter Hollenbeck said after his team rode three red-zone takeaways, a red-zone stand, a punishing ground game and a turnover-free performance to victory in the Division II-North opener for both teams. "What you saw tonight was a year's experience for a team which played 19 freshmen and sophomores last season."
Baumholder's roster on Friday night listed 16 freshmen and sophomores, but it didn't hurt a bit that two of those sophs were running back James Milledge and quarterback Christian Kubas, both of whom were regulars as freshmen in 2010.
Milledge, a 6-foot, 195-pound load, ran for touchdowns of 15, 20 and 71 yards on a night which saw him gain 166 of Baumholder's 408 yards on the ground. Kubas ran five yards for the first six of his team's 35 unanswered points, then hit Breon Herbert with a 45-yard TD pass over the middle, kicked three extra points and connected with junior Ben McDaniels on a two-point conversion pass.
"It all happened because of our line," said Kubas, who performed flawlessly behind the protection of his front-men. "The line makes everything happen in football."
McDaniels, who also scored on an exquisitely blocked 45-yard reverse, agreed with his quarterback.
"I give a lot of credit to the line," said a jubilant McDaniels, whose contributions Friday weren't confined to the offensive side of the ball. He came up with one of the Bucs' decisive three red-zone takeaways when he intercepted a J.D. Pollock pass on the Bucs' 18-yard line 3 minutes, 59 seconds before halftime. In the third period, he deflected a Daniel Cordova pass on fourth-and-six on the Baumholder 10-yard line to hand possession to his team.
Baumholder defenders also recovered two fumbles deep in their end of the field to defuse two other drives. The first came with Baumholder leading 6-0 in the first quarter, when Dasante Brown came up with a bobbled pitch at the Bucs' 30-yard line. The play began as a third-and-eight on the Baumholder 18.
Sophomore Nobleman Soule claimed the second fumble recovery, falling on Tony Legare's bobble at the Baumholder 20-yard line.
"Those turnovers lifted my spirits," said All-Europe senior defensive tackle Robert West. "We haven't beaten AFNORTH in five years."
West added that he drew more from the victory than just the end of the drought.
"Playing against a team as physical as AFNORTH is a good way to get the season started," West said. "Hitting is what football is all about."
Hitting was what this game was all about, especially in the battle between the bruising Milledge and AFNORTH's burly Legare. Legare, a 5-10, 250-pound prototypical fullback who gave a near-clinic on inside power running before exiting with a fourth-quarter injury, rammed into the Buc defenders 15 times for 78 yards.
Even so, AFNORTH, which got its lone score on a 21-yard run by Dante Brown with 8:36 to play and did not complete a pass in five attempts, managed just 275 yards on the ground Friday against Baumholder's newly buff defense.
Hollenbeck "had them in the weight room all summer," said Baumholder assistant Erik Majorwitz. "Last year, we averaged 160 across the front. This year, with move-ins and our summer work, we're over 200.
"We're not Bitburg-esque yet," Majorwitz grinned, referring to the massive two-time defending European D-II champion Barons, who average more than 250 pounds across the front, "but we're getting there."
CorrectionBaumholder assistant coach Erik Majorwitz's name was incorrectly spelled and J.D. Pollock was incorrectly identified in a picture caption in an earlier version of this article.