Baumholder boys capture Division III title with victory over AOSR
---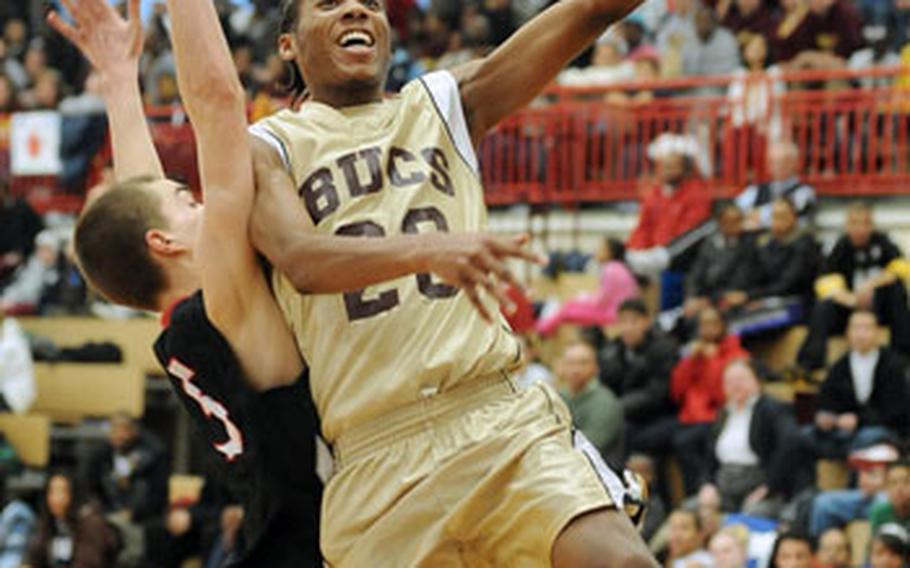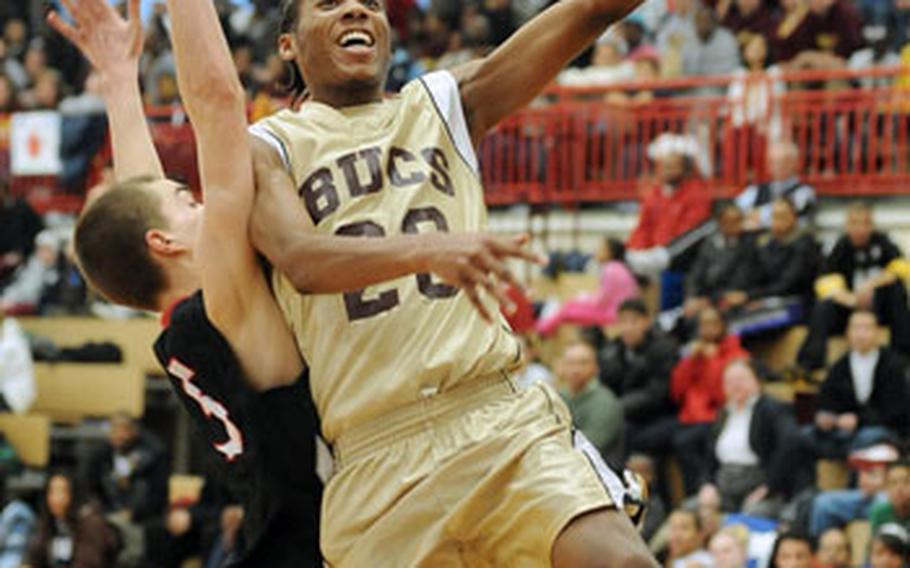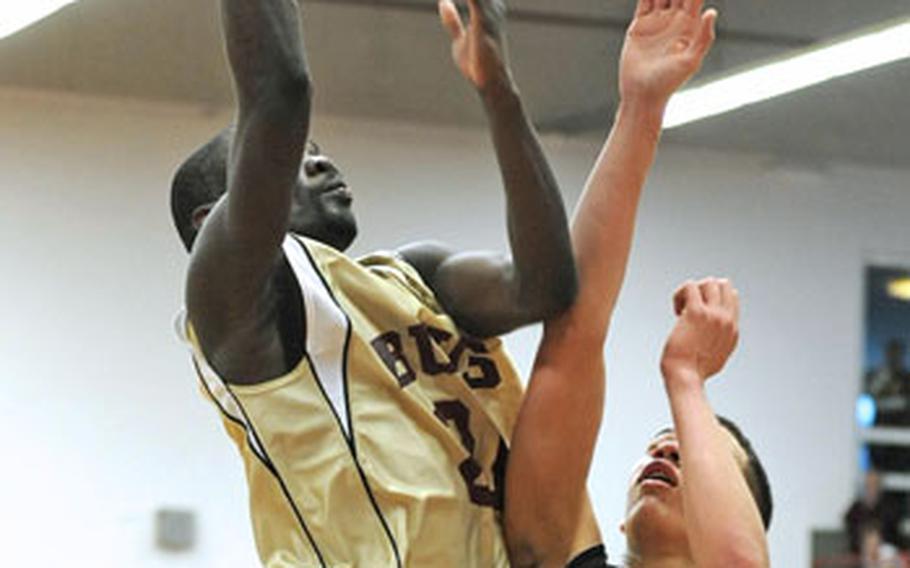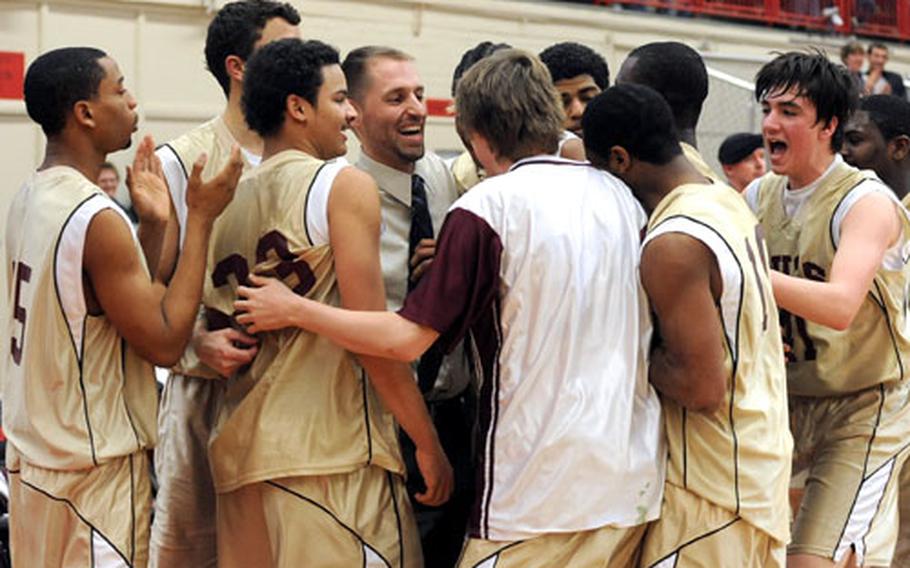 Photo gallery: Div. II and III championships
MANNHEIM, Germany — When Nick Sieben of the American Overseas School of Rome sank a jumper in the lane to tie the score 55-55 with 4:27 left in Saturday's European Division III championship game, Baumholder's Artrell Davis knew just what to do.
Davis, the tournament MVP, took over the proceedings, going 7-for-8 from the floor the rest of the way to boost his Bucs to a 68-64 victory.
"I just remembered last year, when we lost (to Bamberg) by two points in the championship game," Davis said. "I wasn't going to let that happen again."
Davis, who finished with 29 points, slashed to the basket and connected on jumpers in scoring 14 points over the final 3:42 to edge AOSR's Ezio Belli in their duel down the stretch.
Belli, who scored 27 points before fouling out in the last minute, was 4-for-5 from the floor in the final quarter, including a three-pointer with 1:05 left that tied the score at 63-63.
Davis immediately answered, driving the length of the floor for a lay-up that put the top-seeded Bucs ahead to stay at 65-63.
Then, after Ryan Abbadi hit the front end of a one-and-one to bring AOSR to 65-64 down with 49 seconds to go, the Bucs refused to relinquish possession of the ball, and Davis made sure the Bucs wouldn't lose to a last-second shot. He rebounded Christian Fuller's missed free throw with 6.5 seconds to play and put it back for a final score that left the champs on top in a two-possession game with five seconds left.
Fuller, who scored 21 points and rebounded like a man possessed, went to the line three times in the final 16.8 seconds after being fouled as he battled for what turned into three offensive rebounds. He hit the front end of a one-and-one to make it 66-64, then missed his second try, the front end of a second one-on-one, and both shots on a two-shot double-bonus foul. He was able, however, to rebound two of his misses, going back to the line in the process. Davis got the other two, including the one he turned into the final put-back.
Naturally, Fuller was delighted Davis was there to pick him up.
"It was nerve-wracking," Fuller said about those last-second trips to line as he sat on the floor awaiting the awards presentation. "I'm still shaking. We played those big games against K-town (a 101-95 loss and a 92-91 win Feb. 11 and 13), but this was the championship game. I'm just glad I got those rebounds and I'm glad we were able to win."
Davis did more than sink clutch baskets. Arguably the most gifted male athlete in the tournament, he blocked consecutive AOSR shots in the third quarter as the Bucs were trying to preserve what had at one time been a 10-point lead.
"They're a good team," Davis said of AOSR, which entered the tourney seeded No. 5. "We played them in the opening game of the tournament (a 65-60 Baumholder victory in pool play). They kept it up-tempo and played great defense."
Davis, a 6-2 senior All-European, cherished his team's second shot at a title.
"It was a blessing from God we had a chance to be back here this year," he said. "We made the most of it."
Baumholder 68, AOSR 64(Saturday at Mannheim)
AOSR..........8 19 20 17—64Baumholder..........14 16 20 18—68Scoring—AOSR: Ezio Belli 27, Nathan Sieben 16, Darryl Sandoval 8, Ryan Abbadi 7, Nicholas Sieben 4, Seth Moore 2; Baumholder: Artrell Davis 29, Christian Fuller 21, Florian Thomas 7, Jacob Dooley 4, Rodney Robinson 4, Darius Chisholm 3.
---
---
---
---