Battle brothers find return to Germany 'like a homecoming'
by
Rusty Bryan
October 6, 2005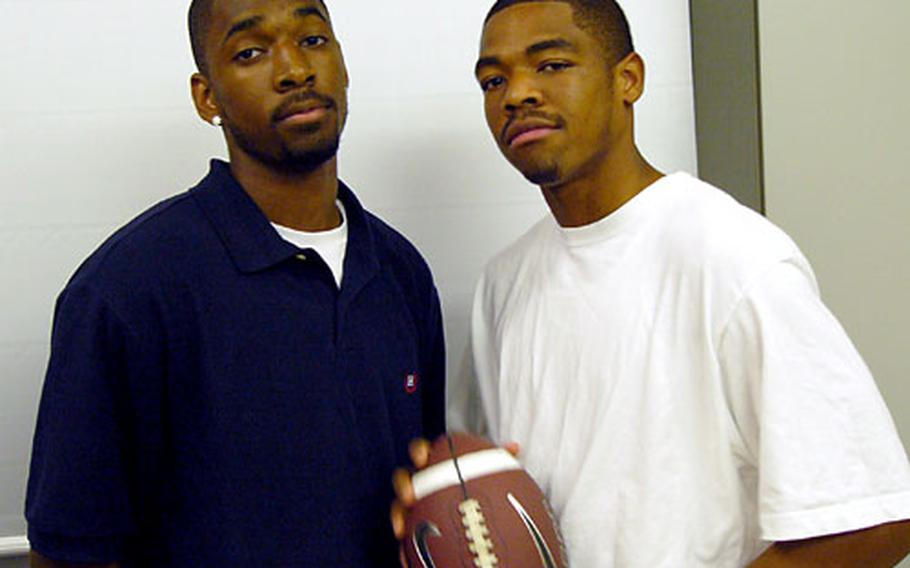 GIESSEN, Germany — For three-sport-stars Tim and C.J. Battle of Giessen High, returning to a DODDS-Europe Division III school from a stateside institution 10 times as large has a special feel to it.
"It's like homecoming," said senior Tim, 18, who performed at Giessen as a sophomore and Bamberg as a junior.
Added brother C.J., 16 and a junior, "It feels like home."
The two transferred from Bamberg to 1,700-student Mount Vernon High School in Alexandria, Va., last November. They returned to Giessen, however, because the heart triumphed over the head.
Both acknowledged they went to the States to attract the attention of college recruiters, but with their mother still in Germany, the Battle Brothers decided to return to Europe for one final season.
It wasn't the heat of competition but the warmth of home that brought them back, they said.
"I missed my mom a lot," said Tim, a 6-3, 175-pound senior quarterback/linebacker who played basketball and ran the 400 hurdles in Virginia.
"We were put in the position of living either with my mom or my dad, so we came back."
Said C.J., a running back and linebacker who barely had time to pick up his All-Europe football plaque before departing last fall: "Over here, it's a friends-and-family thing. There's a family atmosphere at the school you don't get in the States. I could stay here for life."
Even so, both said they enjoyed testing themselves against the deeper talent pool they faced in winter and spring sports at Mount Vernon.
"There was a lot of competition," Tim said. "We played against some really good dudes."
And held their own, according to 6-2, 190-pound C.J., who also played basketball and threw the shot and discus in track and field. "We rose to the challenge," he said. "We had some friends there and adjusted pretty quickly."
So quickly, in fact, that both reported no problems with playing time, even as "new kids."
"If you're good, you'll play," C.J. said. "You've just got to be positive and show your stuff."
Back in Europe, the stuff they've showed in three games looks like this:
C.J. — 37 carries, 266 yards and a touchdown. 40 tackles, two sacks, two fumble recoveries, 76-yard fumble return TD.Tim — 18-for-26 passing for 487 yards, four TDs; 12 rushes for 154 yards. 30 tackles, two sacks.Someone in the States has noticed.
"I've been contacted by St. Augustine's College in North Carolina," Tim said. "They're a Division II school, looking at me as a quarterback."
The interest doesn't surprise Giessen offensive coordinator Erik Majorwitz, who thinks both brothers can succeed in football or basketball or both in college.
"I believe it's easier to be discovered over here playing in Europe," he said. "You have to do more of the legwork, but all it takes is to get one to look at you and they will feel like they have found a diamond in the rough."
For his part, Giessen coach James Lloyd, who said he couldn't believe his good fortune when he heard last spring that the brothers were returning, likes the way the Battles have made themselves at home this season.
"They show great leadership," he said after a Tuesday film session. "At practice, they take control."
Wherever they wind up.