Home Team
Basketball in Europe: start, stop, start again
by
Gregory Broome
December 11, 2013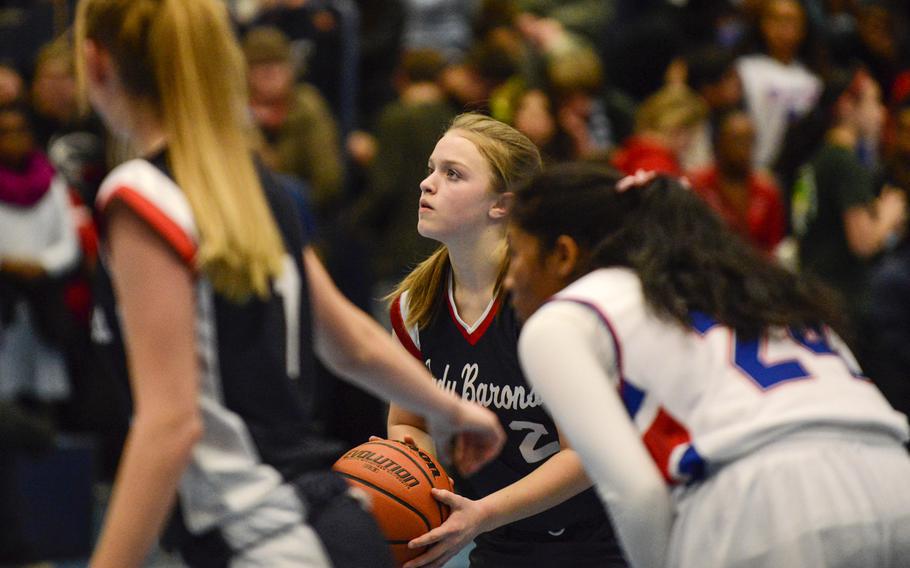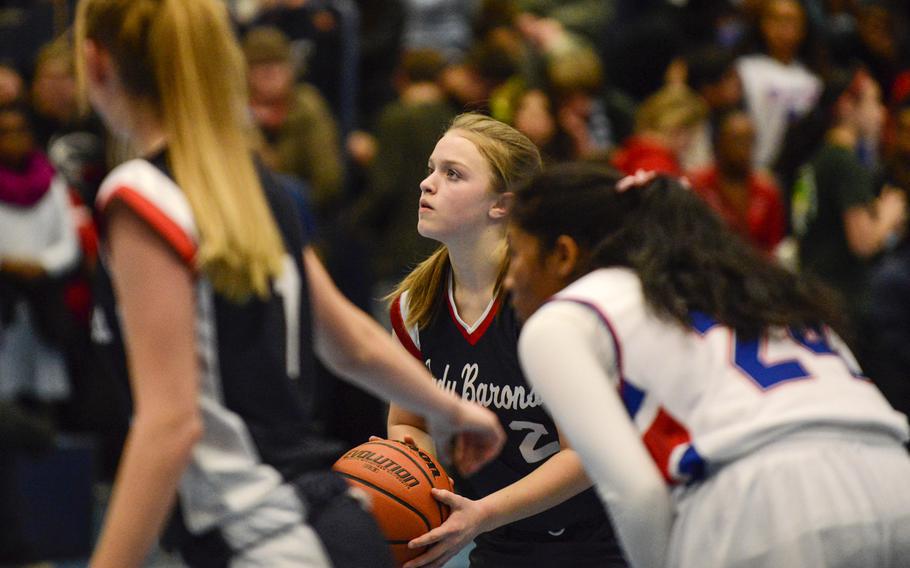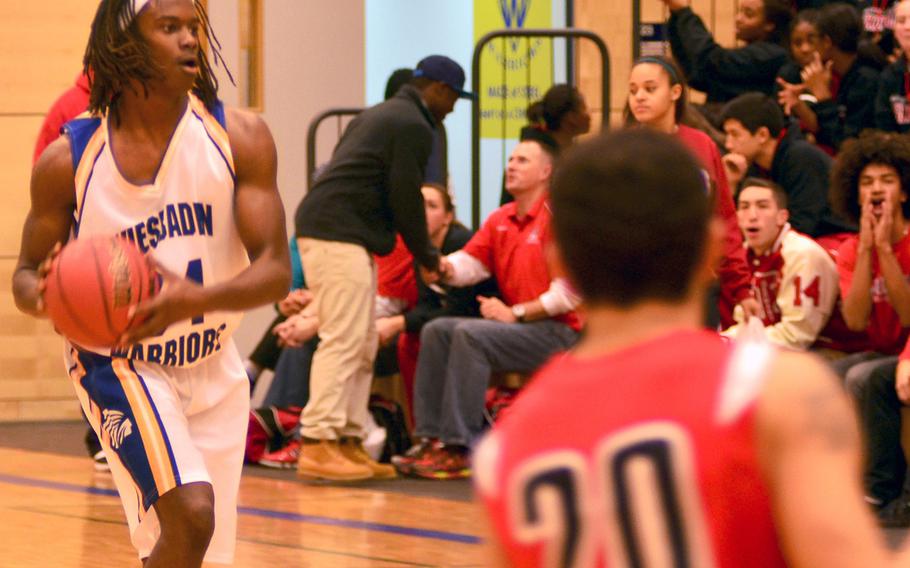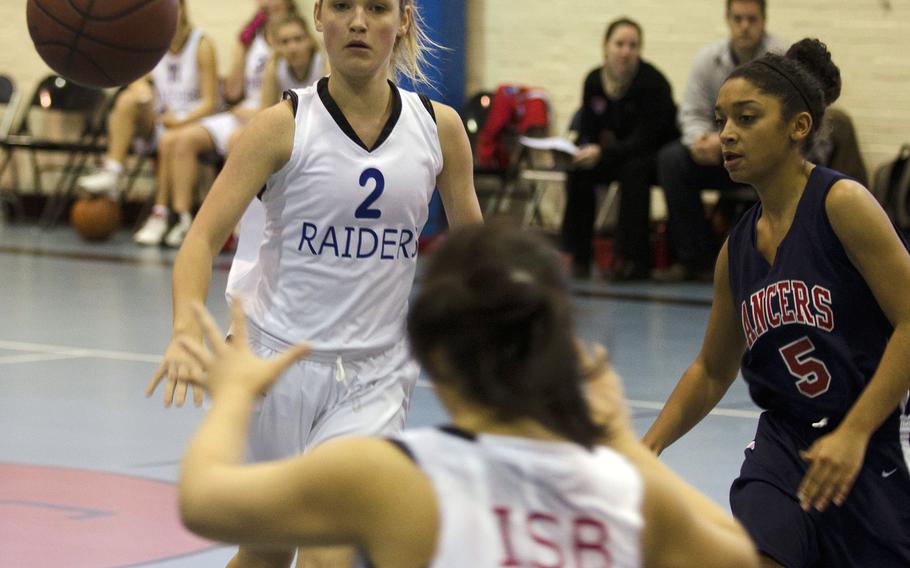 Tis the season?
That's the question DODDS-Europe basketball players and coaches ask themselves each winter as a new season gets under way. Like a tobaggon on a snowless hill, the hoops schedule lurches and lunges through just two December weekends before lodging itself in the long holiday break. No games are scheduled between Saturday, Dec. 14 and Friday, Jan. 10.
"Our schedule doesn't allow for momentum," Baumholder boys basketball coach Chris Clark said.
Coaches report a wide variety of side effects related to the annual intermission, and have developed a number of mechanisms for coping.
Many teams look to fill in the holiday break with non-DODDS games. Patch High School in Stuttgart hosts an annual boys basketball tournament featuring local youth teams and DODDS-Europe programs. Vicenza boys coach Eric Wakefield has booked games on Dec. 20 and 28 against Italian youth teams. But these options are generally more available to boys teams than girls teams, and can be problematic for some schools due to their geography.
Nearly every DODDS-Europe team holds at least a few practices over the break, with varying degrees of regularity and intensity.
Lakenheath girls coach Jon Mittenzwey opts for "low-intensity, optional practices" over the holidays. Menwith Hill girls coach Pete Resnick also offers voluntary practices for his players focused "exclusively on their individual development." Sigonella girls coach Michelle Chandler will hold four-to-six sessions which she said will "operate more like a camp."
Baumholder girls coach Sam Alsup, however, will hold "regular practices" over the holidays.
"As a small, inexperienced team we cannot afford to take the break off," Alsup said. "We would never be able to recover."
But practices, and particularly games, require players. Many Europe-based American families spend the holiday break traveling, often back in the United States. That leaves the team short-staffed for team activities, and makes it an inconvenient time to introduce new team strategies or initiatives. Further, the players' holiday merrymaking generally isn't conducive to a quick start when the season tips off again in January.
"It's difficult to get the team back after break because of conditioning more than anything," Brussels girls coach Tim Como said, adding that "well-planned workouts" can quickly readjust his players' holiday cheer into a competitive edge.
The break can be ill-timed for teams whether they succeed or struggle in December.
"Teams who are winning don't want to have to rekindle the fire," Mittenzwey said. "And teams that are losing don't want to dwell on the feeling of failure for extended periods of time."
Clark agreed with that sentiment, citing the dangers of a festering loss to team morale.
"Long breaks are never a good thing," the Bucs coach said. "A bad loss only lingers if you can't play again quickly."
Kaiserslautern girls coach Corey Sullivan, meanwhile, identified a silver lining in the schedule.
"The extra time allows for you to get your kids a better understanding of your system and work on fundamentals," Sullivan said. "It's just the way it is."
Another quirk of DODDS-Europe basketball serves to minimize these questions of momentum and long-simmering losses. Though early-season success and failure can have profound effects on a squad's psyche, the teams will all be standing on even ground by season's end.
DODDS-Europe allots every team a berth in its division's European championship tournament. So while carrots like regional championships, rivalry games and playoff seeding dangle from the regular-season schedule, players and coaches know the real prizes will be awarded over the course of a single week in February.
"The unique thing about DODDS basketball is that all the regular season is preseason," Clark said. "We are all shooting for the tournament in February, so all regular-season games hold the same value."
For DODDS-Europe's most distant schools, like Incirlik, the European tournament offers the season's only chance to play against evenly-matched DODDS competition. In that spirit, Hodjas boys coach Kevin Lehde regards the holiday break as a non-issue.
"I have enough challenges to deal with that this one is quite minor," Lehde said. "Our whole season is constantly re-teaching fundamentals, so doing this after the new year won't be any different."
In the end, the issue might boil down to a well-worn sports cliché which long ago lost its novelty but retains its core, profound truth. Vicenza's Wakefield, as he described his team's complicated schedule of DODDS and non-DODDS games, leaned again on the still-sturdy tenet of sports psychology.
"We try to focus on one game at a time," Wakefield said.
Twitter: @broomestripes