Basketball a family affair at Taegu American
by
Dave Ornauer
February 20, 2004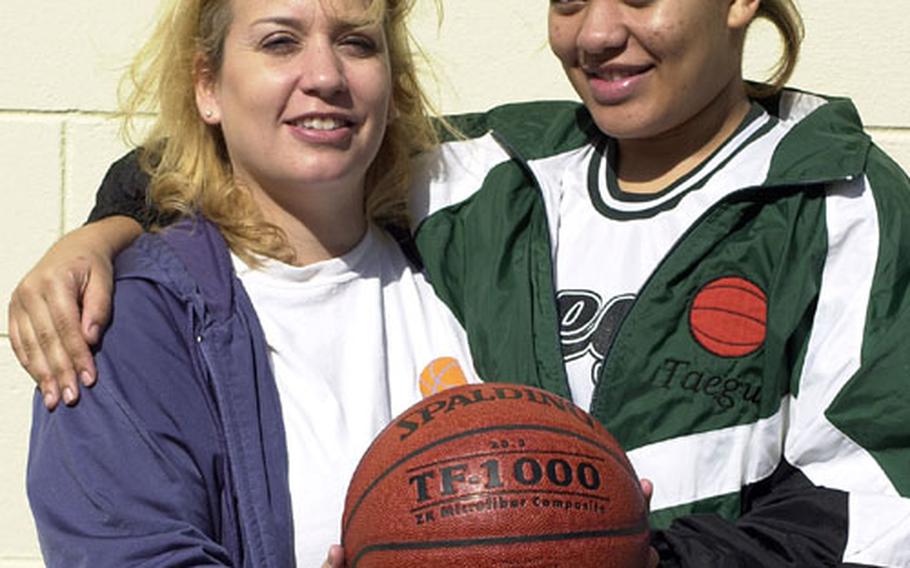 CAMP HIALEAH, South Korea — Ashley Gooch and her parents keep basketball in the family.
Michelle and Daryl Chandler, Ashley's mother and stepfather, coach the Taegu American Warriors, where Gooch plays point guard.
The family affair presents as many challenges as good times, the family said.
"They expect a lot of me as a player and a daughter," said Gooch, who earned All-Korean-American Interscholastic Activities Conference first-team honors for the Warriors, who were 10-12 entering the Class A tournament.
"At times it can be fun, but at times it can be hard."
Parents and player make it clear that the coaches are as tough on their daughter as they are the rest of the team, maybe more so.
"They want to make me be the best player I can be," Gooch said.
"We're harder on her because we expect more from her," said Michelle, Taegu American School's nurse the past six years. Daryl runs the Kelly Fitness Center at Taegu's Camp Walker and helped coach the team this season after Michelle delivered their newest addition to the family, daughter Averi.
Gooch, a junior and 3.6 grade-point average student, knows her game.
"I'm not A.I. [Allen Iverson]," Gooch said. "But I work a lot on my outside shot, make sure my teammates do what they need to do. Basic basketball. Just playing smart and knowing what's going on."
Michelle said she appreciates the chance to educate her daughter, sharing her experiences and helping her appreciate some of the not-so-good aspects of the game.
"Being involved in her activities is important," Michelle said. "This season, she's been on the bench more, so I've been talking to her about that, having to fight for your position."
But she doesn't focus only on her daughter.
"They're all like my kids," she said of the team. "As the school nurse, I'm so in touch and involved with their lives. It's like having 10 teenaged daughters. When they play like they're capable, it's a joy, whether they win or lose."
If Gooch and her teammates continue to improve, it could mean a Class A tournament title.
"I want to, definitely want to," Gooch said of a title. "If this isn't the year, then next year will be."
Kinnick girls lose in first major upset of week
CAMP FOSTER, Okinawa — Four times Christian Academy In Japan's girls basketball team tried to beat Nile C. Kinnick this season. Four times, they lost.
The fifth time was the charm Wednesday as the Knights finally came out on top 47-40 in the Far East Class AA Tournament in the first major upset of championship week.
Was it simply time? Did the Red Devils, 22-0 against high school teams during the season, get caught looking ahead to a possible quarterfinal matchup Thursday with defending champion Kadena? Or was CAJ, a meager 7-11 entering Class AA, simply the better team?
"CAJ improved every time we played them," Kinnick coach Henry Falk said. "They worked on their defense and ballhandling, and they had the offense to go with it today. And their press has improved. They came out, showed their true colors and played really good ball."
Things went pretty much according to form in the other two tournaments. Seoul American advanced to the winner's bracket quarterfinals in the Boys Class AA tournament and defending runner-up Osan American did the same in the Girls Class A tournament.
---
---
---
---