Volleyball AOY
Barriger helped Panthers stay consistently excellent
by
Gregory Broome
November 15, 2018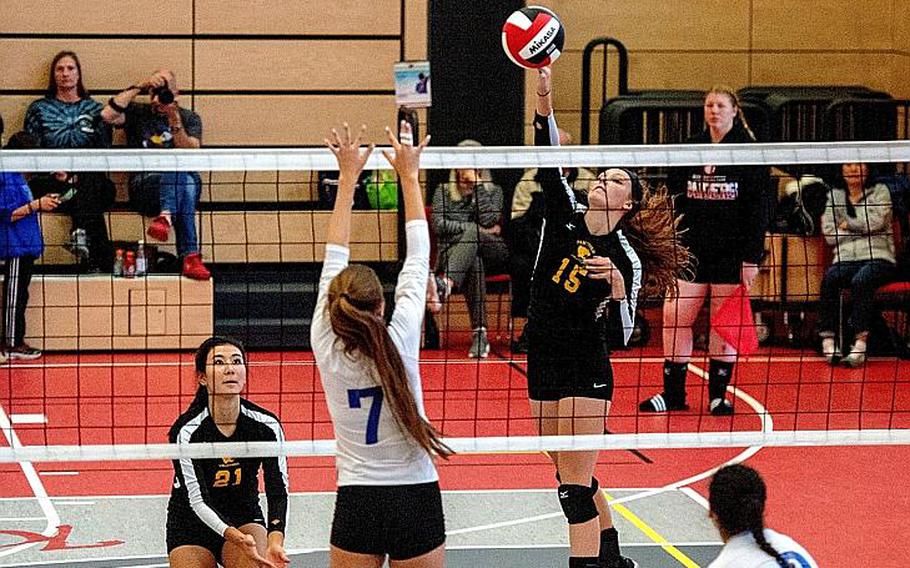 Geneva Barriger became a star in DODEA-Europe volleyball by not really worrying about becoming a star.
"I wasn't necessarily the flashy player," said the Stuttgart Panthers senior outside hitter. "I was definitely more the consistent player."
Barriger's consistency and all-around contributions to the Division I European champions has landed her among the elite in DODEA-Europe. She was named the MVP of the Division I tournament after the Panthers swept rival Ramstein 25-23, 25-18, 25-10 for the title Nov. 3. A week later, she played in the annual postseason all-star volleyball matches. Now, Barriger is the Stars and Stripes volleyball Athlete of the Year.
Barriger earned all those accolades by making herself indispensable even on a team full of star-caliber performers.
"I was more of the one that they could count on to do it when the going gets tough," Barriger said. "I'm there in case they need me."
As it turned out, Barriger found plenty of ways to contribute.
That started the way every volleyball point starts - with the serve. Barriger was a standout in that regard even on a team that heavily stresses the importance of the serve. She earned the status as the first server up in Stuttgart's rotation, led the Panthers in the regular season with 77 aces and added another 17 in the tournament.
That emphasis on service didn't detract from Barriger's play at the net. She racked up 91 kills in the regular season and 51 more over the three-day tournament, developing a rapport with freshman setter Audrey Moeding and making good on what chances came her way amongst Stuttgart's deep contingent of high-powered hitters.
"She was instrumental in the relentless barrage of aces and kills during the semifinals and finals of the tournament," Stuttgart coach Michael Rubino said.
That brilliant all-around effort helped put the Panthers back atop Division I. Barriger and all-star teammates Bella Brandt and Carly Sharp were key members of the Panthers' undefeated 2016 championship team, absorbed the heartbreak of a 2017 title-match loss to Lakenheath, and returned in 2018 to restore that interrupted dynasty.
"We all knew that we wanted to win this championship, and we didn't really let anything get in the way of that," Barriger said. "We all worked together as a team to get it. It wasn't just one person. It was a team effort."
And every team needs players like Barriger.
Twitter: @broomestripes