'Band of Brothers' leads boys to back-to-back championships
by
Dave Ornauer
May 2, 2004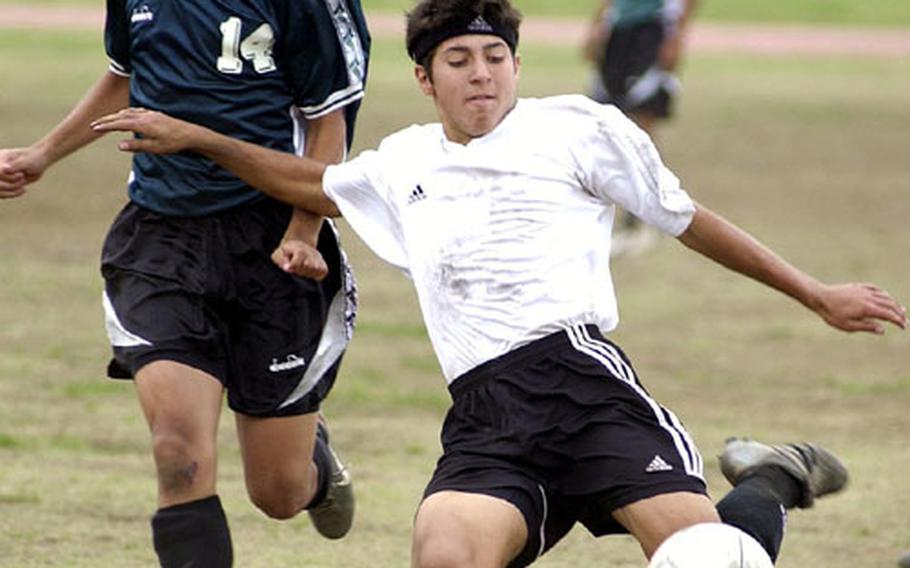 YOKOTA AIR BASE, Japan — Kadena can thank its "Band of Brothers" for its second straight Far East Class AA soccer title.
Senior Zach Zendejas scored and his sophomore brother Aaron set up a goal two minutes later midway through the second half to turn a 1-1 game into a 3-1 victory over Kubasaki in Friday's championship match at Yokota's Bonk Field.
"It feels very good to defend it," said sophomore center-midfielder Nathan LaGrave, selected the tournament's most valuable player. LaGrave was on the Kadena squad that beat Yokota 2-1 in last year's Class AA final.
So, too, were the Zendejas brothers — one of three pairs of brothers on a team that went 17-0-1 this season and outscored opponents 73-10. Others among the "Band of Brothers" are junior Cole and sophomore Chris Maxey and junior Devon and sophomore Ian Copeland.
"The brothers have really banded," coach Sue Fitzpatrick said. "You'd think that there would be infighting and sibling rivalry among them, but they've really come together. There's no competition, no trying to outdo or outscore one another. They're doing everything as a team."
"This was our game," said Aaron Zendejas, who had a team-leading 16 goals. "The goals were going to come."
Zach Zendejas broke a 1-1 deadlock in the 72nd minute with his 13th goal of the season. He gathered a loose ball and fired a hard shot from the top of the box that soared high into the net over leaping keeper David Motu.
"We knew it was a matter of patience," LaGrave said. "We would finish. We have all tournament. Give credit to the strikers."
In the 74th minute, Aaron Zendejas' corner kick was headed into the left corner of the goal by LaGrave, giving the Panthers a two-goal lead.
"We have awesome strikers, awesome center-mids, awesome people coming off the bench, never giving up," LaGrave said. "Credit Coach Fitzpatrick, an extreme motivator."
Kubasaki senior midfielder Chris Monroy opened the scoring in the third minute, beating keeper Ted Awana during a goalmouth scramble.
Kadena answered seven minutes later off an indirect kick just outside the 18-yard box. Devon Copeland tapped it to Aaron Zendejas and he buzzed a shot past Motu, who made two brilliant saves early in the second half to keep it tied.
The second half was played mostly on Kubasaki's side of the field.
"Kadena relaxed in the first few minutes and we got a goal on them," Dragons coach Butch Spain said. "They're a very good team. This proves it."
Dpain's squad entered the five-day tournament 4-11 but won seven of 11 matches to improve on last year's fourth-place finish.
"I'm very proud of my rebuilt team, to go from fourth to second," he said. "We worked very hard but we came up a little short."
While the Panthers will bid farewell to the Maxey brothers, who transfer to Ramstein Air Base in Germany this summer, Fitzpatrick will welcome back the Zendejases and Copelands, who each have an eighth-grade brother, Ben Zendejas and Austin Copeland.
"You never know," Fitzpatrick said. "Maybe they'll step in and fight for spots on the team as well."