Bamberg, Heidelberg win volleyball titles
---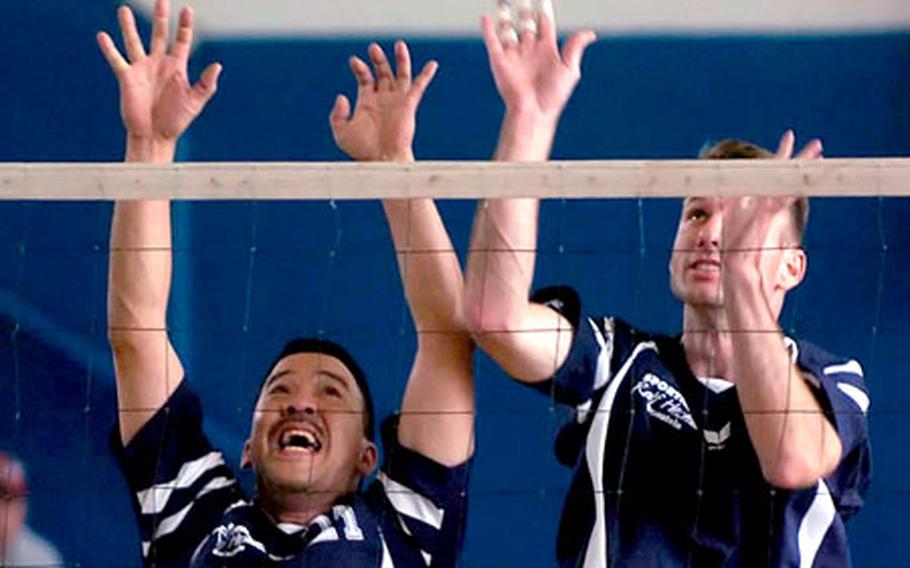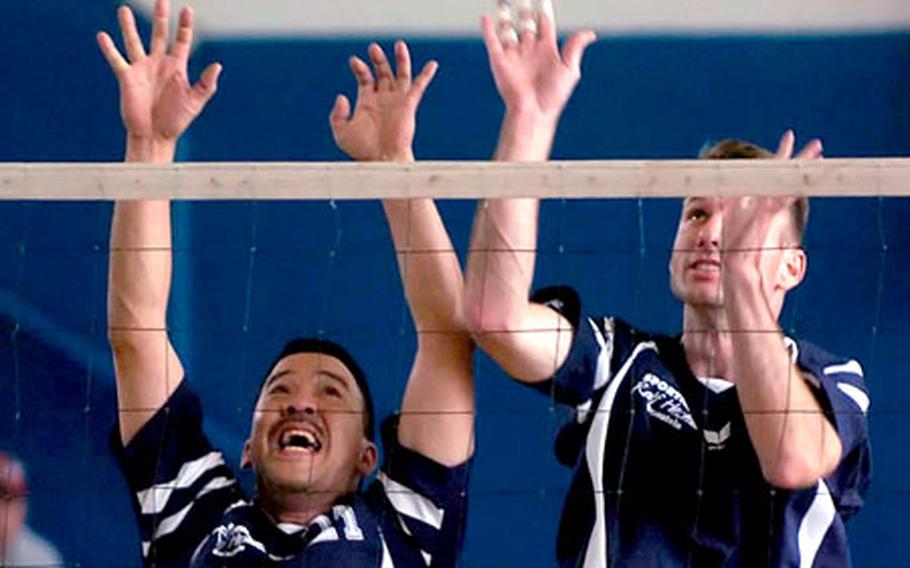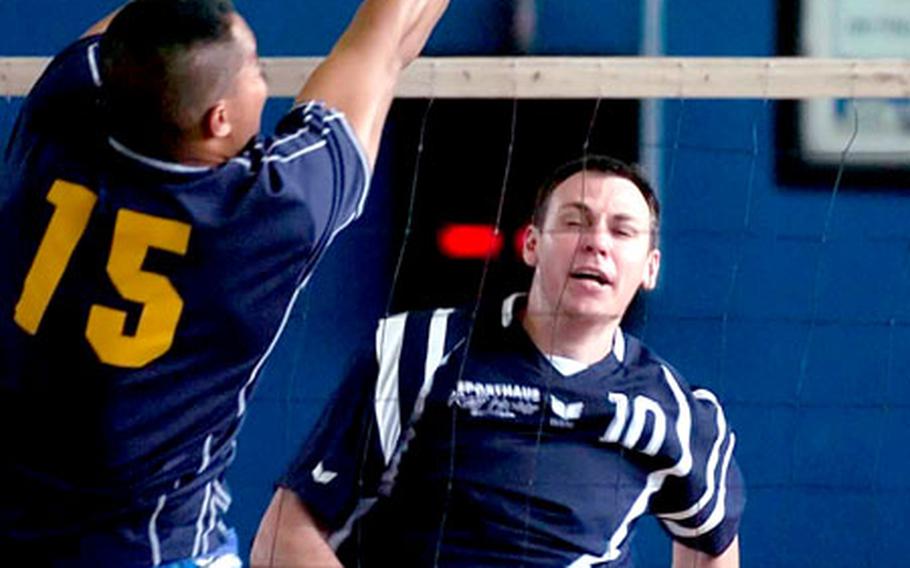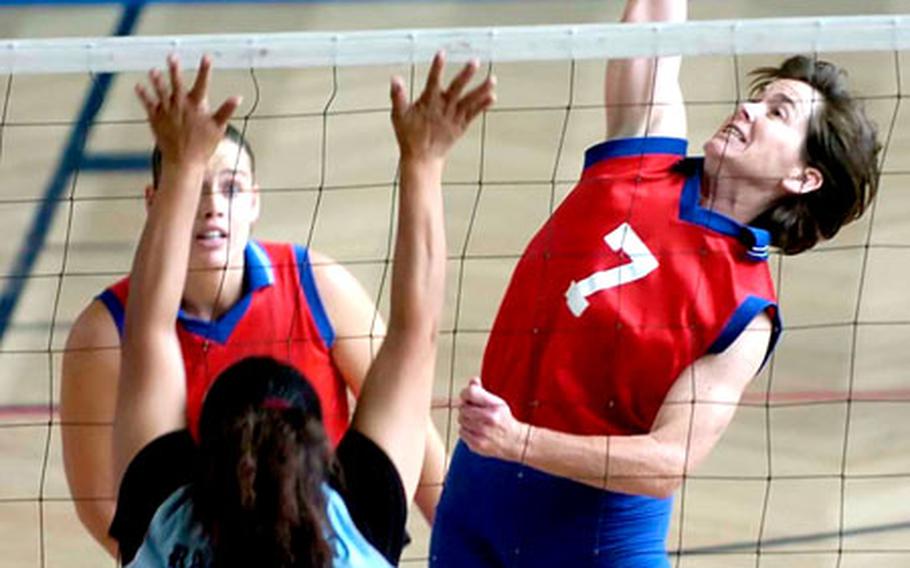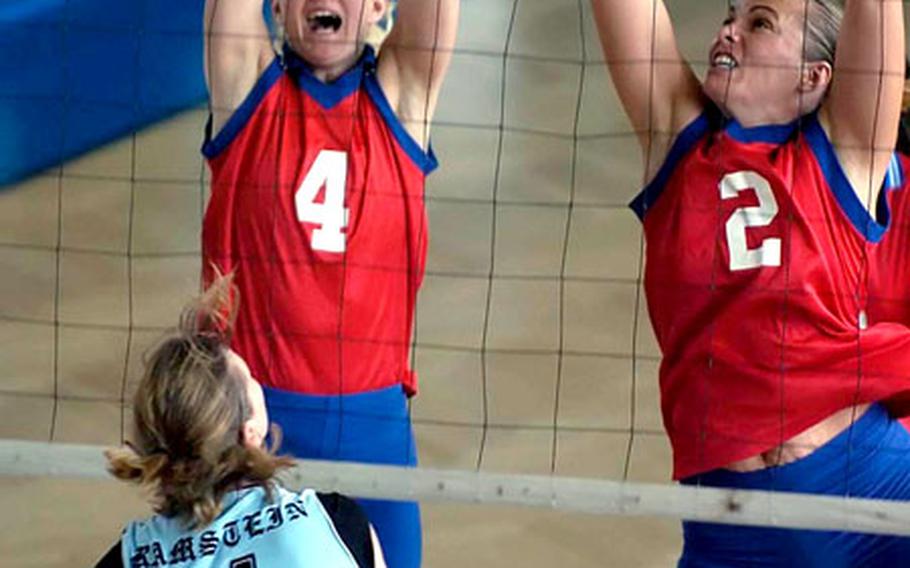 WIESBADEN, Germany — Army-Europe men's champion Heidelberg and women's champion Bamberg claimed the titles Sunday in the 2005 Army-Air Force Final Four volleyball tournament, but the defending men's and women's champions from Ramstein spent most of the day making sure things weren't as one-sided for the Army as the outcomes made them seem.
Heidelberg's men needed five games to finally topple two-time Final Four defending champion Ramstein 15-25, 25-12, 23-25, 25-22, 15-10, and Bamberg required two matches, the deciding one going five games, to dispose of the gritty Ramstein Lady Rams.
Bamberg women hang toughDefeated by Bamberg in Saturday's winners-bracket final, Ramstein's women clawed back through the losers bracket and forced an if-necessary final match Sunday morning with a 17-22, 25-11, 25-23, 25-22 victory over Bamberg before finally falling 16-25, 21-25, 25-23, 25-20, 10-15 and earning the utter respect of their opponents.
"They played awesome," tourney MVP Sara Fields of Bamberg said after the final match. "They dug everything."
Everything, and in every way, added Bamberg's Debbie Macnamara.
"They were the best passing and digging team we've faced," she said. "They dug everything, even with their feet."
Macnamara, who joined teammate Kim Rix on a block and put away a kill to earn two of Bamberg's final three points, was referring to Ramstein's Lani Kekahuna, who made a pair of foot saves, just as the ball was about to hit the floor, on a single point in the final game.
"It was just teamwork and heart," Kekahuna said of her team's refusal to concede even the most sure-looking Bamberg kill or dink as well as refusing to quit after Bamberg went up 2-0 in the final match. "It's not like us to give up."
Rather than be frustrated by the relentless Ramstein returns, however, Bamberg merely stepped up and enjoyed itself.
"It was the most fun I've had in 20 years," said Bamberg's Tracy Whitelaw, just back from a tour in Iraq. "They wouldn't let anything hit the floor."
Ramstein came as close as it did thanks to the Lady Rams' refusal to be intimidated by the taller Lady Barons — "Height doesn't mean anything," Kekahuna said — and keeping them off balance.
"We weren't passing very well," said Fields, anchor of Bamberg's 6-foot front line. "They were moving us around pretty good. When we pass well, we're pretty much unstoppable."
Macnamara agreed.
"We didn't gel very well this morning," she said. "This afternoon, we did. We had more motivation — go, Army; beat Air Force."
Heidelberg men dethrone RamsteinThe teams traded one-sided victories before getting down to business late.
"It's momentum," tourney MVP Jamie West of Heidelberg said of the flip-flopping scores. "When you've got momentum, everything falls. When you don't, everything starts going against you."
West said some adjustments helped Heidelberg to gain the upper hand.
"We changed some blocking assignments," he said. "We put different blockers on their outside hitters."
However, Mark Law, coach of four-time USAFE champion Ramstein, saw Sunday's difference in simpler terms.
"Heidelberg flat outplayed us," he said.
---
---
---
---