Bamberg boys win D-IV title
by
Rusty Bryan
February 24, 2007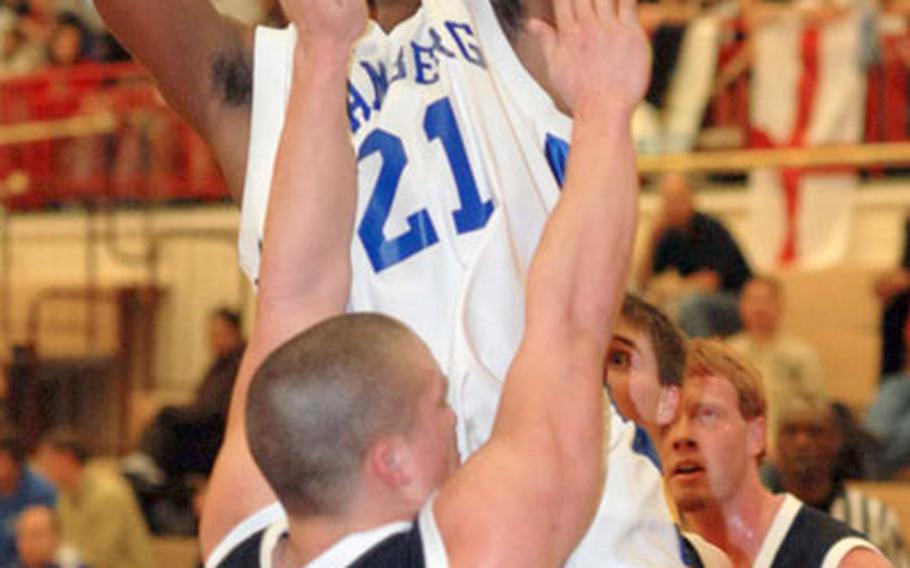 MANNHEIM, Germany — The Bamberg boys' second straight European high school basketball title turned out to be an all-you-can-eat affair for the Division IV champion Barons.
"Our point guard, Dwight Richardson, is incredible. He just keeps feeding me the ball," Bamberg forward Dillon Baker said after Friday's 61-39 victory over Menwith Hill in the title game.
Baker scored 17 points and Richardson, voted the tournament MVP, had 19.
The Barons, who won the European Division III championship last season with several of these players, led 30-12 at halftime.
Baker had 11 points by that time, and the Barons didn't let up.
"Run and gun," Baker said. "That's our style. I kept telling Dwight, 'I'm hungry.'"
Marvin Gholston, who along with Richardson, Baker and Bernard McPherson collected their second European titles Friday night, came off the bench to add 11 points along with six offensive rebounds for Bamberg.
Sophomore pivot Greg Puccetti led Menwith Hill, the regular-season champion in Division III-North, with 13 points. Le'Shawn Adams added eight before being ejected in the final quarter for unsportsmanlike conduct.
Bamberg did its part in a possible trade of European titles with III-South rival Giessen. The Griffins, who moved into the Division III semifinals to be played Saturday morning, won the D-IV crown last year. Giessen beat Bamberg for the III-South league crown by sweeping the Barons 44-36 and 57-47 last month.
"I would have liked to have had another shot at Giessen here," Baker said. "I fouled out both games up there."
Menwith Hill (13-8), which defeated III-North rival Alconbury in Thursday's semifinals, was making its first appearance in a European championship game.
Bamberg (15-4) coasted through this three-day event unbeaten, winning its first four games by an average margin of 34.8 points. The 22-point margin in the final was the Barons' smallest of the tournament held for Europe's smallest high schools.
"It doesn't matter what division you win," Baker said, "as long as you win."
Bamberg 61, Menwith Hill 39Menwith Hill......6 6 17 10—39Bamberg......14 16 12 19—61Scoring—Menwith Hill: Greg Puccetti 13, Le'Shawn Adams 8, Daniel Carter 5, Michael Faust 4, Mike McHenry 4, Andrew Kaaihue 3, Danton Moore 2; Bamberg: Dwight Richardson 19, Dillon Baker 17, Marvin Gholston 11, Josh Robinson 9, Justin Lane 3, P.J. Trurain 2
---
---
---
---