DII girls final
Baileys power Yokota to another title
---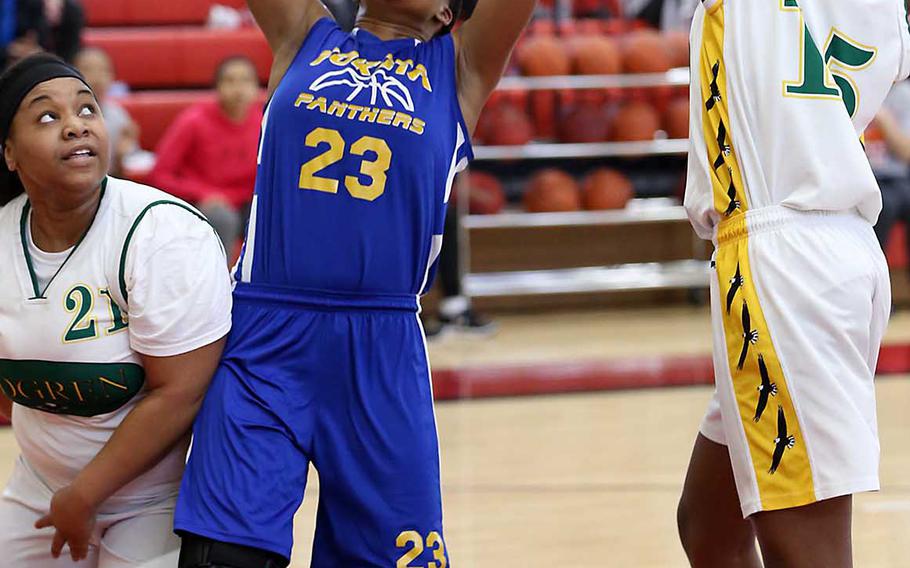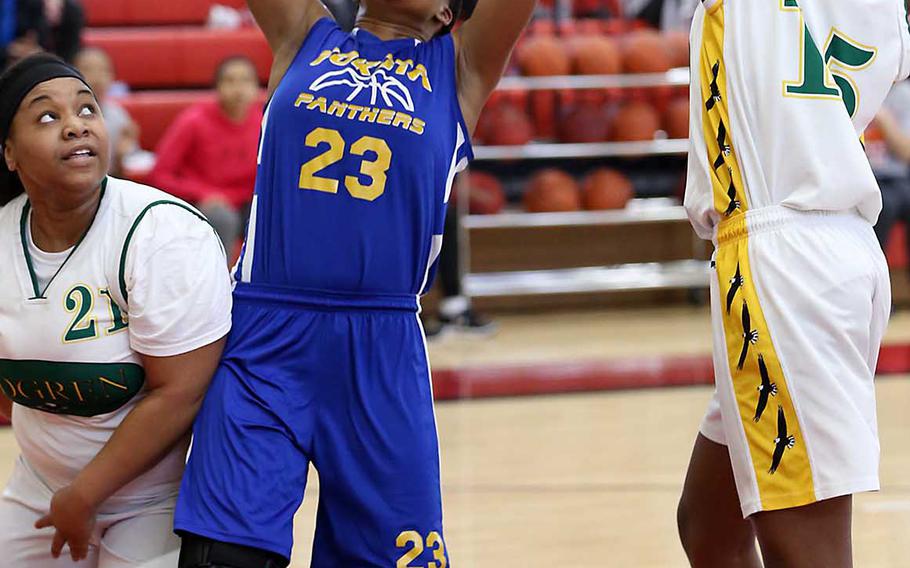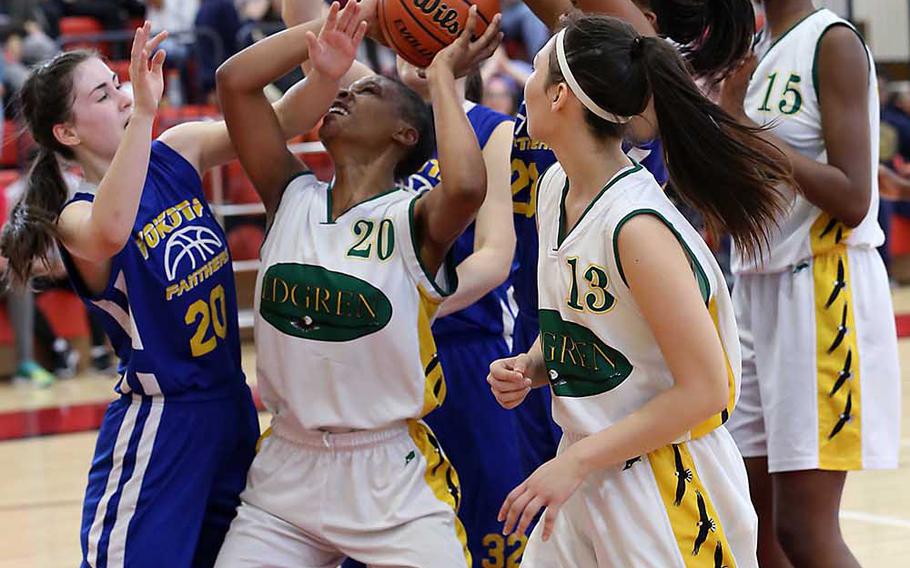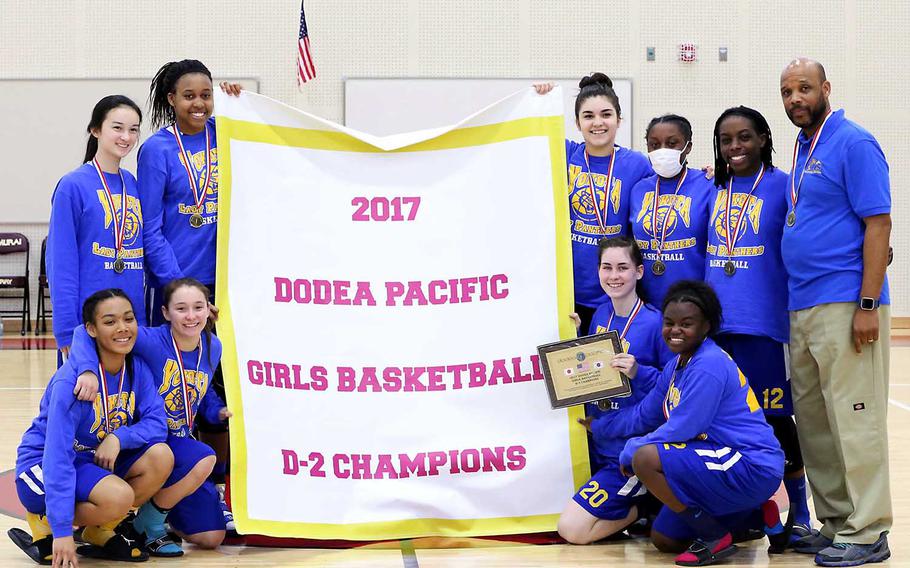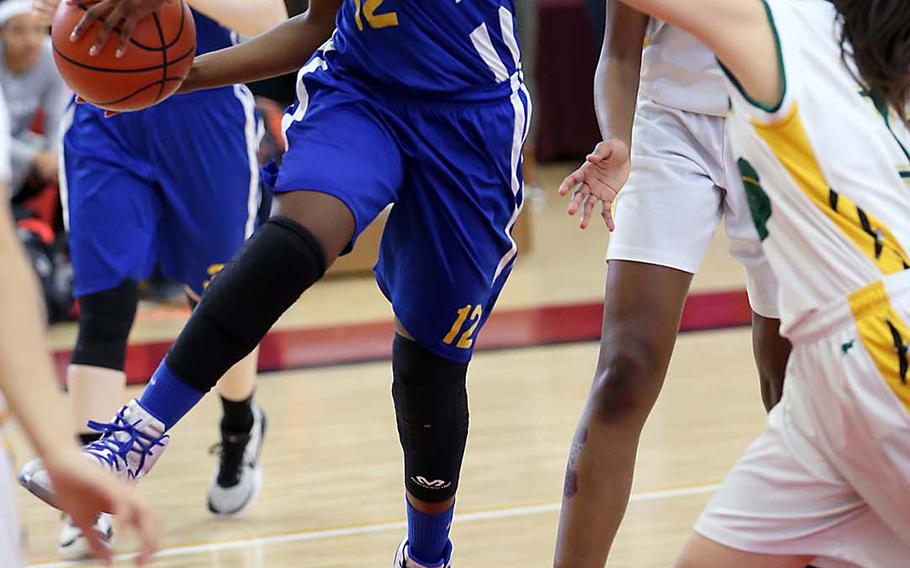 MARINE CORPS AIR STATION IWAKUNI, Japan – They teamed up to make history in November by winning the school's first Far East volleyball banner. Now, juniors Jamia and Britney Bailey have a third straight Division II basketball title to go with that.
Each had 10 points. Britney grabbed 10 rebounds and Jamia five steals and nine assists, as Yokota raced to a big first-half lead, then held off a late Robert D. Edgren charge for a 42-35 win Thursday at the new Matthew C. Perry High School.
"Very proud," coach James Bailey – Jamia's father – said afterward about the title three-peat, that came with three difference coaches and three different styles of team.
This was the closest call of the three title games, the smallest margin of victory at seven points.
"We overcame," Bailey said, crediting the Eagles for not quitting even after falling behind 21-4 at half. Edgren, missing two of its key players, did not score in the first quarter.
The Eagles made a run in the second half behind freshman center Ja'la Wade. Coach Sarah Richardson adjusted at halftime, telling her charges to feed Wade inside; she finished with 22 points, all but two in the second half. Defensively, she put a box-and-one on Jamia Bailey.
The Eagles got within seven, 28-21, after three quarters, but the teams played to a 14-14 standoff in the final period and Yokota held on.
"It worked, but we just didn't have enough time to pull it off," Richardson said. "If we had played the first half the way we did the second half, it would have been different. We have to play four quarters. The girls stepped up and worked hard."
Edgren was already without point guard Aaliyah Scott, who didn't make the trip from Misawa to Iwakuni, and the Eagles lost what Richardson called her key player, senior Coko Magby, to a fibula fracture in a 52-27 win Tuesday over Osan.
"If Coko was there, it would have made all the difference," Richardson said.
Yokota earned its 19th Division II title since becoming a small school in November 2014.
It was the sixth time in 29 years that Richardson has taken the Eagles to a Far East final, twice each in D-II and Division I basketball and once each in softball and D-II volleyball, with no titles.
"I'm sick of finishing second," Richardson said.
Meanwhile, Bailey and Bailey can now turn their attention to next season and possibly make it four straight titles as seniors.
"One more year with them," Bailey the coach said.
---
---
---
---