Bailey, streaking Ansbach aggressively pursuing grid challenge
by
Rusty Bryan
October 7, 2004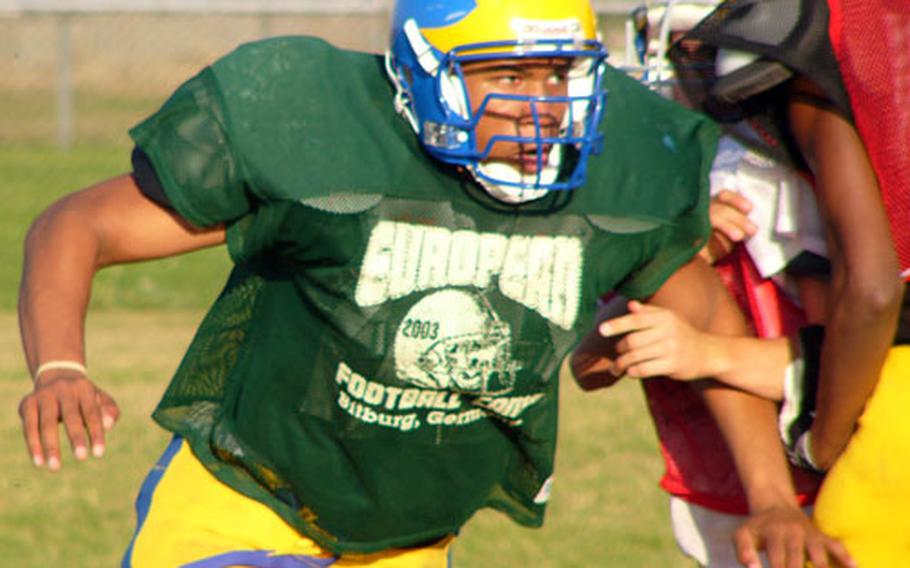 ANSBACH, Germany — Ansbach's Russell Bailey doesn't know much about losing.
In fact, he's never been on the losing end of a high school football game.
The Cougars, for whom Bailey plays tight end and outside linebacker, have won 19 straight games and two straight European Division III championships.
"We take pride in winning," Bailey said, "and we hope to go undefeated again.
"The streak is always there, but coach keeps our heads level. He won't let us think past the next game."
The coach is Marcus George, and this week his Cougars are taking on Division II power Vilseck.
"They've got a lot of big, healthy boys on the line," Bailey said.
Still, the Cougars, whose starters include four All-Europe players — Bailey, James Esters, Dameon Outley and Mike Ewing — are looking forward to the challenge.
"One thing you can say is this team does not lack confidence," Bailey said. "We're a small school, but we love to play any school. We don't care about size."
Bailey said his team's confidence derives from a couple of factors.
"We practice hard and we have a lot of talent," he said.
"We like to think that nobody can do it as well as we can."
That's certainly true in Bailey's case, according to his coach.
"He's got good hands, good wheels, and he's a hard hitter," George said of the player he called "the best tight end I've had in 30 years."
Bailey, a 6-foot-2, 210-pound senior from Newport News, Va., returned the compliments.
"Coach George really knows a lot about football," Bailey said. "Whatever he says about the game, that's what I believe, too."
It's a belief system that includes scheduling games against teams in higher divisions.
In Bailey's view, Vilseck provides a chance for a competitive game, the kind of game the Cougars haven't experienced for a while. Last season, Ansbach won every game it played by the 40-point mercy-rule. After three games this year, Ansbach's average score is 53-16.
"Bamberg played us close for a while," Bailey said of the opener the Cougars won 59-26. "And Hohenfels (which fell 50-13 last Friday) scared us a little in the beginning, but we turned it on. When we do that, no one has been able to stay with us."
If the situation changes against Vilseck, that would be fine with Bailey: He'd get more playing time.
Most of the time, Ansbach's starters are relegated to the bench as the Cougars coaches try to keep the score down. Bailey made the most of his chances against Hohenfels, hauling in a 65-yard TD pass before being sent to the pine for much of the evening.
"People ask us about our stats — why we made All-Europe with stats like that," said Bailey, who had 19 catches for 211 yards and three TDs in '03. "They don't realize that we only get to play two quarters most of the time."
Bailey, also All-Europe in basketball, hopes to play college football next season, but there's another matter to deal with first.
"We want to win a third championship," Bailey said, adding that he considers the goal well within his team's reach.
"Our senior class thinks there's nothing we can't do."
---
---
---