Boys cross country Athlete of Year
Bailey helped Patch sweep top honors
by
Gregory Broome
November 8, 2013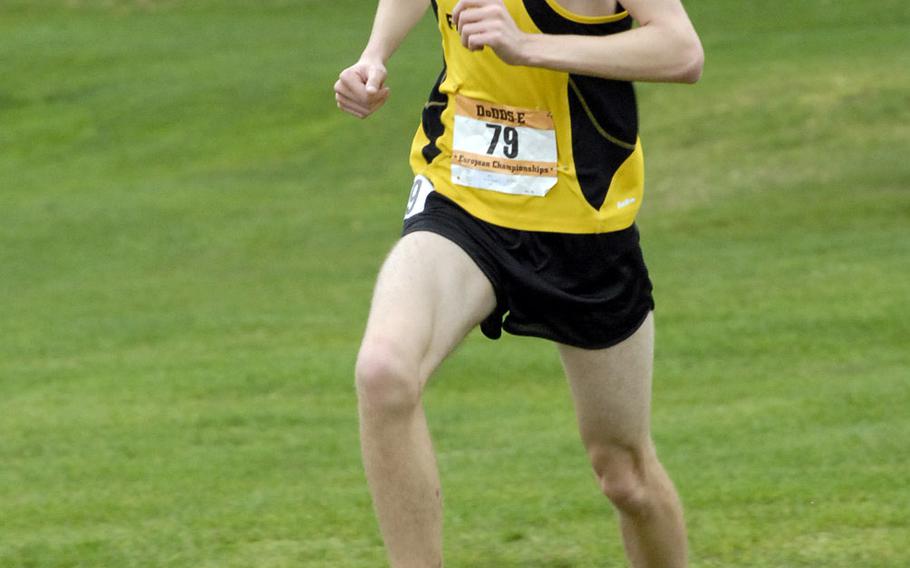 When Stars and Stripes solicited preseason information from DODDS-Europe cross country programs, Patch coach Philip Bailey provided all that was asked. The Panthers had lots of returning talent and expected plenty of competition among the 100-odd students expected to vie for spots in each gender's top seven.
Embedded in Bailey's email was an easily-overlooked sentence that would prove to be prophetic.
"We hope to have a boy and a girl as European champion," Bailey wrote.
The Panthers were all but halfway to that goal with the return of two-time girls champion and prohibitive favorite Baileigh Sessions. It was the on the boys side where the uncertainty lay.
Coach Bailey's son, junior Mitchell Bailey, represented the Panthers' best chance. He'd finished seventh in Europe as a sophomore, and many of those who'd finished ahead of him had graduated and cleared his path, including champion Michael Lawson. But the field was still tight, with tough runners from Lawson's old Kaiserslautern team, an intimidating pack of contenders from Ramstein and Wiesbaden and internal threats from Bailey's own Panther teammates.
Cross-country running is a strange hybrid of median and extreme; success is found by settling into a steady beat of metronomic footfalls, then pushing that rhythm to an ever-faster tempo. For year-round runners like Bailey, the short DODDS-Europe season – spanning just six weeks from first race to championship – represents a mere snippet of that ongoing process.
But for those six weeks, it was Bailey that set the pace for DODDS-Europe, sometimes by miniscule margins. On Oct. 5, on the third Saturday of the season, Bailey won a five-school meet by a single second.
That would be as close as anyone got to matching Bailey's pace. On Oct. 26, the Patch junior paced the European championship field by 12 seconds.
As a result, Philip Bailey got the championship sweep he'd hinted at weeks earlier. And Bailey, the unassuming new champion, is the Stars and Stripes Boys Cross Country Athlete of the Year.
Twitter: @broomestripes