Bailey, Fontanez, Miller are returnees on familiar All-Europe boys hoops team
---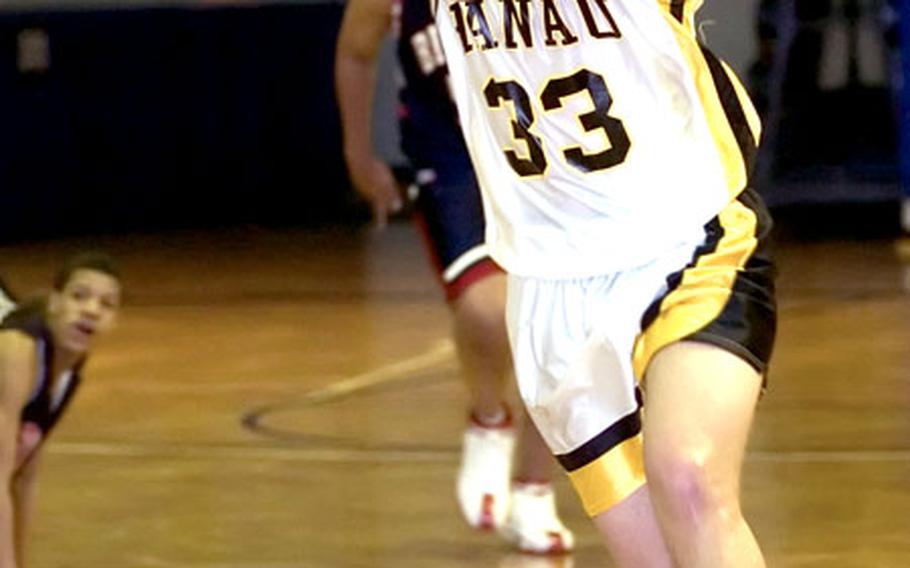 The DODDS boys All-Europe basketball team has three familiar faces on its first team: Russell Bailey of Ansbach, Marcus Fontanez of Hanau and Dustin Miller of Aviano.
The three, selected by a panel of high school coaches, are the only repeat selections from the 2004 first team.
Even though he's been there before, Bailey, a senior, was pleased with his latest selection.
"It's big," he said of the honor he earned by averaging 20-plus points and 10-plus rebounds per game for the European Division III runner-up Cougars last season. "I always appreciate it when people recognize me as one of the best."
"He does it all," his coach, Ted Marr wrote in nominating Bailey. "Defense, assists and coaches on the floor — he is the best all-around player I have coached in 38 years."
All-around is also the word to describe Aviano's Miller, a junior who averaged 25.1 points and 3.6 steals per game for a team that won every game except the last one. Always known as a scorer, Miller said he broadened his game this season.
"This year, I tried to get the ball to my teammates more, and work harder on defense," Miller said.
The move paid dividends, according to Aviano coach Ken McNeely.
"He distributed the ball well," McNeely said.
"We had two other players who averaged double figures, and Dustin's scoring average isn't that much different from last year."
Fontanez, a senior who was traveling in the States and unavailable for comment, concluded his final DODDS season with something that eluded the other two: a European crown. Aviano dropped the Division II title game to Hanau, and Rota downed Ansbach in the Division III championship game.
Although Miller is just a junior, he has elected to live with his grandparents in Marshall, Mich., for his senior season to improve his status and visibility with college recruiters.
Bailey, too, will be taking his game to the States. He appreciates how fortunate Fontanez, who played on consecutive European championship teams, must feel.
"I'd trade it [All-Europe]," Bailey said, "for a championship."
Other players with All-Europe experience chosen for the 2005 team were 6-foot-6 senior Mark Pearyer of Naples, who moved up to the first team from the 2004 second team, and 5-10 senior Neal Griffin of Patch, who made the second team for the second straight season. The remaining 15 on the two teams were on first-time choices.
Rounding out the first team were: Justin Gennings of Würzburg; Malcolm Lane of Hanau; Eric McMillan; Brennon Relaford; Quintin Strawder; and Allen Weaver.
Of the 20 All-Europeans, 11 are seniors and seven juniors. Hanau guard Jeremy Marshall, who's transferring to Kaiserslautern next season, and London Central forward David Marbury, both picked for the second team, were the only sophomores on the 2005 squad. No freshmen made the team.
Seven of the All-Europeans came from Division I schools, eight from Division II teams and five from Division III.
Boys 2005 All-Europe basketball teams
First team
Name School Class Pos. Ht. Statistics
Russell Bailey Ansbach Sr. F 6-1 20 pts, 10-plus rebs/game.
Marcus Fontanez Hanau Sr. C 6-4 13 pts, 12 rebs/game.
Justin Gennings Würzburg Sr. G 6-1 12 pts, 3.5 rebs/game.
Malcolm Lane Hanau Jr. F 6-1 12 pts, 8 rebs, 5 steals, 3 assists/game.
Eric McMillan Rota Jr. F 6-2 17.6 pts, 13.7 rebs, 4.9 steals, 4.2 assists/game.
Dustin Miller Aviano Jr. G 5-11 25.1, 4 rebs, 3.8 assists, 3.6 steals/game.
Mark Pearyer Naples Sr. F 6-6 17 pts, 11 rebs/game
Brennon Relaford Ramstein Sr. C 6-4 10.4 pts, 8 rebs, 2 blocks.
Quintin Strawder Kaiserslautern Jr. G 5-9 14.6 pts, 4.2 rebs, 1.2 steals.
Allen Weaver Ramstein Jr. G 5-10 14.9 pts, 3 assists, 2 steals; 78.6 percent from line.
Second team
Guards:Robert Edwards, Wiesbaden senior; Neal Griffin, Patch senior; Jeremy Marshall, Hanau sophomore; Tony Williams, Aviano junior.
Forwards:Brent Bautista, Iceland senior; T.C. Blanks, Heidelberg senior; David Bradford, Wiesbaden junior; David Marbury, London Central sophomore.
Centers:Daryl Gonzalez, Vicenza senior; Earonte'l Lee, Mannheim senior.
Selection panel:Carl Johnson, Wiesbaden; Kenneth McNeely, Aviano; Pete Resnick, Menwith Hill; Tim Smith, Hanau; Len Tarnowski, Ramstein.
---
---
---
---