D-II Boys soccer
Bahrain adjusts to weather, field to move on
---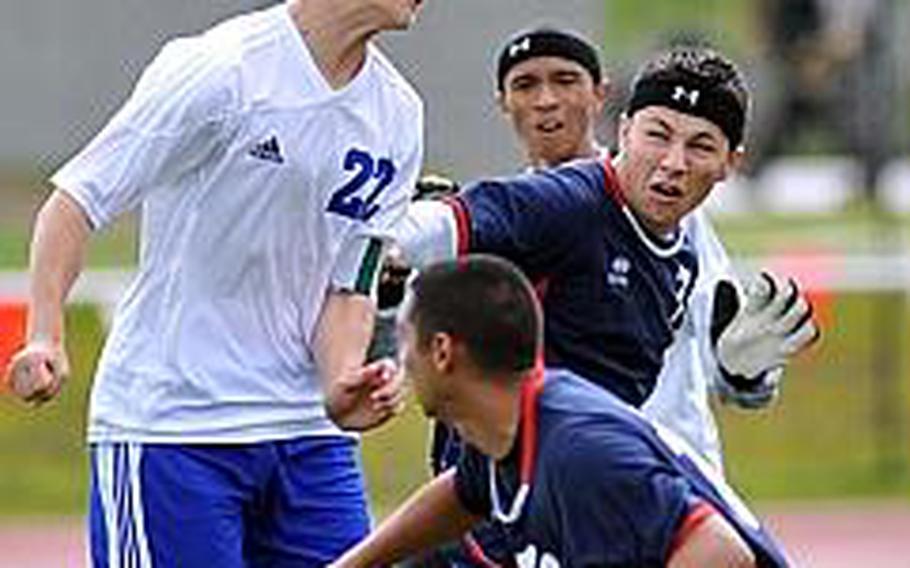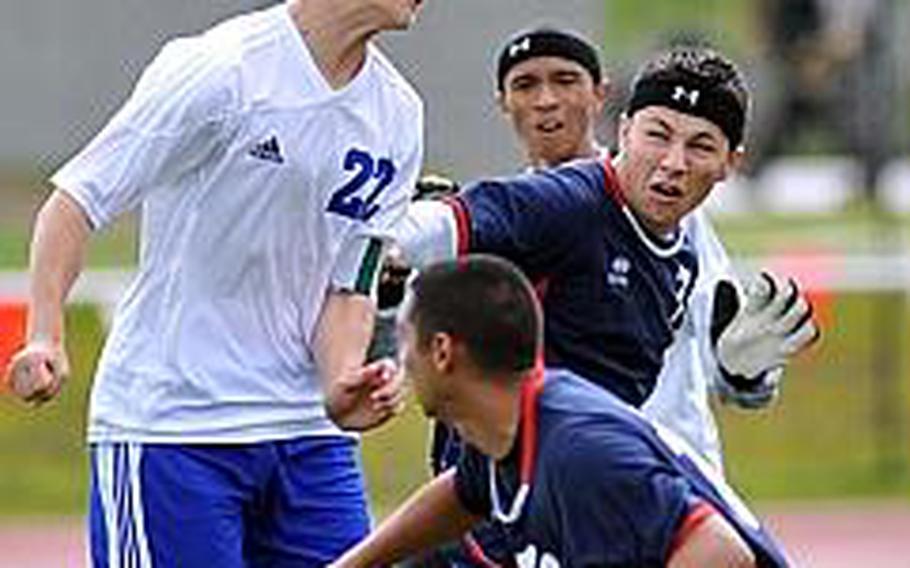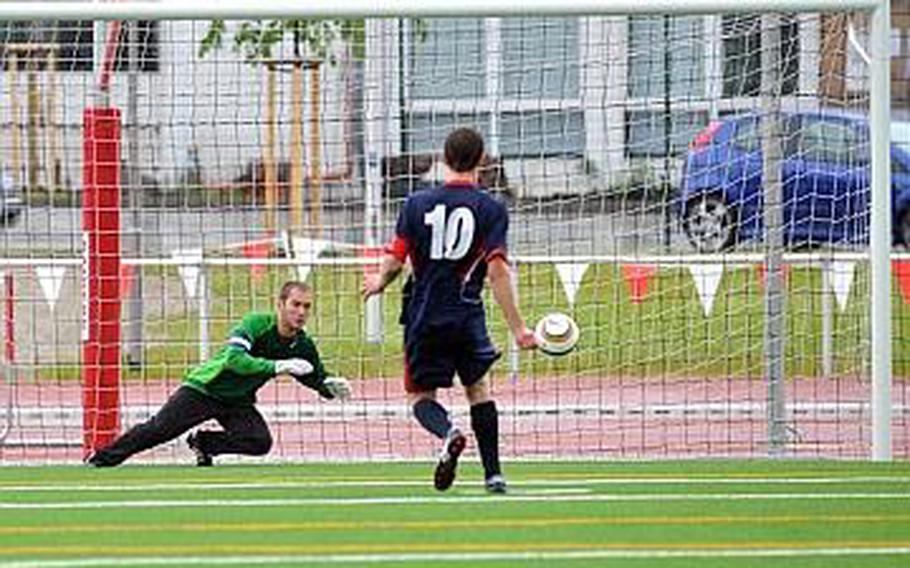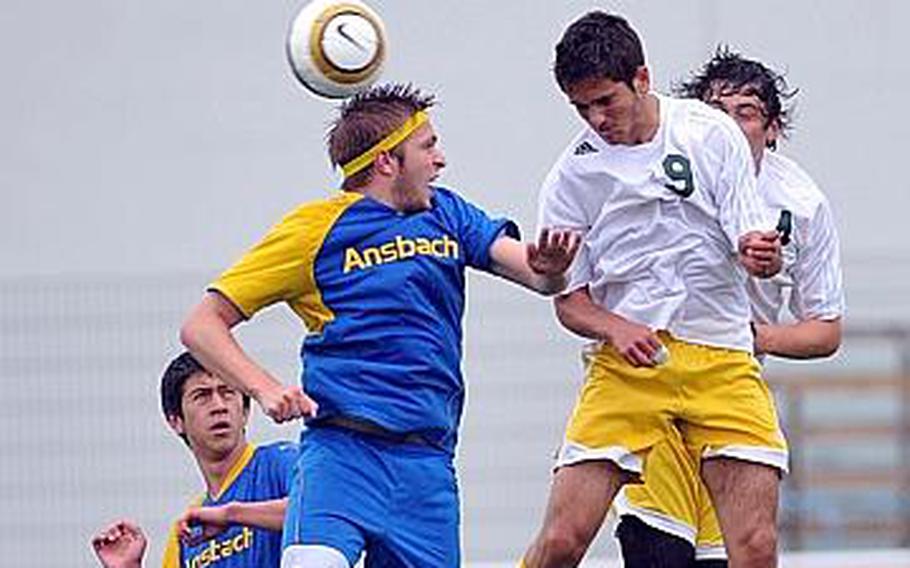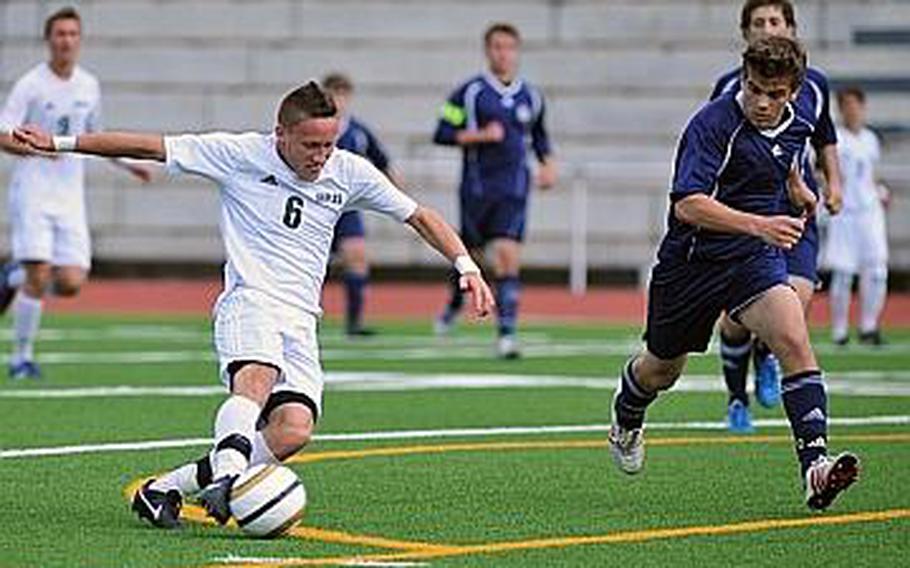 KAISERSLAUTERN, Germany – When the SHAPE boys fell to an upstart Bahrain team 4-0 Tuesday morning in the second day of the DODDS-Europe Division II boys' soccer championship, it would be an understatement to call it an upset.
The Spartans entered tourney play as the No. 4 seed, while Bahrain was ranked a lowly No. 13, with an unremarkable record in previous years' post-season play.
Surprised fans chalked up Bahrain's win to SHAPE not fielding its starting lineup for the early matchup.
But a young Bahrain team proved it deserved to move on to Wednesday's quarterfinals with a scrappy 2-1 victory over Schweinfurt Tuesday afternoon.
"They know where everybody's at all of the time," said Schweinfurt senior Logan Mansfield of Bahrain's ability to quickly move the ball up and down the field.
Scoring Bahrain's pair of goals was Nader Khashab, a senior forward, and Abdulla Kanoo, a sophomore midfielder.
Schweinfurt's lone goal came about three-quarters of the way through the second half, a so-called "own goal." The ball rolled in the net off the foot of a Bahraini defender, after Schweinfurt sophomore midfielder Ladarius Bell kicked it across the front of Bahrain's goal cage.
Schweinfurt suddenly had new life: After a sluggish first half, the Razorbacks appeared to get their rhythm going in the second half, going toe to toe with Bahrain until time expired.
"We just wish the game was a little bit longer," Mansfield said.
The outcome marked the first time in anyone's memory that a team from the Kingdom of Bahrain advanced to the DODDS-Europe soccer quarterfinals.
"We stunned a few people," said sophomore midfielder Rizwaan Dharsey. "They thought we wouldn't get very far in the tournament. We're going to the" quarterfinals. "We hope to win."
It'll take a huge effort for that to happen. Bahrain is set to meet No. 1 seed and defending champion Marymount International, which hasn't lost a game this season. And most of the Lions' games haven't been close.
But that's Wednesday and players were still thinking about their win Tuesday.
Players battled soggy conditions most of the day, though the rain let up for the Bahrain-Schweinfurt game.
"We come from a sand and desert place," Dharsey said. "This is proper soccer weather."
Though some teams played in soaked uniforms, the artificial turf on Kaiserslautern High School's brand new field held up under the intermittent downpours. Trickier for some was getting used to the turf itself.
Aviano goalkeeper Dundrey Peoples, a sophomore, said the ball tended to pick up speed after every bounce.
Peoples seemed to adapt, recording numerous saves in Aviano's game against Hohenfels, and helping the Saints force a shootout after a scoreless game in regulation. Hohenfels won the shootout, 4-2, with senior goalie Andrew Becker rising to the occasion to block successive kicks after not seeing much action through two halves.
"I was extremely nervous – butterflies to the extreme," he said of his first shootout. "I didn't want it to be our last game."
The most dominating team performance belonged to SHAPE, which roared back after losing to Bahrain to crush Ansbach, 8-0.
Leading the scoring juggernaut was a pair of sophomores, forward Adrian Domijan with three goals, and midfielder Fernando Royo, with two. Chipping in one apiece were junior forward Santiago Gamboa, sophomore forward Brett Cain, and junior forward Luis Palau.
Coach Tony Harris held out some of his starters against Bahrain to give all of his players more game experience, he said.
Naples, a No. 7 seed, also shut out its opponent, beating No. 8 seed Bitburg 4-0, and earning a chance to play Wednesday.
Vicenza, a No. 5 seed, eliminated No. 6 seed Black Forest Academy in nail-biting fashion in the last game of the day. The teams fought to a 2-2 tie at the end of regulation, but the Cougars prevailed 3-1 in a shootout.
---
---
---
---