Awase champ scores 2 aces in single round
by
Dave Ornauer
March 11, 2009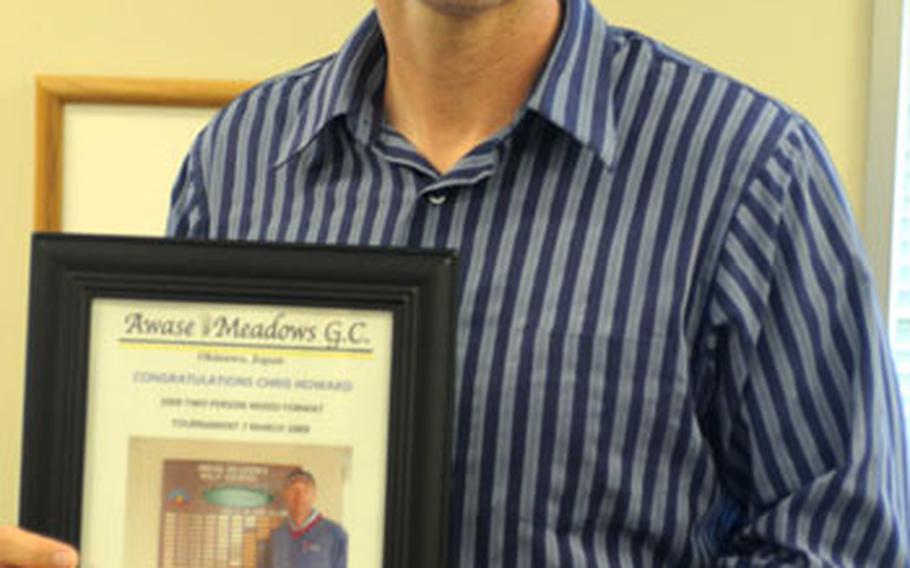 CAMP FOSTER, Okinawa — Odds of a golfer getting a hole in one can range from 1 in 3,000 for pros to 1 in 12,000 for average duffers. Odds of two aces in the same round? As high as 1 in 67 million.
So, imagine the hubbub surrounding Camp Foster civilian Chris Howard after he scored two aces in the same round of a tournament Saturday at Awase Meadows.
"Pretty amazing," said Jeff Baker, Awase's lead starter and course marshal, who was on the links for Howard's rare feat during Saturday's Awase 2-Man Scramble, an 18-hole stroke-play alternating shot event.
Howard, a 2-handicapper and reigning Awase club champion, used a driver to ace the 245-yard, par-4 12th hole, then a 6-iron to nail the 168-yard, par-3 9th, the event's final hole.
"I yelled at the top of my lungs, 'The ball went in the hole!' " Howard recalled after the second ace. Different groups of golfers playing in front of and behind his four-man group "went nuts; they already knew I'd hit one hole in one."
He walked back to the clubhouse, where course officials were waiting for him with a hole-in-one medallion. "I told them, 'You're not going to believe this, but I just hit another,' " Howard recalled.
The 12th hole rests on a narrow 35- to 40-foot green, shielded by two sand traps on the left side and one on the right. The 9th features a sand trap in front and one to the left, guarding a slim 70-foot-long-by-20-foot-wide diagonal green.
Making the feat much more difficult were the conditions; on-and-off rain showers and high winds with temperatures in the mid- to upper-50s.
"Horrible weather," Howard said. "One hole, the wind would be in your face; the next, it would be downwind from you."
Howard, 42, is a retired Air Force senior master sergeant now working as site transition officer in charge with Foster's Navy/Marine Corps intranet branch. He's been playing golf since he was 19, and had scored two aces prior to Saturday's feat.
Golf Digest in 2000 commissioned Francis Scheid, a retired Boston University math department chairman, to calculate the odds of two holes in one.
The study shows odds of a pro making an ace are 1 in 3,000, a low handicapper 1 in 5,000 and an average player 1 in 12,000.
The odds of two aces in the same tournament round are 1 in 67 million, but that's for two par-3 holes; the research didn't cover a par-3 and a par-4 in the same round, and extensive Internet research shows the odds of that combination are as yet undefined.
"Some of the guys told me it could be a Guinness world record," said Howard. "To be the only guy in the world to have that, that would be something."
Attempts to obtain the record from the U.S. Golf Association and Guinness World Records book weren't immediately successful.
Whether it is or is not a record, Howard is a golfer worthy of holding the honor, Baker said. "He's a real honorable champion. A good guy."